News Analysis
The U.S. Director of National Intelligence is apparently breaking the law. She failed to appoint a director for the Foreign Malign Influence Response Center.
In 2019, the U.S. Congress passed a law establishing a "Foreign Malign Influence Response Center" within the Office of the Director of National Intelligence (ODNI). The law requires the Director of National Intelligence (DNI) to appoint a director.
A long list of DNIs and Acting DNIs under both presidents Donald Trump and Joe Biden—including Joseph Maguire, Richard Grenell, John Ratcliffe, Lora Shiao, and the current DNI, Avril Haines—failed to comply, leaving the nation inexcusably vulnerable to foreign malign influence.
Two years and five noncompliant DNIs later, and one mainstream media outlet finally reported that the Center is non operational. Congress is reportedly dragging its feet on funding it, and ODNI bureaucratic infighting is leaving implementation of the law, including a requirement of annual reports from the Center on foreign malign influence, in the dust.
This is why Chinese leader Xi Jinping calls democracy inefficient, when he isn't ludicrously calling his own totalitarian rule for life something along the lines of "democracy with Chinese characteristics."
Whatever excuses various DNIs might have, Ms. Haines is arguably in current violation of the law by not fulfilling its requirements despite the lack of additional funding that ODNI has sought. ODNI could and must start setting up the Center immediately with existing staff and funding. Time is critical as China's economy and military are starting to outstrip America.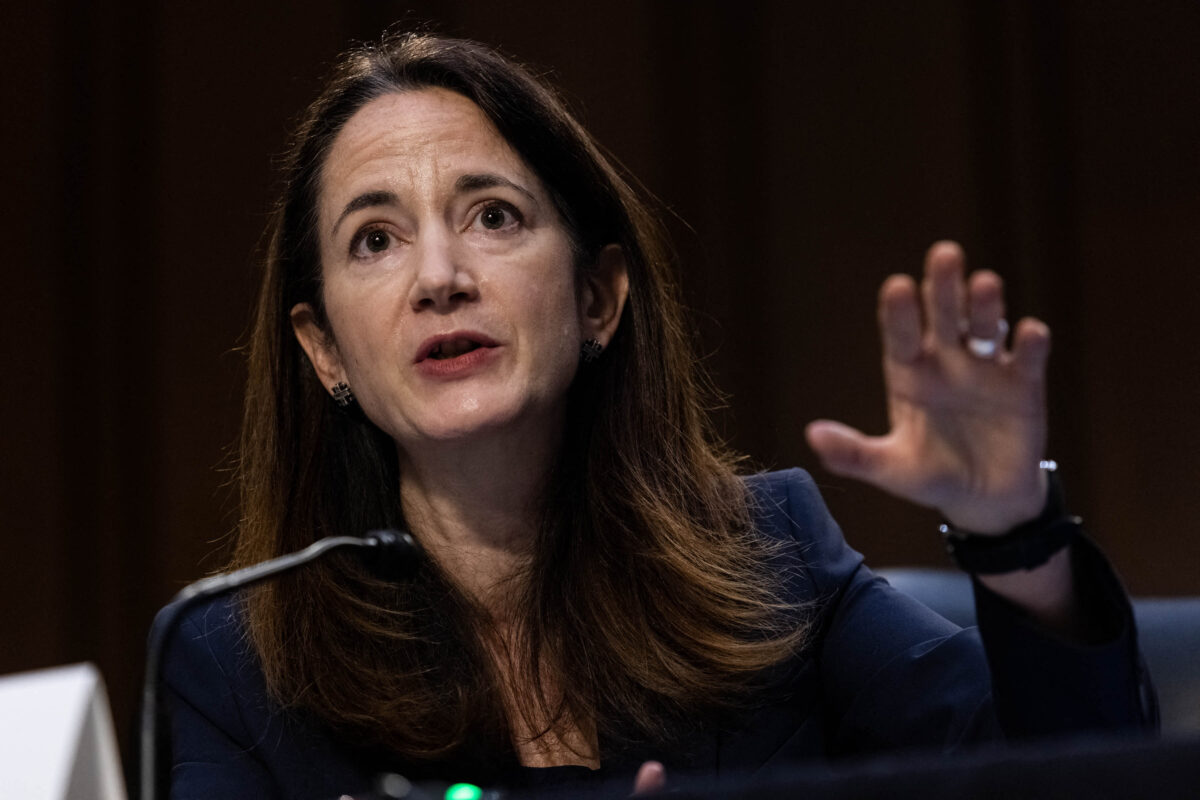 The Federal law, 50 U.S. Code § 3059, clearly states that the Center should be "comprised of analysts from all elements of the intelligence community, including elements with diplomatic and law enforcement functions," and "serve as the primary organization in the United States Government for analyzing and integrating all intelligence possessed or acquired by the United States Government pertaining to foreign malign influence."
The Center is required to provide "comprehensive assessments, and indications and warnings, of foreign malign influence," as well as an annual report on the matter.
Included in 50 USC 3059 is a definition of "foreign malign influence" used in subsequent legislation as well. The definition is "any hostile effort undertaken by, at the direction of, or on behalf of or with the substantial support of, the government of a covered foreign country with the objective of influencing, through overt or covert means—(A) the political, military, economic, or other policies or activities of the United States Government or State or local governments, including any election within the United States; or (B) the public opinion within the United States."
This could include, for example, sensitive topics such as the gift to Hunter Biden, of a 3-carat diamond, along with the offer of a $30 million business deal, by a Beijing-linked businessman.
The required ODNI reporting could also include any attempts by Beijing to influence U.S. politics indirectly through major U.S. corporations doing business with China, like Boeing, Apple, Amazon, and Nike.

Or, it could include reported financing, by a Chinese company, of Trump's new media company.
According to The Washington Post on Dec. 23, a Shanghai-based company called Arc Capital "helped create Digital World Acquisition, an investment vehicle that has raised over $1.2 billion to conduct a merger with Trump Media and Technology Group."
The Post claims that the potential deal could "enrich the former president and turn his nascent social media start-up into a public company overnight."
This may or may not be true. Readers of The Epoch Times mostly know that the Washington Post is biased against Trump. But the ODNI Center would at least help shed light on this and other alleged incidents of malign influence.
Instead, the Biden administration is going in the opposite direction.
In November, Jimmy Quinn at the National Review reported that progressive groups pressured Biden's State Department to stop using the term "malign influence" in reference to Beijing's misconduct abroad.
A State Department spokesperson told National Review that the policy change made "clear U.S. criticism is not directed toward PRC [People's Republic of China] nationals, the global Chinese diaspora, or U.S. citizens of Chinese descent, as well as citizens of other countries who are of Chinese ethnicity or heritage."
The State Department made a categorical mistake, implying that Chinese ethnicity is somehow related to malign state influence. It isn't, and to say so is racist.
Binning Chinese-Americans in with Chinese nationals is also false. It glosses over the fact that unlike Chinese-Americans, Beijing is able to control Chinese nationals, including through threatening their families or investments back home, or through legal and extra-legal requirements imposed by Beijing that require Chinese citizens to follow the diktat of the Chinese Communist Party (CCP).
The Biden administration is not only logically fallacious, but weakening the language it uses to warn Americans and the world about Beijing's growing influence, and failing to follow U.S. law that requires establishment of the Foreign Malign Influence Response Center.
As Quinn noted, "State's apparent change of heart is particularly worrisome because it comes on the heels of several Biden-administration actions that suggest the White House is seeking a more conciliatory China policy," including Biden's recent meeting with Xi Jinping, climate envoy John Kerry "playing up U.S.–China cooperation on climate," and Commerce Secretary Gina Raimondo "giving interviews about the need to boost business ties between the two countries."
None of the Biden administration's attempts at engaging Beijing have changed the fact that the CCP continues to build an economy to beat America globally, pollute like there's no tomorrow, and prepare a military to capture first Taiwan, and then who knows what.
At a minimum, the "Foreign Malign Influence Response Center" law requires the annual report to include "covered foreign countries" Russia, Iran, North Korea, and China (in that order).
China ought to be at the top, but the law was passed at a time of near national hysteria over unproven collusion between Russia and Trump in the 2016 election, and fears that something similar could occur in the 2020 election.
While there was no collusion, intelligence agencies did find Russian influence operations meant to give a bump to Trump in the 2016 and 2020 presidential elections. Inexplicably, Iran also allegedly sought to help Trump through emails meant to intimidate Democrats.
The AP report, written by Nomaan Merchant, notes that "The U.S. assessed that China ultimately did not interfere in the 2020 election, but Beijing has been accused of promoting false theories about the COVID-19 pandemic and trying to sway businesses and all levels of government."
AP provides an interesting summary on this foreign malign influence that led to enactment of the law, but without unfortunately delving into the most dangerous type.
The way that the CCP imposes its malign influence in America is almost always indirectly, through American billionaires and universities that only support candidates who support free trade with China, for example.
These billionaires and universities have a conflict of interest as much of their revenue comes from China trade, including imports, exports, and student tuition. They influence not only elections, but political and consumer behavior more generally, for example by omitting country-of-origin on Amazon sale pages.
The links between Amazon, China, and the Washington Post's soft-on-China reporting are a potential example of foreign malign influence that needs to be addressed by the Center.
Beijing benefits from U.S.-China trade more than does the United States, which is as a result falling behind economically and militarily. China's indirect influence over American politics is far more powerful than its direct influence, because it is based on $2.3 trillion of investment and over $600 billion annually in two-way trade.
China's influence is more powerful than Russia's influence, too. U.S. foreign direct investment in China for 2020 was $123.9 billion compared to just $12.5 billion in Russia.
The AP reporting reveals that there is no evidence that the Trump White House tried to stop the malign influence Center. But Trump's many DNIs and acting DNIs failed to implement the law with dispatch. Merchant writes that at the time, "leaders within the ODNI disagreed on how to structure the new center or whether it should be a 'virtual center' without an office."
William Evanina, ODNI's former chief of counterintelligence, reportedly offered to lead the Center, but ODNI rejected the proposal.
"After President Biden took office, the ODNI presented a plan for a small center with a few dozen staff members to the intelligence and appropriations committees in the House and Senate," according to AP. "But even as Congress required the center's creation, key lawmakers from both parties have expressed concerns about the plan."
Proposed funding for the Center over the summer failed, and any similar proposals are unlikely to be successful during the current period of temporary government funding. The best hope, according to AP, is for the Center to be included in an early 2022 full spending plan.
While robust new funding should of course be expedited for the Center, it should not wait for that funding. As the law clearly states, the DNI must create the Center using staff from existing intelligence and law enforcement agencies. All the DNI needs to do is serve a coordinating function, which is her job, and is already funded.
This taxpayer wants it done now.
The fall of the Roman Empire was caused in part by its own political corruption. With all of history hanging in the balance, the failure of ODNI to staff the Center is yet another indicator that America is sliding toward a similar tragedy.
Views expressed in this article are the opinions of the author and do not necessarily reflect the views of The Epoch Times.