Investigators with the Immigration and Customs Enforcement Agency were going to the scene of a deadly crash in southern California to probe whether it was connected to human smuggling, according to the agency.
"Special Agents from Homeland Security Investigations San Diego responded to the scene of today's fatal crash in El Centro, California, and have initiated a human smuggling investigation," an official with the agency, known as ICE, told The Epoch Times via email.
Homeland Security Investigations is the primary investigative arm of the Department of Homeland Security, conducting federal criminal investigations into illegal cross-border movement of people, goods, money, technology, and other contraband.
A crash involving an SUV carrying 25 people and a semi-truck took place Tuesday just 15 miles from the U.S.-Mexico border. Preliminary information indicated that the Ford Expedition SUV entered an intersection in front of a big rig, which then collided with the left side of the SUV.
A dozen people were found dead when first responders first arrived at the scene, while another person died at a hospital, according to the California Highway Patrol.
"It'd be premature for me to discuss or speculate what caused this collision. What we have to keep in mind is that 13 people died in this crash. We owe it to the families and those killed and injured as well as the public to conduct a thorough and complete investigation," California Highway Patrol Chief Omar Watson said at a press briefing.
Judy Cruz, managing director of the emergency room department at El Centro Regional Medical Center, had tabulated the death count as 15 at a separate news conference.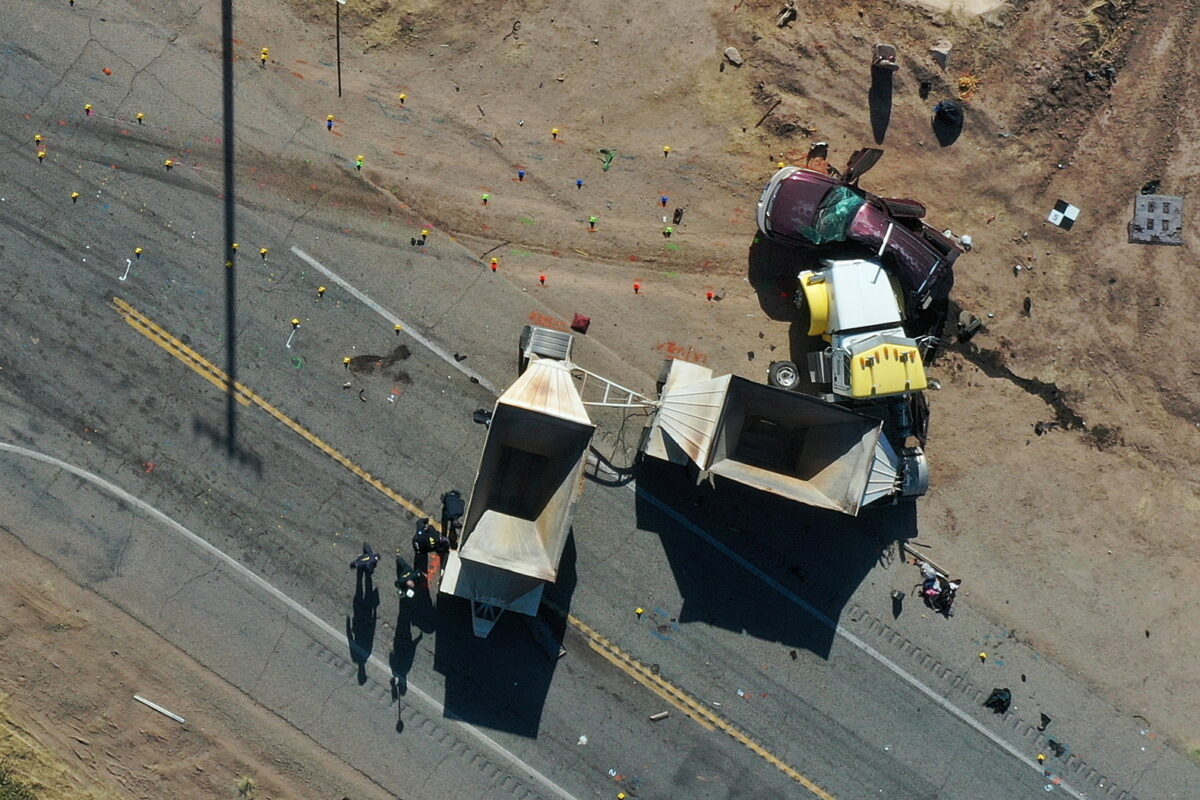 At least 10 of those killed in the crash were from Mexico, according to Roberto Valasco, director of North American affairs for Mexico's Foreign Relations Department.
Those injured ranged in age from 16 to 55 and were taken to various hospitals in the area with injuries ranging from fractures to life-threatening head wounds.
"It's unfortunate that that number of people were put into that vehicle because there's not enough safety restraints to safely keep those people within the vehicle. There are numerous people that were ejected onto the roadway as a result of this collision," Watson said.
Officials are working with the Mexican consulate to determine the identities of those who were in the SUV. The driver has been identified. The driver, a native of Mexico, died. There were children in the vehicle, but authorities were still gathering details about them.
A California official said immigration agents were not pursuing the SUV when it slammed into the semi-truck. ICE officials told outlets that they didn't yet have information on the victims' immigration statuses.
Dr. Adolphe Edward, chief medical officer at El Centro Regional Medical Center, told reporters that workers do not "use the term undocumented in the hospitals."
"To us, these folks that came to us are patients," he said.