President Donald Trump and Indian Prime Minister Narendra Modi are set to charm crowds with their bonhomie while their respective administrations work out long-term strategic goals during a two-day state visit to India by the U.S. president beginning Feb. 24.
Upon his arrival, Trump will be welcomed with a massive roadshow along the 14 miles of his route from the airport to India's new cricket stadium, the world's largest, that Trump will inaugurate in the city of Ahmedabad, in Modi's home state of Gujarat.
The president will then address a gathering of more than 110,000 people at the stadium, after which he, the first lady, and Modi will visit Sabarmati Ashram, the former abode of Mahatma Gandhi.
The same day, the three will fly to Agra to visit the Taj Mahal, the ivory-white marble mausoleum known as one of the world's most iconic symbols of love. Meanwhile, diplomats on both sides will be working to ink various deals that Trump and Modi's teams are expected to sign the next day in New Delhi.
American and Indian analysts say that while the trip will be a feather in the president's cap during an election year, it's important for the United States' long-term strategic goals and for the people of both nations as an occasion to emotionally connect.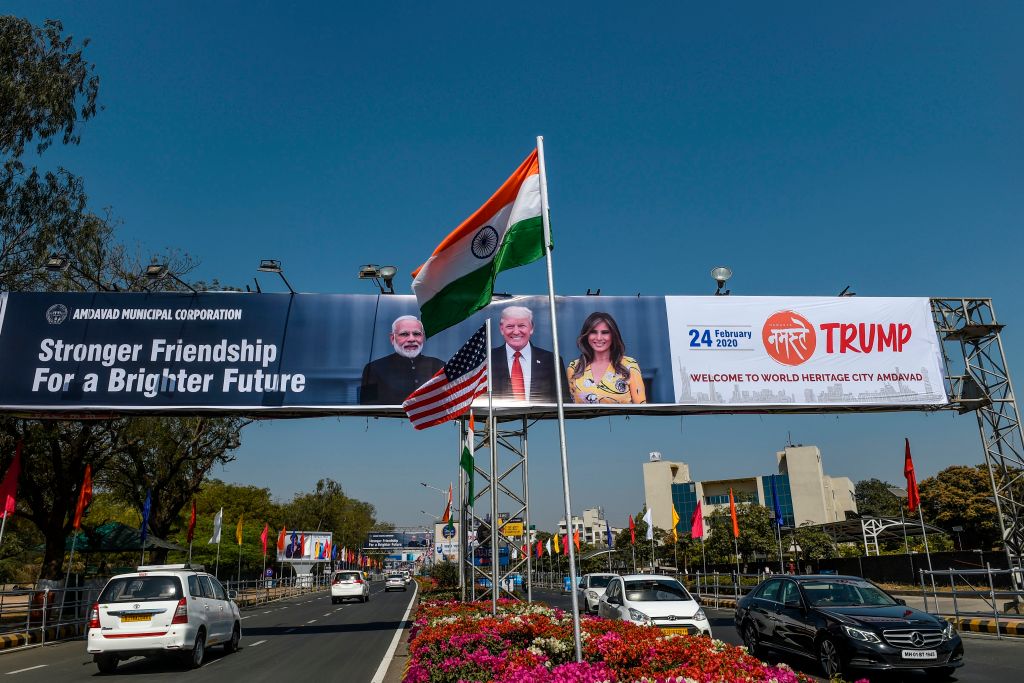 Aparna Pande, research fellow and director of Hudson Institute's Initiative on the Future of India and South Asia, told The Epoch Times that the welcome reception of the U.S. president will show the goodwill between the two countries and their peoples.
"The welcome reception of President Trump, with hundreds of thousands of Indians lining the streets, elaborate tableaus representing India's diversity, and the Namaste Trump [Hello Trump] extravaganza will demonstrate the vibrancy of the personal bonhomie of the two leaders as well as the people-to-people links of both countries," Pande said.
While discussing the background of the trip, senior White House officials said on Feb. 21 the president is going to India to show strong and enduring ties between the two nations.
"And, in part, this has been exemplified by the very close relationship between the President and Prime Minister Modi," a senior White House official said.
The administration will be working on many strategic goals in the background, Jeff M. Smith, a research fellow in Heritage's Asian Studies Center, told The Epoch Times in an email.
"The trip is significant as it is the first trip to India by President Trump since he assumed office and the country has assumed a prominent place in his administration's Indo-Pacific Strategy," Smith said.
In a report released in November, the State Department said the Trump administration's Free and Open Indo-Pacific Strategy aims at containing "authoritarian revisionist powers," directly hinting at a few global powers, particularly China.
The introductory message by Secretary State of Mike Pompeo to the report defined India as a strategic partner, while it didn't specifically mention any other individual nation.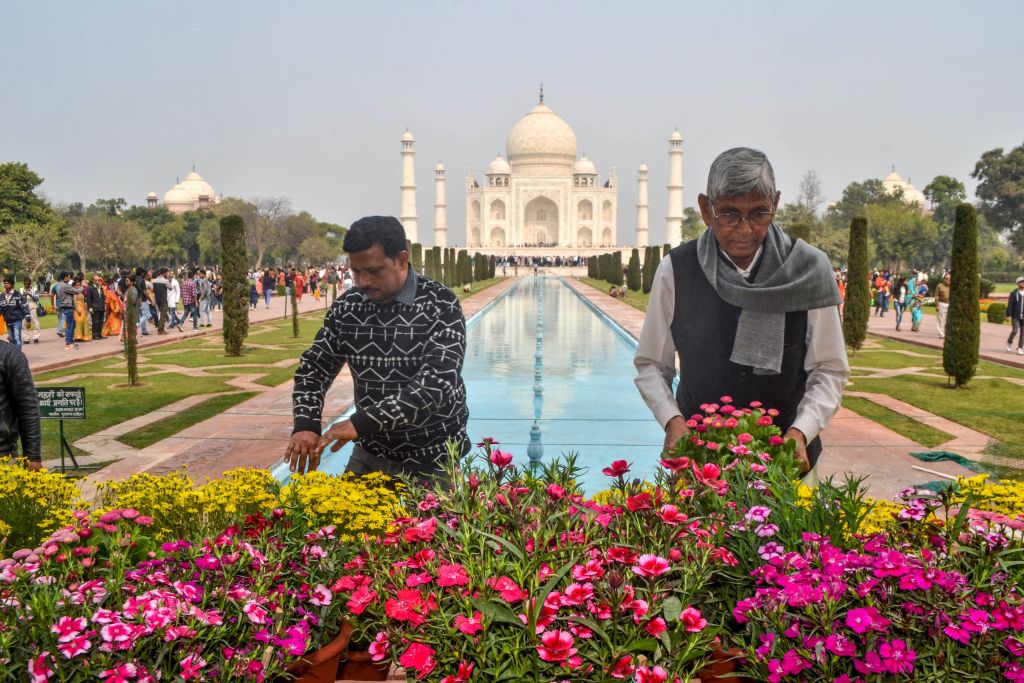 Visiting India in an Election Year
Brahma Chellaney, a geopolitical analyst and a former member of the Indian government's Policy Advisory Group, notes that Trump's visit is happening months before the national elections and is an opportunity to woo the Indian diaspora in the United States that has traditionally voted Democrat.
Trump organized for Modi the "Howdy Modi" extravaganza in Houston last September that filled a stadium with more than 50,000 of the Indian diaspora. Similarly, Modi is organizing "Namaste Trump" at India's new stadium.
"With Trump's focus on getting reelected in November, his India visit will also endear him to the increasingly influential and wealthy Indian-Americans, who now number about 4 million, or 1.3 percent of the total U.S. population. They not only matter in some of the swing states for the presidential election, but also are important political donors," Chellaney said.
Pande said the trip is symbolically important for Trump and will also help him to connect with his larger voter base in the United States.
"President Trump is going into an election in November, he wants to demonstrate … to the wider American public that the United States has good relations with key countries and partners around the world and a visit to the largest democracy in the world, a country that is a key part of the Indo-Pacific," Pande said.
"So, for a President who likes a celebration, events, rallies, and for whom symbolism matters, India is important."
However, she said she doubts that the trip will earn Trump extra votes from the Indian American community.

Defense and Security Partnership
Chellaney, an author of nine books and a columnist for Project Syndicate, said that as nationalist leaders, Trump and Modi share a common security vision for their respective countries and that the two countries are natural allies in countering Jihadist terrorism.
"In the way Modi casts himself as India's 'chowkidar' [protector] safeguarding the country's frontiers from terrorists and other subversives, Trump has prioritized border defenses to keep out those that 'threaten our security,'" he said.
Senior White House officials said on Feb. 21 that defense and security cooperation would be a key focus of the visit.
India cleared the purchase of 24 Lockheed Martin-Sikorsky MH-60R Seahawk Romeo multirole maritime helicopters through the U.S. Foreign Military Sales program on Feb. 19; India's defense purchases from the United States have reached $17 billion since 2007, according to Reuters.
"We will focus on defense and security cooperation to both fight terrorism and promote a free and open Indo-Pacific. The U.S. wants an India that is strong, with a capable military that supports peace, stability, and a rules-based order in the Indo-Pacific region," the senior administration officials said.
Smith said India's recent defense acquisitions from the United States will help bolster its defensive capabilities.
"There have yet to be any major arms deals signed during President Trump's tenure so it's important for the two sides to maintain momentum in defense cooperation and to provide each side with a 'win,'" he said. "The platforms will allow India to fill some critical capability gaps while ensuring better interoperability with the U.S. military."
Dr. S. Chandrasekharan, director of India-based South Asia Analysis Group, told The Epoch Times in an email that India's defense needs are steadily diversifying and India is moving away from its traditional defense partner, Russia, and now the United States can step in.
However, he said India would still need defense supplies from Russia in the near and medium term.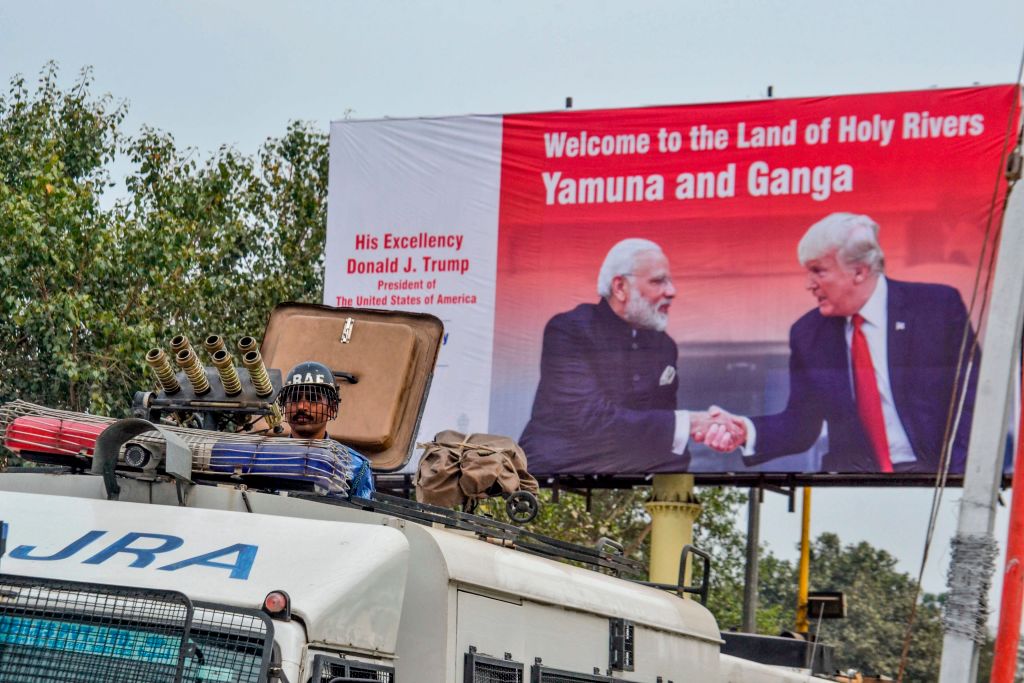 Will a Trade Deal Happen During the Visit?
Senior White House officials said economic and energy ties will be the main focus of the visit. On Feb. 25, Trump is scheduled to meet an Indian business delegation with manufacturing units in the United States. However, experts aren't sure if a comprehensive trade deal is possible this time around.
"Just to note that two-way trade in goods and services exceeded $142 billion in 2018, and there's certainly much more room to grow, particularly in energy," the officials said, adding that a trade package would depend on what the Indian side is prepared to do but that the Trump administration would be pleased to announce various commercial deals in key sectors.
Chandrasekharan says a comprehensive trade deal could be tough.
"The U.S. cancellation of GSP (General Scheme of Preferences) was received with dismay here in India. There has to be some give-and-take and it is hoped from the Indian side that the United States, which has been tough with all countries, friend and foe, would relent and support the growing economy of India," he said.
Senior officials from White House said the concerns that led to the revocation of GSP still remain a concern for the Trump administration.
"It was really the failure of the Indian government to provide equitable and reasonable access to its markets in numerous sectors," the officials said.
"We continue to talk to our Indian colleagues about addressing these market access barriers. Our trade teams led by the USTR (United States Trade Representative) have been in touch with their counterparts over the past several weeks. That engagement will continue."
Pande said Trump and Modi are protectionists, and while both promote the economic interest of their respective countries, "there's a clash," since they both derive their strength from that appeal.
"I mean, each of them is 'Made in India' or 'America First.' So there's a strong focus on building the domestic economy versus being part of, you know, a global trade regime," she said.