Testing trials of a potential COVID-19 coronavirus vaccine are expected to start in about six weeks, coming ahead of schedule, according to a top U.S. health official.
"We are on time at least and maybe even a little bit better," Dr. Anthony Fauci, the head of the U.S. National Institute of Allergy and Infectious Diseases (NIAID), told reporters on Tuesday. However, he cautioned about potential "further glitches."
The National Institutes of Health has been working with Moderna, a biotechnology company, to produce a vaccine that uses the current strain of the coronavirus.
U.S. health officials are fast-tracking development on a coronavirus vaccine, Fauci suggested.
"The gene has been expressed in the platform, in this case, a messenger RNA. The material has been produced, it's been put into mice. It's immunogenic," he said. "It's now getting ready to go through the regulatory issues of getting it to go."
Fauci noted that it's possible the virus might be seasonal and said this vaccine may not solve any problems in the coming months. However, it would be "an important tool" in the future, Fauci said.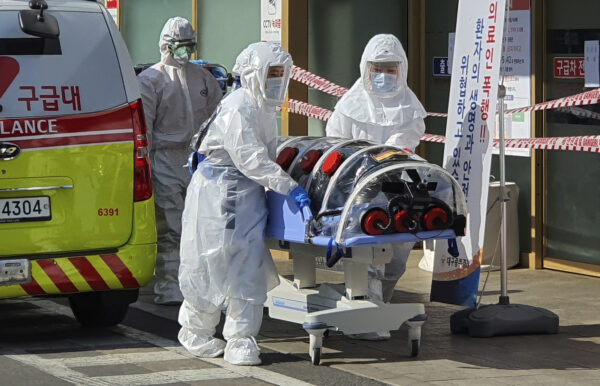 On Monday, Moderna confirmed that its vaccine, mRNA-1273, was sent to the NIAID, and the vaccination trial will start with 20 to 25 healthy subjects by the end of April. That would mark a three-month period between the design of the vaccine and testing, with the first results becoming available by around July.
An antiviral drug that was designed to treat Ebola patients, remdesivir, is now being subject to a clinical trial, said the NIAID on Tuesday, adding that testing has begun on patients who were evacuated from the Diamond Princess cruise ship currently being housed at the University of Nebraska Medical Center.
"This is the first clinical trial in the United States to evaluate an experimental treatment for COVID-19," the agency said. Remdesivir, produced by Gilead Sciences Inc., has been tested on virus patients in China starting in early February, according to U.S. and Chinese officials.
Noting that the clinical trial is being conducted on a voluntary basis, the NIAID stated that participants have to have COVID-19 lung infection and "evidence of lung involvement," and individuals who have mild, cold-like symptoms won't be included in the study.
Earlier in the day, the Centers for Disease Control and Prevention said schools and businesses will have to take preparatory measures if the coronavirus turns into a U.S. epidemic, while stressing that Americans should stay alert.
"We are asking the American public to work with us to prepare for the expectation that this could be bad," Dr. Nancy Messonnier, with the agency, said in a conference call.