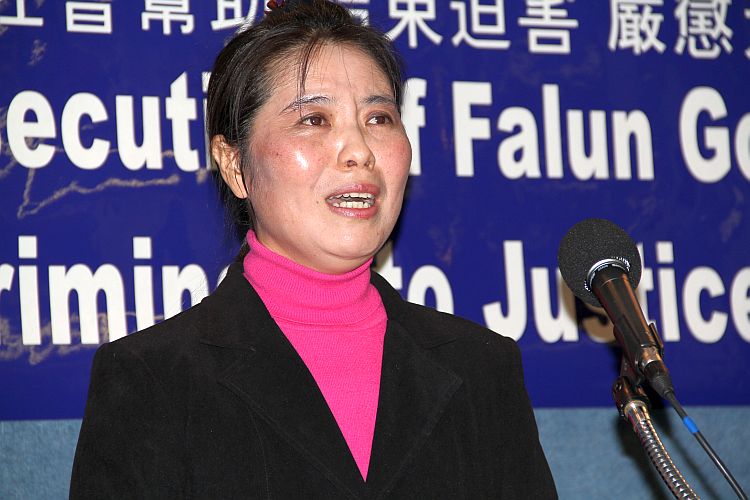 WASHINGTON—Events in China last week have cast a shadow over the meeting of People's Republic of China Vice Chairman Xi Jinping with President Obama on Tuesday, and Xi and the U.S. government are being challenged to address atrocities going on in China. During a failed attempt to defect, a high-ranking Chinese Communist Party (CCP) official may have provided documentary evidence to U.S. consular officials of forced organ harvesting from Falun Gong practitioners. The Chinese regime routinely denies engaging in forced organ harvesting of prisoners.
At a press conference at the National Press Club on Monday, Dr. Tsuwei Huang, spokesperson for the Falun Dafa Association in Washington, D.C., called for the U.S. government to release the contents of a conversation the CCP official Wang Lijun had with consular officials in Chengdu.
Wang, the police chief and vice mayor of the southwestern Chinese megapolis of Chongqing, on Feb. 6 entered the U.S. Consulate in Chengdu, a city four hours drive west of Chongqing, and is said to have asked for asylum.
Wang had been the longtime henchman of Bo Xilai, both when Bo was the CCP boss of Chongqing and earlier when he was governor of Liaoning Province.
In Liaoning, Bo was an enthusiastic enforcer of the Chinese regime's persecution of Falun Gong. The Canada Free Press reported that 100 deaths due to torture had been confirmed during Bo's tenure as governor. Due to his record in Liaoning, lawsuits have been filed against Bo in 10 countries for crimes against humanity.
---
Click this tag to read The Epoch Times' collection of articles on the Chinese Regime in Crisis. Intra-CCP politics are a challenge to make sense of, even for veteran China watchers. Here we attempt to provide readers with the necessary context to understand the situation.
---
Falun Gong (also known as Falun Dafa), an exercise and meditation practice whose foundational principles are truthfulness, kindness, and tolerance, was embraced by over 70 million Chinese, according to an official in the Chinese Sports Administration in the spring of 1999.
The popularity of Falun Gong frightened then paramount leader Jiang Zemin, who in July 1999 ordered a campaign to "eradicate" the peaceful practice.
In the spring of 2006 The Epoch Times broke the story of allegations of forced organ harvesting from Falun Gong practitioners in China.
Forced organ harvesting continues, according to international human rights lawyer David Matas. Matas, along with former Canadian Secretary of State (Asia/Pacific) David Kilgour, in a July 2006 report concluded that detained Falun Gong practitioners were the most likely source for 41,500 organ transplantation operations in China.
According to reports circulated on the Chinese Internet, Bo recently discovered that Wang was under investigation by central Party authorities for corruption and the use of torture in interrogations. Several of Wang's assistants were said to have been arrested by Bo, with three of them dying in custody.
Fearing for his life, Wang eluded police Bo had detailed to watch him, according to these Internet reports, and dashed for the U.S. Consulate in Chengdu.
The U.S. State Department has confirmed that Wang spent the night in the consulate and that he had left the next day of his own volition. Wang was escorted out of embassy grounds by officials who had flown in from Beijing. Bill Gertz, in the Washington Free Beacon, quotes an unnamed U.S. official who confirms that Wang asked for asylum.
Bo had reportedly surrounded the U.S. Consulate with police, but the officials from Beijing prevented Wang from falling into their hands.
According to Chinese blogs, Wang yelled out as he was being escorted out of the U.S. Consulate that he had told U.S. officials everything, that he had sent information overseas, and that he had also handed over documents.
According to Dr. Huang, Wang had broken the "code of silence," and revealed details about both his and Bo Xilai's involvement in illegal organ harvesting of Falun Gong practitioners in China.
With Huang was Chun Mei Ma, a Chinese practitioner of Falun Gong, who has received asylum in the United States after being detained and tortured for her beliefs in China, twice over a period of four years.
Ma, 42, a mother of one son who remains in China, wept as she recalled the tortures she suffered in detention, which included burning with an electronic baton, sleep deprivation, forced feeding, and beatings.
She told reporters each time she was detained she was blood tested and given a full body examination, something other practitioners have also endured, although at the time they had no idea why. Blood tests are necessary to check organ compatibility.
Ma thanked the U.S. government for giving her asylum but wept at the thought others were still detained.
Huang called on Chinese people who have been associated with the persecution, particularly organ harvesting, to come forward and "expose the misdeeds of the wicked."
On the eve of Xi Jinping's visit, Huang asked the vice chairman to listen to his conscience and to do everything he can to stop the persecution.
"We ask China's next leader, Xi Jinping, to immediately stop the persecution of Falun Gong, to conduct a thorough investigation of the Chinese officials responsible for the persecution of Falun Gong practitioners and to bring to justice the main culprits,"  Huang said.