The flow of U.S. natural gas to the European Union has nearly quadrupled since President Donald Trump reached an agreement on energy cooperation with European Commission President Jean-Claude Juncker in 2018.
Since the two issued a joint statement on strengthening U.S.–EU trade cooperation on July 25, 2018, the United States has exported liquefied gas (LNG) equivalent of nearly 50 billion cubic feet of natural gas—up 272 percent compared to the relative period beforehand, according to a May 2 EU press release.
In March alone, the United States sold about five billion cubic feet to the EU, the highest volume ever.
The release came as top energy business executives from both sides of the Atlantic met in Brussels to discuss the future development of LNG trade. The forum was opened by EU Commissioner for Climate Action and Energy Miguel Arias Cañete and U.S. Secretary of Energy Rick Perry.
"We share a history of transatlantic cooperation, through good times and bad, and together, we promote our heritage of freedom," Perry said in the release. "The strength of this relationship can particularly be seen in energy. When it comes to natural gas, we each have what the other needs to derive tremendous mutual benefit from advancing our energy relationship."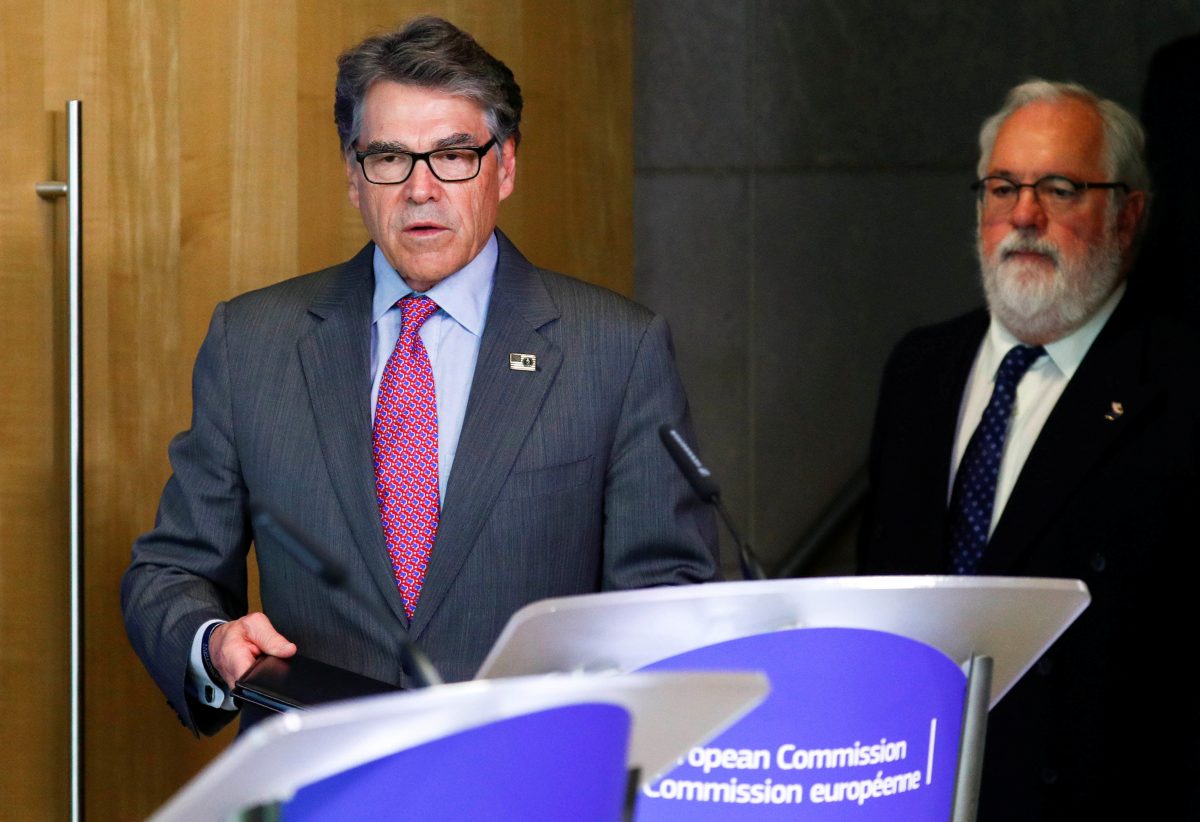 Cañete affirmed the mutual interest in LNG trade and the objective to strengthen it.
"Natural gas will remain an important component of the EU's energy mix in the near future as we move towards cleaner sources of energy," he said. "Given our heavy dependence on imports, U.S. liquefied natural gas, if priced competitively, could play an increasing and strategic role in EU gas supply."
Demand Up
The EU guzzled nearly 17,000 billion cubic feet of natural gas in 2017—roughly a quarter in energy generation, a quarter in industry, and the rest by households. More than half was imported, with Russia supplying nearly two-fifths of the imports.
"European gas imports are projected to increase in the years to come as its domestic production is decreasing, while demand is projected to remain at a comparable level as gas has been identified as an important transition fuel in the EU's efforts to decarbonize its economy," the release stated.
While U.S. LNG is still a drop in the bucket of EU demand, it makes a difference on the U.S. side.
In the 2018 calendar year, some 11 percent of U.S. LNG exports went to the EU. But in the nine-month period of August 2018–April 2019, that share rose to nearly 30 percent.
Cañete told a May 2 news conference that European capacity to import LNG was increasing, with expansion planned in Poland, a Turkish plant to be operational soon, and a planned German site, in addition to the bloc's commitment to invest in pipelines to allow LNG to flow to more parts of the continent.
Regarding the competitiveness of U.S. gas, Perry said that Moscow's cut of supply to Ukraine during the winters of 2006 and 2009 showed that price shouldn't be the only consideration.
"You get what you pay for," Perry said. "The point is the same with Russian gas. If you ask our friends from Ukraine, they might tell you that the availability, the reliability might not be there."
Reuters contributed to this report.