During the U.S.-Polish Nuclear Industry Forum held on Nov. 18 in Poland, Poland's government commissioner for strategic energy infrastructure, Piotr Naimski, said that their nuclear power program will be handled by a joint venture in which Poland will have 51 percent stake and a "foreign partner" will have 49 percent, according to World Nuclear News.
Naimski also said that the Polish state-owned power company Polish Energy Group (PGE) could be a shareholder in that joint venture.
As for the foreign partner, although Poland might consider Korean or French technologies, it is likely that a U.S. company will be selected, according to Gazeta Prawna, as reported by Energy Central.
U.S. Ambassador Georgette Mosbacher who participated in the Forum said American companies are waiting and ready to cooperate with Poland on their nuclear project, reported portal nuclear.pl.
"Representatives of several dozen Polish and American companies are meeting today for direct talks to better understand potential benefits to Polish companies that could be realized under this partnership," said Naimski as per the Joint Press Release.
The Polish Ministry of Energy plans to build 6 nuclear power units in Poland by 2043 with a total capacity of 6-9 GWe, which will account for "about 10 percent of Poland's electricity generation," reported World Nuclear News. The first block is to come online by 2033, according to the same source.
Naimski also stressed that financing must be secured next year to ensure that the project remains on schedule.
The total cost of the project will be roughly $51.4 billion (46.6 billion euros), Naimski said during the Forum, reported Energy Central.
U.S. Secretary of Energy Rick Perry also attended the Forum. He said in a Joint Press Release "As a strategic partner, I am thrilled with the level of participation from our nuclear industry today, and I look forward to continued nuclear industry engagement between our two countries."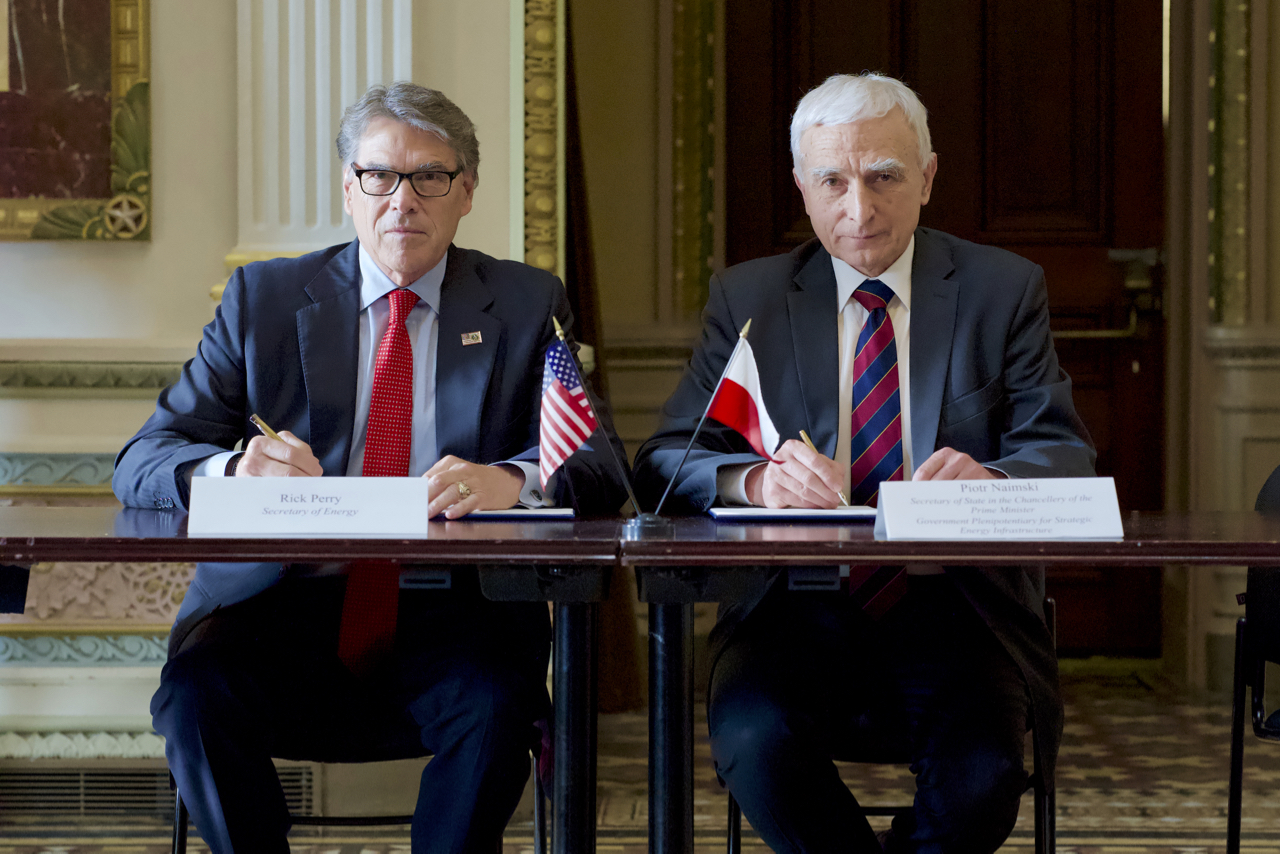 Why Poland Needs Nuclear Power Plants
Poland, traditionally considered a coal state and the second largest coal producer in Europe, relies on the "black gold" as a primary source of electricity. According to the Warsaw Institute, 80 percent of the county's electricity is generated from coal.
The World Nuclear Association estimates that Poland will have a "54 percent increase in demand for electricity between 2006 and 2030." To meet this demand, Poland plans to use nuclear power despite having no existing nuclear plants in the country.
Among the advantages of using nuclear power in Poland will be the reduction of carbon emissions and reducing the dependence on foreign sources of energy.
Although Poland has the largest reserve of coal in Europe, Poland chose to diversify away from coal due to strict carbon dioxide emission regulations imposed within the European Union.
The European Union introduced a carbon dioxide emission tax that rose from $7 per tonne in October 2017 to $30 dollars in August 2019, reported Warsaw Institute.
Poland also uses oil and natural gas as sources of energy, but most of this is imported from Russia, according to the World Nuclear Association. Adding another source of energy will reduce Poland's energy dependency on Russian energy sources.
Another advantage for Poland in utilizing nuclear power will be the relatively low cost of nuclear energy after the generator is completed. According to the report produced by the Polish Ministry of Economy (pdf), the estimated cost of energy generation in 2025 will be 86.3 euros/MWh.