WASHINGTON—U.S. businesses added a smaller yet still healthy number of jobs in Nov., while the unemployment rate remains at a five-decade low and wages rose solidly.
The latest Labor Department data in their latest report (pdf) released Dec.7, portrays an economy that is still adding jobs at a steady rate after nearly a decade of recovery. So far, employers are mostly shrugging off the financial market turmoil of the past two months and escalating trade tensions between the United States and China.
U.S. employers added 155,000 jobs in Nov., down from a more robust 237,000 in Oct. and the unemployment rate remained 3.7 percent, nearly a five-decade low, for the third straight month. The average hourly pay rose 3.1 percent from a year ago, matching the previous month's figure—the best since 2009.
The economy is expanding robustly, with growth reaching 3.9 percent at an annual rate over the summer and fall, the best six-month performance in four years. Still, ongoing interest rate hikes by the Federal Reserve, a possible increase on tariffs with China, and weakening global growth have upset financial markets.
Investors initially bid up stocks after the report's release, but financial markets fell in mid-day trading. The Dow Jones dropped 560 points, or 2.2 percent. That followed a small decline on Dec. 6 and an 800 point drop on Dec. 4.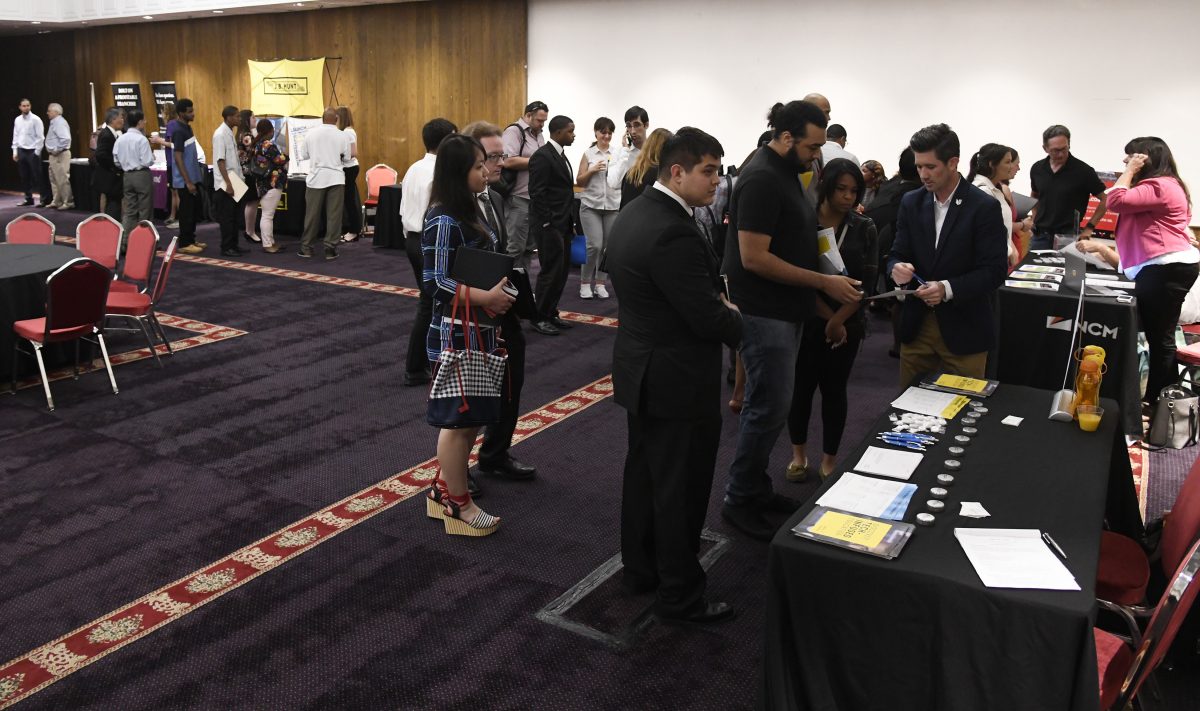 The Nov. jobs figure could predict a slower expansion in 2019 economists said, as the stimulus from 2017's tax cuts wears off and higher borrowing costs weigh on home sales and business investment. But most analysts anticipate the economy will still grow.
"The economy continues to churn out new jobs and reflects the strong underlying business conditions that point to steady, albeit slower job growth and economic activity in 2019," said Joe Brusuelas, chief economist at consulting firm RSM. "This report strongly implies that a recession is not looming just over the horizon."
The report is unlikely to dissuade the Federal Reserve from raising short-term interest rates at its meeting later this month, as expected, Brusuelas said. But it suggests the Fed may not hike rates next year as rapidly as many investors have feared.
Record Low Unemployment Levels
Ongoing job gains are pushing down unemployment rates to historically low levels for a variety of population groups. The unemployment rate for men aged 20 and above fell last month to 3.3 percent, the lowest level seen in 18 years. And the jobless rate for Americans with just high school diplomas dropped to 3.5 percent, the lowest since Dec., 2000. The African-American unemployment declined to 5.9 percent, matching May's figure as the lowest on record.
It has also become more challenging for businesses to find the workers they need. Employers posted 7 million open jobs, outnumbering the number of unemployed people, which fell last month to just under 6 million.
Michael Mabry who is chief operating officer at Mooyah, a fast-casual burger chain mostly located the south, says his company has had to raise pay and offer more flexible scheduling to attract new workers. The company plans to open 15 locations next year, which could create up to 450 new jobs.
Applications have fallen to an "all-time low," Mabry said. The company focuses most of its efforts on recruiting employees from other restaurants, including those who might work later hours at establishments that serve alcohol. His restaurants close at 10 p.m.
"We've had to get competitive on work-life balance," Mabry said. Nearly all employees make at least $10 an hour, and management salaries have risen 5 to 10 percent in the past year, he said.
Significant Job Growth Recorded
Hiring in Nov. was led by health care firms, which added 40,100 jobs, and professional services such as accounting and engineering, which gained 32,000 positions. Manufacturing companies hired 27,000 new workers, the most in seven months and a sign that trade tensions have yet to weaken factory hiring.
Lydia Boussour, senior economist at Oxford Economics, said that continuous job gains and rising pay has bolstered consumer confidence, offsetting the impact of falling stock prices. Greater confidence has boosted holiday shopping.
Retailers responded by adding 18,200 positions in Nov., the highest number in six months. Online spending has lifted shipping and warehousing jobs, which grew by 25,400 positions, the largest in 14 months.
The most recent data shows an economy in solid shape. Americans increased their spending in Oct. by the highest level seen in seven months, and their incomes grew by the most in nine months, according to a government report last week. Consumer confidence remains near 18-year highs, surveys show. And both manufacturing and services companies expanded at a healthy pace in Nov., according to a pair of business surveys.
The housing market, on the other hand, has stumbled throughout 2018 as the Fed's rate hikes have contributed to sharply higher mortgage rates. Sales of existing homes have fallen 5.4 percent from a year earlier, the biggest annual decline in more than four years.
Jeremy Sandberg contributed to this report.