TAIPEI, Taiwan—House Speaker Nancy Pelosi (D-Calif.) reiterated the U.S. commitment to Taiwan on Aug. 3 while holding a joint press conference with Taiwan President Tsai Ing-wen in Taipei.
"Today the world faces a choice between democracy and autocracy, America's determination to preserve democracy here in Taiwan and around the world remains ironclad," said Pelosi, who arrived in Taiwan a day earlier amid threats and military activities by the Chinese communist regime.
She said the bedrock of the bilateral relationship remains with the Taiwan Relations Act, a law that authorizes the United States to provide the island with military equipment for self-defense. The law was signed after Washington ended its diplomatic ties with Taipei in favor of Beijing in 1979.
"Today, our delegation, of which I'm very proud, came to Taiwan to make unequivocally clear—we will not abandon our commitment to Taiwan, and we are proud of our enduring friendship," Pelosi said. "Now more than ever, America's solidarity with Taiwan is crucial."
Beijing Upset
China is irate at Pelosi for stopping at Taiwan during her Asia trip, which has so far included Singapore and Malaysia. The Chinese regime claims Taiwan as a part of its territory and opposes governments and international organizations interacting or forming ties with Taiwanese officials, as such actions suggest that the island is a de facto nation-state.
The regime in Beijing is so displeased with Pelosi's Taiwan visit that China's vice foreign minister, Xie Feng, summoned U.S. Ambassador to China Nicholas Burns late on Aug. 2. According to China's state-run media outlets, Xie said the United States will "pay the price" for its "mistakes" of allowing her to visit the island.
Qin Gang, China's ambassador to the United States, accused the United States of "playing with fire" in a statement. He said he has lodged a "strong protest" with the White House National Security Council and the U.S. State Department.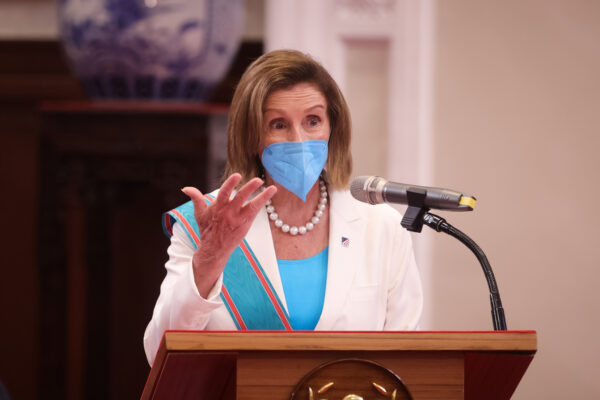 Speaking at the press conference, Tsai said Pelosi's visit comes at a "critical moment" for the island.
"Aggressions against democratic Taiwan would have a tremendous impact on the security of the entire Indo-Pacific," she said, referring to escalating military threats posed by China. "Facing deliberately heightened military threats, Taiwan will not back down. We will firmly uphold our nation's sovereignty and continue to hold the line of defense for democracy.
"At the same time, we wish to cooperate and work in unity with all democracies around the world to jointly safeguard democratic values."
Military Pressure
Beijing has turned up its military pressure on Taiwan. The day before Pelosi's arrival, China flew four J-16 fighter jets into Taiwan's southwest air defense identification zone (ADIZ). The intrusion was stepped up the day of her arrival when 21 Chinese military planes flew into the zone.
China also announced that it would conduct live-fire military drills in six zones around Taiwan from Aug. 4 to Aug. 7. The announcement was issued minutes after the plane carrying Pelosi and her congressional delegation landed in Taipei on Aug. 2.
Taiwan's Ministry of National Defense, in an Aug. 3 statement, condemned China for holding military drills around Taiwan, saying that the moves "threaten" Taiwan's ports and urban areas and "undermine regional peace and stability."
Sun Li-fang, spokesperson for Taiwan's Ministry of National Defense, said during an Aug. 3 press conference that China is challenging international order and violating Taiwan's sovereignty with its drills.
The ministry also disputed Chinese disinformation efforts late on Aug. 2, after China's state-run media outlets began reporting that Chinese Su-35 fighter jets had crossed the Taiwan Strait separating the island from mainland China. In a statement, the ministry said the reports were "fake news."
About an hour before the joint press conference, Pelosi visited Taiwan's Parliament and held a meeting with Deputy Speaker Tsai Chi-chang.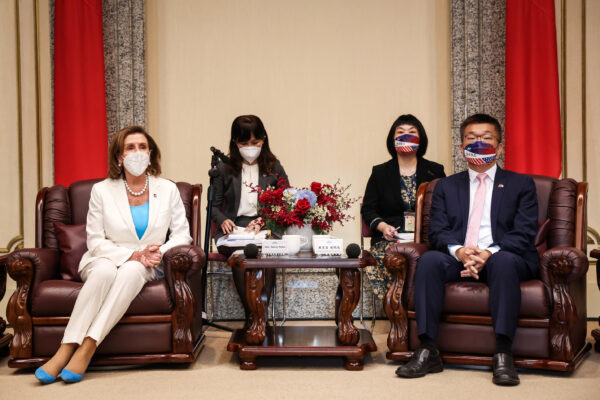 Potential Trade Pact
Pelosi and Tsai held a closed-door meeting after their joint press conference. Afterward, the congresswoman from California revealed during a media session that the two talked about the possibility of signing a trade agreement.
"Hopefully, that is imminent," Pelosi said about the potential trade deal.
Aside from military maneuvers, China has also decided to punish the island economically. On Aug. 2, China announced an import ban on thousands of Taiwanese food products before Pelosi arrived. On Aug. 3, China escalated its economic cohesion by announcing that it will ban the import of citrus fruit and two different types of fish, while also stopping its export of natural sand to Taiwan.
China also announced sanctions against four Taiwanese companies and two organizations on Aug. 3, accusing them of being "secessionists."
"Taiwan has already paid a cost for your visit and is likely to continue to do so in the coming days and weeks. What concrete tangible benefits can you promise Taiwan to offset the cost of your trip?" a reporter asked Pelosi.
In response, she pointed to the CHIPS and Science Act—which is now waiting to be signed by President Joe Biden after the House approved the legislation on July 28—and how Taiwanese tech companies can benefit.
"This is something that opens the door for us to, again, have good, better economic exchanges," Pelosi said, noting that she knew some Taiwanese firms already planned on investing in manufacturing in the United States.
She also said the legislation would facilitate an "increase" in the bilateral relationship.
Pelosi ended the media session by saying that democracy is Taiwan's greatest strength with regard to the possibility of China invading Taiwan.
"We don't want anything to happen to Taiwan by force," she said.
Pelosi left Taiwan at roughly 6 p.m. local time on Aug. 3 and is scheduled to travel to South Korea.