The U.S. Treasury Department has cut China's Bank of Dandong off from the U.S. financial system, on the eve of President Donald Trump's Asia tour.
The Treasury's Financial Crimes Enforcement Network (FinCEN) issued a final rule Thursday that bars U.S. financial firms from doing business with the Bank of Dandong, which the Treasury department described as "a primary money laundering concern."
In June, FinCEN, the Treasury's money laundering and terror finance investigation arm, described the bank as a conduit for illicit North Korean financial activity and signaled the bank would be severed from the U.S. financial system.
But the Treasury did not announce when that would come into effect. The timing, the day before Trump left for his tour, will inevitably be read as significant by the Chinese regime.
Trump has made resolving the North Korean crisis and leveling out the massive U.S. trade deficit with China two of his top foreign policy considerations.
FinCEN says the Chinese bank has facilitated millions of dollars of transactions for companies involved in North Korea's weapons and ballistic missile programs and entities responsible for their proliferation.
FinCEN has also alerted other financial institutions to the ways North Korea evades U.S. and U.N. sanctions, launders funds, and finances the regime's military ambitions.
"Today's actions will better protect the U.S. financial system from illicit schemes used by North Korea to evade sanctions and finance its weapons programs," said Treasury Secretary Steven Mnuchin.  
"Banks and businesses worldwide should take note that they must be vigilant against attempts by North Korea to conduct illicit financing and trade."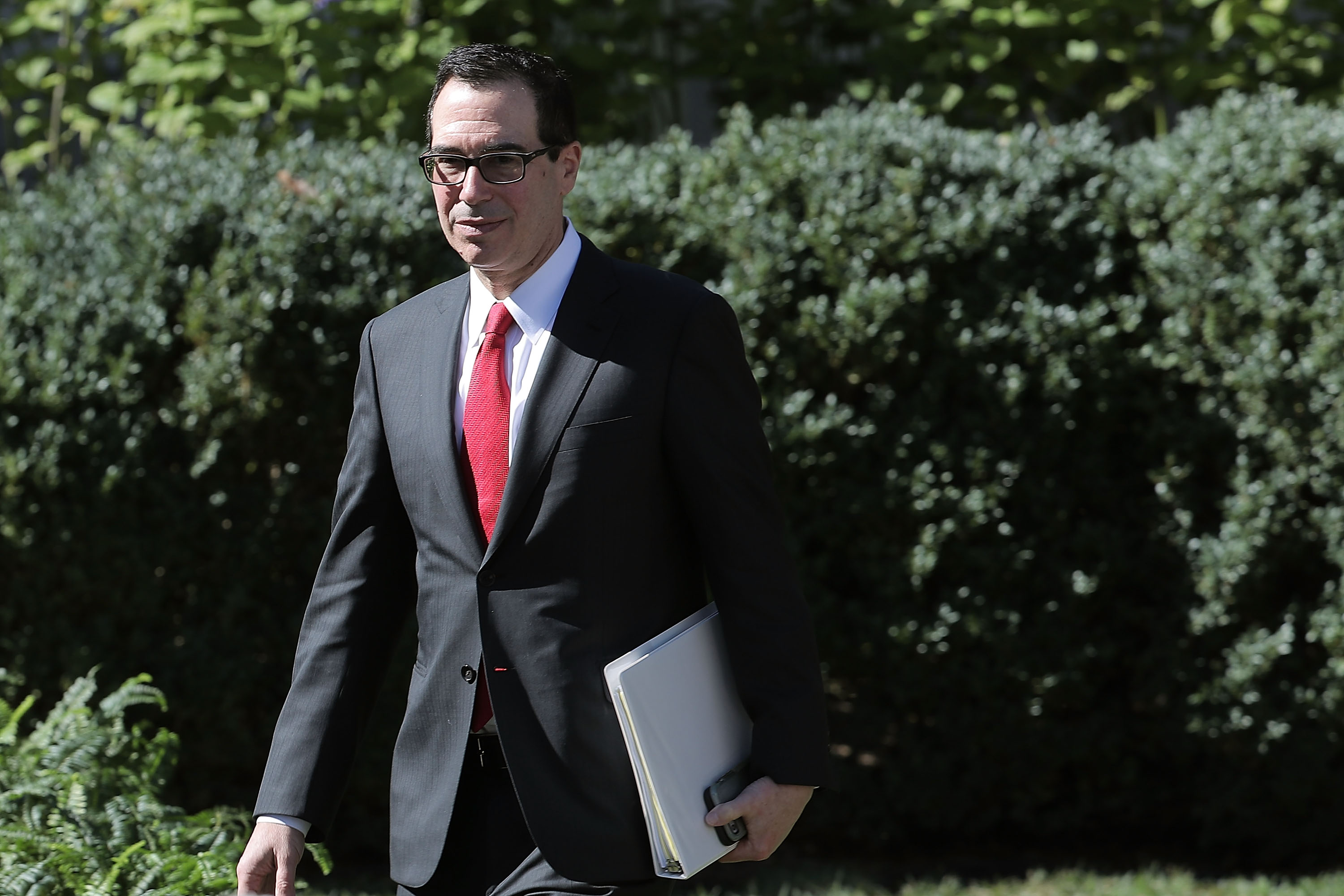 The move to cut the bank off from the world's most critical financial system is the latest in a growing list of secondary sanctions the United States has leveled against Chinese firms and individuals that have violated U.S. and U.N. sanctions.
Those secondary sanctions are part of a prolonged push to get China to fully enforce U.N. sanctions it has supported, and crackdown on the smuggling and illicit activity that is rife along the Chinese border with North Korea.
China has been reluctant to push sanctions to the point where they could destabilize the North Korean regime, citing fears of sparking a refugee crisis. Analysts have thrown doubt on concerns that China would be affected by such a crisis given South Korea's willingness to take in North Korean refugees and China's wish to preserve the North Korean state as a buffer between its territory and U.S.-ally South Korea.
Dandong, the border town that is the bank's namesake, is a hub of illicit China-North Korean trade.
In September, the Treasury's Office of Foreign Assets Control (OFAC) imposed sanctions on Dandong Hongxiang Industrial Development Company Ltd (DHID) for working with the Korea Kwangson Banking Corporation (KKBC), which was previously sanctioned by the United States and the U.N. for providing financial services that supported proliferators of weapons of mass destruction.  
The month before, OFAC designated Dandong Rich Earth Trading Co., Ltd.—meaning that U.S. companies are prohibited from doing business with it—for purchasing vanadium ore from the Korea Kumsan Trading Corporation, which was also already designated by the U.N. and United States.
That August, OFAC also designated the Dandong Tianfu Trade Co. Ltd. and Dandong Zhicheng Metallic Materials Co. Ltd. for operating in the North Korea's mining industry.
OFAC has also designated several individuals from the border city for violating sanctions in their business dealings with North Korea. They are now cut off from doing business with U.S. firms, falling under sanctions themselves.