U.S. Secretary of State Mike Pompeo issued a stern warning against the Chinese Communist Party (CCP) after it decided to impose a draconian national security law on Hong Kong, saying that the United States "will not stand idly by while China swallows Hong Kong."
"Today marks a sad day for Hong Kong, and for freedom-loving people across China," Pompeo stated in a press release from the State Department on June 30.
"Hong Kong demonstrated to the world what a free Chinese people could achieve—one of the most successful economies and vibrant societies in the world," he observed. "But Beijing's paranoia and fear of its own people's aspirations have led it to eviscerate the very foundation of the territory's success, turning 'One Country, Two Systems' into 'One Country, One System.'"
"One Country, Two Systems" is a framework by which Beijing promised to preserve Hong Kong's autonomy upon the city's transfer of sovereignty from Britain to China in 1997.
The national security law went into effect at 11 p.m. local time on June 30 after ceremonial votes by China's rubber-stamp legislature, the National People's Congress (NPC) on the same day.
The law criminalizes individuals for any acts of subversion, secession, terrorism, and collusion with foreign forces, with maximum penalties of life imprisonment.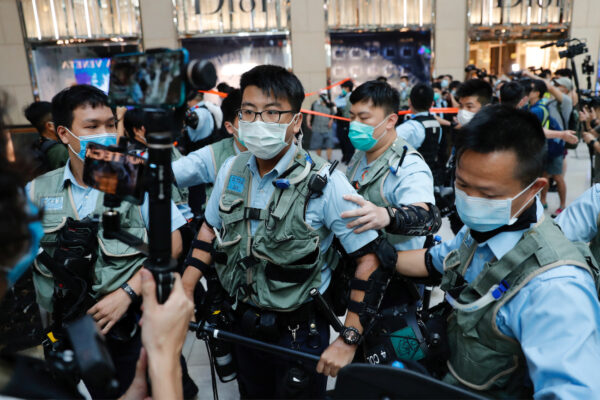 Among the different provisions under the law, the Chinese regime has ultimate jurisdiction over security cases and will establish a security bureau that would instruct and supervise the Hong Kong government over the law's implementation.
The passage of the law immediately drew criticism from the pro-democracy camp in Hong Kong, with lawmaker Tanya Chan equating the law to a "death certificate" for "one country, two systems."
There has been an international outcry, with criticisms coming from more than 27 countries, as well as Taiwan and the European Union. Many U.S. lawmakers also voiced their opposition, with U.S. House Speaker Nancy Pelosi (D-Calif.) saying the law's passage "signals the death of 'one country, two systems."
Pompeo said in his statement that the CCP's move to enact the national security law "demonstrates once again that Beijing's commitments—in this case, the 1984 Sino-British Joint Declaration and the Basic Law—are empty words," referring to the treaty that governed Hong Kong's handover and is supposed to guarantee Hong Kong people 50 years of freedom.
"The United States will not stand idly by while China swallows Hong Kong into its authoritarian maw," he said, adding that the United States has already taken a number of actions in response, which include imposing visa restrictions on CCP officials for eroding Hong Kong's autonomy and freedoms, revoking Hong Kong's special trading status, and imposing similar export restrictions on the city as it does on China on U.S. defense and dual-use technologies.
State Department Spokesperson Morgan Ortagus said on Twitter that the visa restrictions will also target CCP officials behind the national security law.
Our visa restrictions on PRC officials responsible for undermining Hong Kong's autonomy will target those behind this legislation.

— Morgan Ortagus (@statedeptspox) July 1, 2020
Pompeo said that the United States "will continue to stand with the freedom-loving people of Hong Kong and respond to Beijing's attacks on freedoms of speech, the press, and assembly, as well as the rule of law."
Hong Kong leader Carrie Lam said on July 1 that the law was "an essential and timely decision for restoring stability in Hong Kong."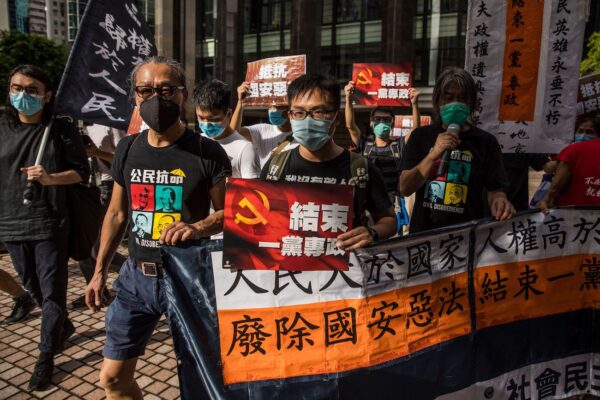 Starting June 2019, millions took to the streets in ongoing mass protests in opposition to the now fully-scrapped extradition bill. Protests continued in Hong Kong on early July 1 with about a dozen members of pro-democracy party League of Social Democrats marching in Wan Chai while shouting slogans such as "Fight Against the National Security Evil Law," and holding banners with the words "end one-party authoritarian rule."
The League of Social Democrats said in a press release that the national security law "deprives Hongkongers' freedoms" and "tramples upon the civil rights outlined in the Basic Law."