BUENOS AIRES, Argentina—The United States and China reached a 90-day ceasefire in a trade dispute that has rattled financial markets and threatened world economic growth. The breakthrough came after a dinner meeting Dec. 1 between President Donald Trump and Chinese leader Xi Jinping at the Group of 20 summit in Buenos Aires.
Trump agreed to hold off on plans to raise tariffs Jan. 1 on $200 billion in Chinese goods.
In return, the Chinese agreed to buy a "not yet agreed upon but very substantial amount of agricultural, energy, industrial," and other products from the United States to reduce America's huge trade deficit with China, the White House said.
The truce buys time for the two countries to work out their differences in a dispute over Beijing's aggressive drive to supplant U.S. technological dominance.
China to Regulate Fentanyl Production
After more than a year of work by the United States to seek concessions, China has agreed to label fentanyl, the deadly synthetic opioid responsible for tens of thousands of American drug deaths annually, as a controlled substance.
Most U.S. supply of the drug, which is 50 times more powerful than heroin, is manufactured in China.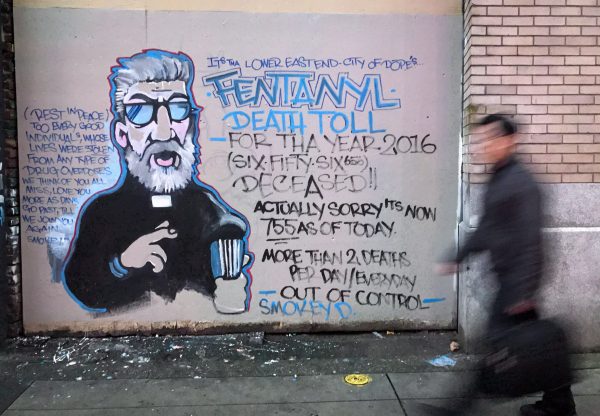 White House press secretary Sarah Sanders says China's decision to label the drug as a controlled substance means that "people selling Fentanyl to the United States will be subject to China's maximum penalty under the law."
The Trump-Xi meeting was the marquee event of Trump's whirlwind two-day trip to Argentina for the G-20 summit after the president canceled a sit-down with Russian President Vladimir Putin over mounting tensions between Russia and Ukraine. Trump also canceled a news conference earlier Dec. 1, citing respect for the Bush family following the death of former President George H.W. Bush.
The United States and China are locked in a dispute over their trade imbalance and Beijing's predatory tactics in its tech industry, including stealing trade secrets and forcing American firms to hand over technology in exchange for access to the Chinese market.
Trump has imposed import taxes on $250 billion in Chinese products—25 percent on $50 billion worth and 10 percent on the other $200 billion. Trump had planned to raise the tariffs on the $200 billion to 25 percent if he couldn't get a deal with Xi.
China had also slapped tariffs on $110 billion in U.S. goods.
Under the agreement reached in Buenos Aires, the two countries have 90 days to resolve their differences over Beijing's tech policies. If they can't, the U.S. tariff increases will go into effect on the $200 billion in Chinese imports.
U.S. officials insist that the American economy is more resilient to the tumult than China's but they remain anxious of the economic effects of a prolonged showdown.
A full-blown resolution was not expected to be reached in Buenos Aires.
The U.S. delegation included Secretary of State Mike Pompeo, Secretary of Treasury Steven Mnuchin, Chief of Staff John Kelly, U.S. Trade Representative Robert Lighthizer, National Security Adviser John Bolton, Assistant to the President and Senior Adviser Jared Kushner, Assistant to the President for Trade and Manufacturing Policy Peter Navarro, and Assistant to the President for Economic Policy Larry Kudlow.
A Special Relationship
Before the start of the meeting, Trump told reporters that he was looking forward to the discussion with his Chinese counterpart.
"The relationship is very special—the relationship that I have with President Xi," he said. "I think that is going to be a very primary reason why we'll probably be ending up getting something that will be good for China and good for the United States."
Chinese leader Xi Jinping echoed Trump, saying that the meeting was "a manifestation of a personal friendship."
"China and the United States are two important countries with major influence in the world and shoulder important responsibilities for international peace and prosperity," Xi said.
Both sides would exchange ideas on issues of mutual interest and draft a future for the China-U.S. relationship, he added.
Trump met Nov. 30 with Japanese Prime Minister Shinzo Abe and Indian Prime Minister Narendra Modi in a rare trilateral meeting. The symbolism ahead of the Xi meeting was clear: The Trump administration has looked to find common cause with both nations in countering China's regional hegemony.
Earlier that day, Trump signed a revamped three-way trade deal with Canada and Mexico, fulfilling a long-standing pledge.
Additional reporting by Epoch Times reporter Emel Akan.
Watch next:
Death by China
Directed by President Trump's trade adviser Peter Navarro