A U.S. Capitol Police officer has died on Thursday night due to injuries while on duty responding to riots that broke out amid the civil unrest in Washington, police confirmed in a statement.
The officer, Brian Sicknick, died at about 9:30 p.m. In a public statement, the U.S. Capitol Police Department (USCP) said that it "expresses its deepest sympathies to Officer Sicknick's family and friends on their loss, and mourns the loss of a friend and colleague."
Sicknick first joined the department in July 2008 as part of its First Responder's Unit. He was "injured while physically engaging with protesters," according to the USCP.
"He returned to this division office and collapsed," the department's announcement reads. "He was taken to a local hospital where he succumbed to his injuries."
His death will be investigated by the D.C. Police Department's Homicide Branch, the USCP, and its federal partners.
Lawmakers in Congress on Twitter expressed an outpouring of condolences upon news of the officer's death.
"Our hearts break over the senseless death of United States Capitol Police Officer Brian D. Sicknick, who was injured in the line of duty during yesterday's violent assault on the Capitol," Reps. Tim Ryan (D-Ohio) and House Appropriations Committee Chairwoman Rep. Rosa DeLauro (D-Conn.) wrote in a joint statement. "Our prayers are with his family, friends, and colleagues on the force.
"This tragic loss should remind all of us of the bravery of the law enforcement officers who protected us, our colleagues, Congressional staff, the press corps, and other essential workers yesterday. To honor Officer Sicknick's memory, we must ensure that the mob who attacked the People's House and those who instigated them are held fully accountable."
Vice President Mike Pence in a statement said that he and his wife were "deeply saddened" to learn of the news.
"Officer Sicknick is an American hero who gave his life defending our Capitol and this Nation will never forget or fail to honor the service and sacrifice of Officer Brian Sicknick," he said in a statement.
"I am devastated to hear about the passing of U.S. [Capitol Police] Officer Brian Sicknick and extend my deepest sympathy to his family. My staff and I cannot say enough to express our appreciation for his sacrifice to keep us safe," Rep. John Curtis (R-Utah) said in a statement.
"Devastating news. Please join me in praying for our fallen Capitol Police officer's family during this heartbreaking time," House Republican Whip Rep. Steve Scalise (R-La.) said in a statement.
Earlier in the day, the USCP said in a statement it disputed reports that an officer had died.
"Media reports regarding the death of a United States Capitol Police (USCP) officer are not accurate," the USCP previously said in a statement to The Epoch Times.
"Although some officers were injured and hospitalized yesterday, no USCP officers have passed away," the statement read. "We ask that our officers' and their families' privacy be respected at this time. Should a statement become necessary, the Department will issue one at the appropriate time."
White House Press Secretary on Thursday characterized Wednesday's events as "a group of violent rioters undermining the legitimate first amendment rights of the many thousands who came to peacefully have their voices heard in our nation's capital."
"Those who violently besieged our capitol are the opposite of everything that this administration stands for," she said. "The core value of our administration is the idea that all citizens have the right to live in safety peace and freedom."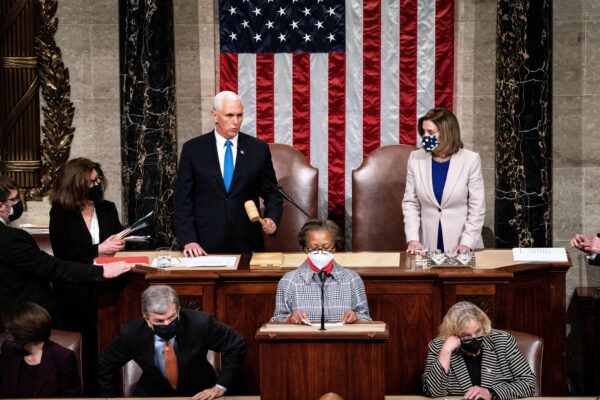 Lawmakers were gathered at the U.S. Capitol building on Wednesday for a joint session of Congress to count and certify Electoral College votes for the 2020 presidential election that ultimately certified the vote in favor of former Vice President Joe Biden by the early hours of Thursday despite objections from state legislators.
Large numbers of protesters had amassed in Washington, including around the U.S. Capitol, calling for investigations to ensure election integrity. President Donald Trump had called for his supporters to come to Washington for a planned protest.
Proceedings in the chambers to debate whether to reject a slate of Electoral College votes for Arizona were interrupted in the afternoon when rioters and protesters stormed the U.S. Capitol. It is unclear who instigated the breach of the building, which occurred around 2:15 p.m. Officials declared around 6 p.m. that the Capitol building had been secured.
Michael Sherwin, acting U.S. attorney for the District of Columbia, said that 55 cases had lead to charges within 36 hours, related mostly to the breach of the building.
Four people were confirmed dead on Capitol grounds late Wednesday, among whom was a woman who died from being shot inside the Capitol building. The DC Police Department identified her as 35-year-old Ashli Babbitt of Huntington, Maryland. The department said the three others died in separate medical emergencies. They were 50-year-old Benjamin Philips of Pennsylvania, 55-year-old Kevin Greeson of Alabama, and 34-year-old Rosanne Boyland of Georgia.
"We grieve for the loss of life and those injured and we hold them in our prayers and close to our hearts at this time," McEnany said at a press conference. "We thank our valiant law enforcement officers who are true American heroes."

Trump late on Wednesday also condemned violence at the nation's capital.
"Like all Americans, I am outraged by the violence, lawlessness, and mayhem," Trump said. "I immediately deployed the National Guard and federal law enforcement to secure the building and expel the intruders."
"America is and must always be a nation of law and order. The demonstrators who infiltrated the Capitol have defiled the seat of American democracy."
"To those who engaged in acts of violence and destruction, you do not represent our country. And to those who broke the law, you will pay."
The president also said, "A new administration will be inaugurated on Jan. 20. My focus now turns to ensuring a smooth, orderly, and seamless transition of power."
This article was updated with updated information about the condition of the U.S. Capitol police officer.