Canada and the United States came to an agreement Tuesday to extend a ban on non-essential travel between the two nations for another 30 days, said Canadian Prime Minister Justin Trudeau.
The travel ban, which affects travel across the 5,500-mile-long U.S.-Canada border, was initiated in mid-March to curb the spread of the CCP (Chinese Communist Party) virus, and it was already extended in April until May 21. The ban doesn't cover trade and work-related travel between the two countries.
"This is an important decision that will keep people in both of our countries safe," Trudeau said during a daily briefing on Canada's response to the virus.
Trudeau said that some provincial officials had sought to get the travel ban extended, adding that Washington fully agreed to do so.
"We had lengthy discussions with the provinces over the last few weeks and they clearly desired that we maintain the current measures at the border," he said.
The prime minister does not yet know if the travel ban would be extended past June 21, saying the government is making decisions on a "week to week" basis.
"The situation is changing rapidly and we're adjusting constantly to what is the right measures for Canadians, to get that balance right—keeping people safe and restoring a semblance of normality and economic activity that we all rely on," he told reporters.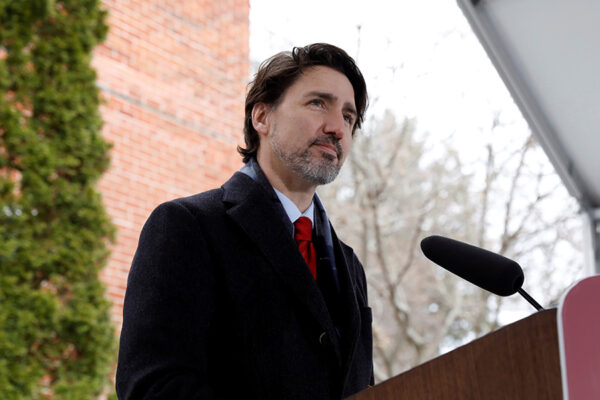 According to data provided by Canadian health officials, more than 5,800 people have died from COVID-19, the disease caused by the CCP virus. More than 78,000 cases have been confirmed in Canada, which has a population of around 37 million.
The United States, meanwhile, has seen around 1.5 million cases of the virus and more than 90,000 deaths.
Due to record job losses and social distress caused by stay-at-home orders and business closures, there has been increasing pressure to reopen. Some families who have members living in both Canada and the United States have expressed frustration about the travel ban.
According to Canada's government, those who can enter the country are Canadian citizens, a Canadian permanent resident, a person registered under Canada's Indian Act, a "protected person," and foreign essential workers.
Thousands of miles to the south, construction of President Donald Trump's signature border wall remains ongoing. Last week, the head of the Customs and Border Protection (CBP) said that the barrier is going up faster than before the pandemic.
"This pandemic has not slowed the construction of the border wall system. In fact, we're increasing the pace of construction," Acting CBP Commissioner Mark Morgan told Fox News on May 14. "COVID-19 should be a wake-up call for all Americans that border security is national security. Preventing and slowing down the introduction of a deadly virus into the U.S. from outside our borders is exactly why border security matters, and why the wall matters."