WASHINGTON—Under pressure from President Donald Trump, a 145-year-old multilateral organization has agreed to change its international postal rates, giving a victory to American companies that fight against counterfeit products.
The Universal Postal Union (UPU), a U.N. agency that governs international postal rates, reached an agreement on Sept. 25 to overhaul its pricing policies, averting the possible exit of the United States. The 192 member nations voted to approve changes to rates on bulky letters and small parcels shipped internationally.
Under the new system, the United States will be able to self-declare its rates starting July 1, 2020.
The Trump administration last year threatened to quit the union due to its unfair pricing system, which allowed countries such as China to pay subsidized shipping rates. The rates set by the UPU, known as "terminal dues," are used by the countries to charge each other for the domestic component of international postal transactions.
The UPU's pricing system was designed to favor less developed countries. Under the old system, mail services for small packages shipped from countries such as China to the United States cost significantly less than what the United States Postal Service (USPS) charges American mailers for similar services. That inequality in shipping costs has put U.S. businesses at a significant disadvantage.
The change in UPU's pricing system will have a "massive impact on counterfeiting," according to Jayme Smaldone, a small-business owner from Rahway, New Jersey, who has been fighting Chinese knockoffs for years.
"The unfair rates were causing a dramatic explosion of counterfeiting because the counterfeits were able to access these shipping rates that we were not able to access," he said.
Smaldone runs an 11-employee company called Mighty Mug, which produces innovative coffee and travel mugs.
His company pays the USPS $6.30 to ship a mug within the United States, while a Chinese retailer sending a fake Mighty Mug 8,000 miles from China pays only $1.30.
"In the past 12 months, we've removed 4,121 knockoffs from the global marketplaces like eBay, Amazon, AliExpress, Ali Baba, and Wish.com," Smaldone said. "It's really a game of whack-a-mole."
Smaldone believes that a large percentage of fake Mighty Mugs will disappear soon thanks to the overhaul in shipping rates. He said the reform would have a significant impact, especially on goods priced below $50.
Since the announcement of the possible withdrawal last year, there were rounds of negotiations between the postal union and the Trump administration.
The union called an "extraordinary congress" last week to vote for reforms to the terminal dues systems.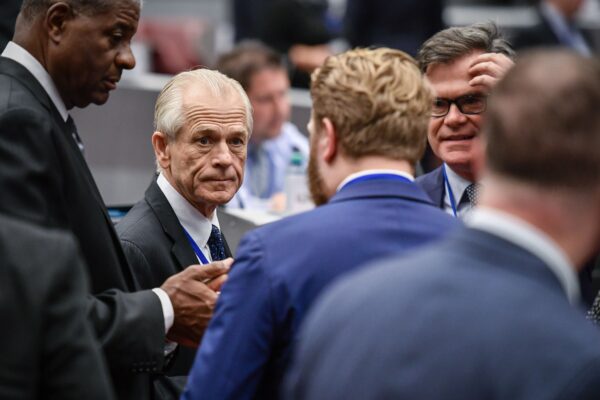 E-Commerce
With the advancement of internet and online shopping, the mail has become the primary way for products to travel, and this has helped fuel the growth of knockoffs online.
Terminal dues have "not kept pace with the dramatic rise in e-commerce, and America is the biggest victim," White House trade adviser Peter Navarro wrote in an op-ed in the Financial Times.
"Today, manufacturers in countries as small as Cambodia and as large as China pay less to send small parcels from their countries to New York than U.S. manufacturers do to ship packages from Los Angeles to the Big Apple."
China is the world's largest e-commerce market, with over 50 percent of global transactions originating from China. Due to the old UPU treaty, the world's second-largest economy was able to enjoy subsidized shipping rates reserved for developing nations such as Cuba and Gabon.
The terminal due system has long been a problem not just in the United States but also in Europe, according to Jim Campbell, a lawyer and international postal policy consultant.
"The distortions created by the terminal due system have become much more serious as—in the last 10 years, roughly—the international e-commerce has boomed," he said.
"The Trump administration deserves great credit for finally, after all these years, doing something about the situation."
Campbell noted that the United States, due to its economic power, was the only country that could have intervened in the system.
"It was a necessary step by the Trump administration. They took it and they made it," he said.
America First
The new framework will allow the United States to start setting its own postal rates in July 2020. However, other countries will be able to phase in higher rates over five years starting in 2021.
While many nations have complained about skewed remuneration rates for years, the United States will be the first country to set its own rates.
"It's unfortunate that the United States has not been able to develop a reform of the system that benefits everybody," Campbell said. "There are countries that are not entirely happy that the United States gets to go first."
The United States backed an option that would allow all countries to self-declare their rates from 2020. However, UPU members rejected the proposal, with 78 countries voting against it and 57 voting in favor.
Other countries that raised concerns about the UPU rates and favored reform include Finland, Norway, Ireland, Italy, Canada, and Brazil.