US Breaks Canadian Hearts in Olympics Women's Soccer
August 6, 2012 6:59 pm Last Updated: August 9, 2012 2:34 am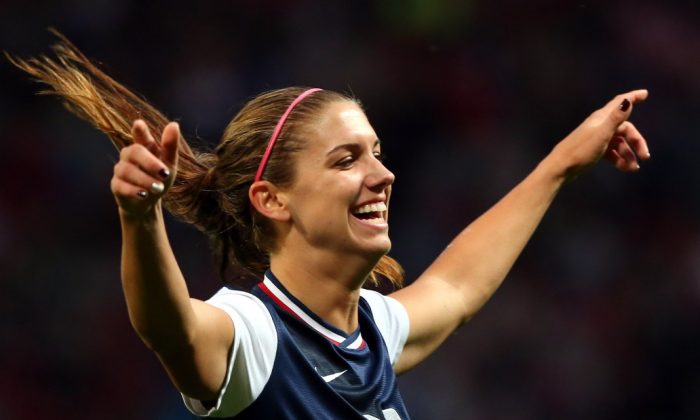 The United States women's soccer team battled to the very end to beat Canada 4–3 in extra time in one of the greatest women's soccer matches ever played. The semifinal match was played at Old Trafford, the home of Manchester United—the "Theater of Dreams."
The United States had to come from behind three times before Alex Morgan headed her team into the gold-medal match in the 123rd minute of play. Canada needed to survive perhaps 30 more seconds before a penalty shootout would have take place.
Canada entered the game as huge underdogs, given that they had not beaten the U.S. since 2001. Their most recent meeting, on June 30 in a pre-Olympic warm up match, resulted in a 2–1 win for the United States.
But coach John Herdman's women put on a spectacular display led by Christine Sinclair, who scored three goals. Every player on both teams emerged as heroines in this grueling encounter.
Unfortunately though, Canada feels hard done by, as a couple of decisions made by referee Christiana Pedersen were instrumental in the U.S. leveling the match at 3–3. Refereeing decisions and controversy seem to go hand in hand with top-level soccer games and this Olympic semifinal was no different.
The United States, ranked No. 1 in the world, will face Japan in the gold medal game at Wembley Stadium on Thursday. Japan, who beat the U.S. in the World Cup last year, hung on to beat France 2–1.
Also on Thursday, Canada will face France in Coventry for the bronze medal, hoping to avenge a 4–0 loss at the 2011 World Cup.
The United States–Canada women's soccer rivalry is arguably the best in the women's game. Not just divided by a border, there is also quite a goal-scoring rivalry between Sinclair and Wambach. Wambach entered the match two ahead of Sinclair (142 to 140). Both trail American great Mia Hamm, who has 158 career goals.
This match will go a long way to intensifying the terrific rivalry.
Match Action
Both teams began the match with unchanged lineups from their semifinal victories.
The U.S. team didn't allow Canada to dictate play in the early going as they did against Sweden and Great Britain. The Americans, led by Swedish coach Pia Sundhage, took it to Canada, but were unable to create a scoring chance early in the game.
Sinclair gave Canada the lead in the 22nd minute with a classy goal. Fullback Marie-Eve Nault sent a ball into Melissa Tancredi who gave a short pass to Sinclair. From there, Sinclair rounded an American defender and left U.S. goalie Hope Solo no chance.
Sinclair's great composure was the difference in an exciting first half, but the United States had a couple of great chances as well.
Megan Rapinoe, who had been sending in crosses and free kicks at will into the Canadian box, took a free kick in the 31st minute that Morgan headed just wide. Five minutes later, Morgan took advantage of a mistake in judgment by Nault to send in a cross to Wambach. But Wambach was well defended and headed wide from a central position.
Canada had a 1–0 lead at halftime, but few could have imagined what was to happen next.
Epic Proportions
The breathtaking second half featured four goals in 19 minutes.
Rapinoe brought the U.S. level at 1–1 when her low corner kick curled in at the near post. Canada's defense was made to look foolish here by not having a defender at the near post. The goal had been coming as the U.S. pressure began to create some cracks in Canada's armor.
Canada's game seemed to dip after this point with the Americans growing in confidence. Canada was unable to hang on to the ball and exert any kind of control over the game. But quite against the run of play, Tancredi broke down the left flank and sent in a cross that Sinclair headed past Solo.

But Rapinoe was not finished scoring. Just three minutes after Sinclair's second goal of the game, she fired a hard right-footer that went off the far post and past Erin McLeod in the Canadian goal.
In what was quickly turning into an epic battle between the two rivals, Sinclair's header off a corner put Canada ahead 3–2 just three minutes after Rapinoe's second goal.
Controversy Strikes
Norwegian referee Pedersen's controversial decisions unfortunately played a significant role in determining the outcome of this semifinal. Already being questioned for not calling many fouls, Pedersen penalized McLeod for a six-second violation, thus giving the U.S. an indirect free kick in the Canadian 18-yard box.
The six-second violation resulting in an indirect free kick is rarely called in professional soccer and Canada can feel aggrieved by the unusual decision.
The resulting free kick struck the arm of Nault and a penalty was awarded to the U.S. Nault's hand was not fully extended from her body and her action was to merely protect herself from the hard shot. Again, many referees might not call a penalty shot in this situation.
Wambach stepped up and converted the penalty coolly, squaring the game 3–3. It was her 143rd career goal, getting back on level terms with Sinclair.
The match entered extra time. The ladies never stopped working and Canada's Desiree Scott showed how tough female soccer players can be. In a knee-on-knee collision near the center of the pitch, she appeared to hyperextend her knee.
But she only exited the pitch briefly before making her return.
Wambach nearly gave the U.S. the win when her header off a cross from Morgan hit the bar.
But in the final minute of extra time of the second period of extra time, Morgan connected with a perfect header that beat the outstretched arm of McLeod.
The U.S. women had miraculously won the match just before a penalty shootout, sending their team into ecstatic celebrations. The Canadian players, who had given everything that could be asked of them, fell to the pitch heartbroken.
Women's soccer emerged victorious on this occasion, but it is a bitter pill to swallow for Herdman's Canadian women.
Prior to the match, Sinclair tweeted: "Olympics. Semi final. Can vs usa. Old Trafford. Nothing else has to be said."
Next time, Canada and the United States face off in women's soccer, all sports fans must tune in.
Follow Rahul on Twitter @RV_ETSports
The Epoch Times publishes in 35 countries and in 19 languages. Subscribe to our e-newsletter.