U.S. border officers in Chicago seized "very realistic" fake law enforcement badges arriving from China in the past week, Customs and Border Protection (CBP) said on Aug. 17.
The agency seized a total of nine counterfeit badges in several parcels on Aug. 13 and 15, including one FBI badge and eight Drug Enforcement Administration (DEA) badges, CPB said in a statement. The packages, intercepted at the Chicago International Mail Branch, were destined for locations across the United States.
"These counterfeit badges could have led to disastrous consequences. … Our CBP officers were able to identify these very realistic counterfeits and stop them from reaching their destinations," said LaFonda Sutton-Burke, director of Chicago field operations. She said the fake badges could be used for "illicit activity under the guise of federal agents."
Port Director for the Chicago area Shane Campbell expressed concern that such acts could undermine the public's faith in law enforcement.
CBP said this isn't the first time it has come across federal law enforcement counterfeits, having seen fake U.S. Marshals badges and others.
Other counterfeit items that agents have seized in the past range from fake currency to COVID-19 related products, including N95 masks.
Border officers at the port of Memphis, Tennessee, intercepted a shipment containing 51 blank counterfeit COVID-19 vaccination cards en route to New Orleans from Shenzhen, China, the CBP said in an Aug. 13 statement.
Those shipments were described as "PAPER CARD, PAPER" or "Paper Greeting Cards" with typos and misspelled Spanish verbiage, the statement reads.
This fiscal year to date, CBP seized 3,017 fake COVID-19 vaccination cards shipped from China, according to the statement.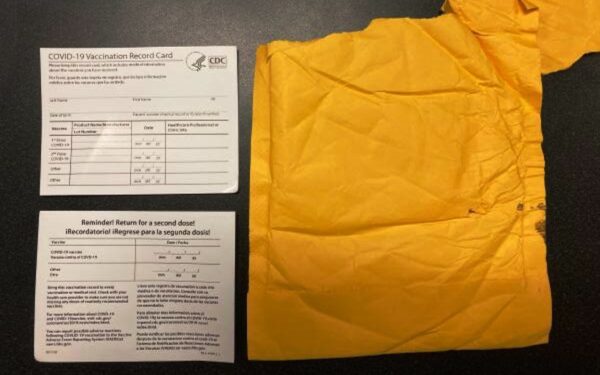 In mid-May, the Chicago officers stopped counterfeit currencies totaling $685,000 from China. Later that month, agents declared to have discovered 30,000 fraudulent Chinese-made necklaces at the Mariposa Port of Entry in Nogales, Arizona, which claimed to protect wearers from COVID-19.
In fiscal year 2020, China remained the primary source for counterfeit and pirated goods seized. The intellectual property rights seizures related to the country make up an estimated over $660 million—approximately 51 percent of the overall manufacturer's suggested retail price value, 2020 Seizure Statistics data show.
Officers in Chicago also seized more than 19,000 fake driver's licenses in the first half of 2020, with the majority entering from China and Hong Kong.
In fiscal year 2019, almost 50 percent of overall seizures by CBP originated from China, followed by 35 percent from Hong Kong.
Selling counterfeit goods can lead to 10 years imprisonment for the first offense and heavy fines under federal laws.