Two U.S. Air Force heavy bombers have joined the Australian air force to conduct training exercises meant to help enhance military cooperation between the allies off the northeast coast of Australia, in the Northern Territory.
The U.S. B-1 Lancer bombers, known as Bones, flew in from the Indian Ocean region to conduct drills alongside the Royal Australia Airforce (RAAF).
Commanding Officer at RAAF Darwin Andrew Anthony said the drills would include manoeuvres like air-to-air refuelling or surveillance data transmission.
"One aircraft can provide another aircraft information about what it's seeing either in the ocean or on the ground," he said.
The RAAF crews joining the exercise will be flying a P-8A Poseidon maritime patrol aircraft and two KC Multi-Role Tanker Transports.
Wing Commander Anthony said it would help the crews get used to flying in the same airspace at the same time, forming part of the interoperability between Australian and United States aircraft.
During the mission, the U.S. bombers and RAAF air tankers are looking to rendezvous over the Timor Sea at an altitude of 30,000-feet.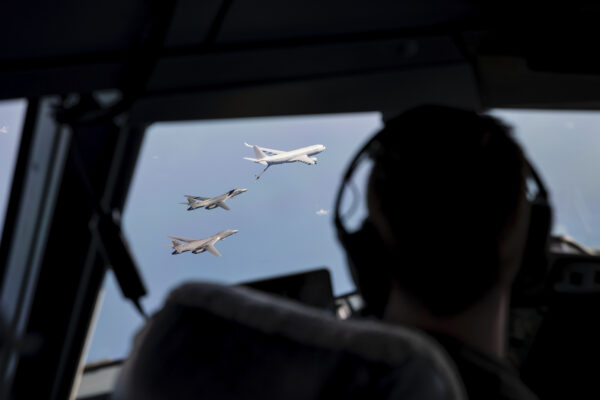 The bombers will run drills doing missed approach or planned emergency diversion landings at RAAF Base Darwin to help the U.S. crew get to know the base, "should they need to operate out of here in the future," Wing Commander Anthony said.
This may even involve the U.S. aircraft almost touching down on the runway before powering up and climbing into the air again.
The U.S. bomber's visit to Australia follows the recent AUSMIN agreement to enhance military cooperation between the two nations.
"The great thing about these aircraft is their range and their payload," Anthony said.
"Of all the different aircraft in the U.S. Air Force bomber fleet, the B1 has the largest payload for both guided and unguided munitions."
The B-1 Lancer can rapidly deliver massive quantities of precision and non-precision weapons anywhere in the world and is considered the backbone of the U.S. long-range bomber force.
The bombers flew 6,000 kilometres from Diego Garcia in the Indian Ocean to the Northern Territory.