US Beefing Up Naval Defense in Japan
April 6, 2014 5:07 pm Last Updated: April 6, 2014 7:00 pm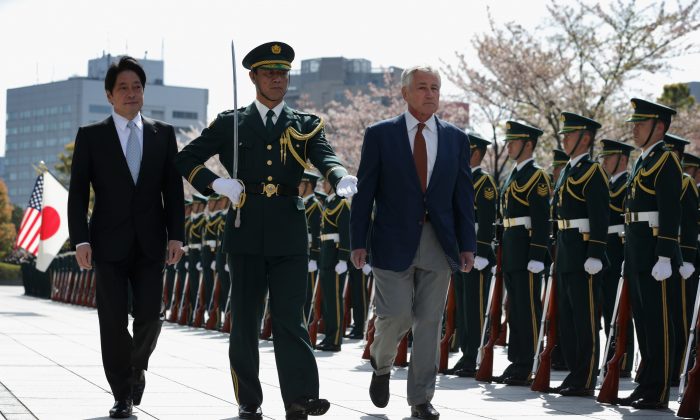 Backing up words with actions, Defense Secretary Chuck Hagel restated the U.S. commitment to defend Japan as he announced two additional missile-defense ships will be sent to the area by 2017.
Hagel made the announcement on April 6 in Japan. He said the delivery is in response to North Korea's "pattern of provocative and destabilizing actions, including recent missile launches in violation of U.N. Security Council resolutions," according to the Pentagon's American Forces Press Service (AFPS).
The new ballistic-missile defense ships will bring the number of such ships in Japan up to seven. Hagel said it follows an October announcement to build a second missile-defense radar site in Kyoto, and more ground-based interceptors in Alaska.
Hagel is currently in Japan on his fourth visit to the Asia-Pacific region since becoming defense secretary on February 27, 2013.
China will be his next stop. He was invited by the Chinese defense minister, and will arrive on April 7.
Hagel said when he meets with Chinese officials, he plans to raise China's increased aggression in the South China Sea and East China Sea, as well as the Chinese military's lack of transparency.
During a press briefing on April 5, many of the questions revolved around the light response from the United States, when Russia seized Crimea from Ukraine—and whether the U.S. would defend Japan or other allies from China's territorial claims.
Hagel said, according to a transcript, "there is no indication or weakness on the part of the United States as to our complete and absolute commitment to the security of Japan."
Hagel said that President Barack Obama plans to restate this commitment later this month when he visits Japan, South Korea, Malaysia, and the Philippines.
He added that the U.S. is committed to defending Japan in a military conflict under Article 5 of the Mutual Security Treaty, and clarified the treaty applies to Japan's claims to the disputed islands.
He related China's territorial claims to Russia taking Crimea from Ukraine.
"You cannot go around the world and redefine boundaries and violate territorial integrity and sovereignty of nations by force, coercion and intimidation, whether it's in small islands in the Pacific or large nations in Europe," Hagel said, according to AFPS. "Nations must be clear on this and speak plainly. It takes courage from leaders."
He also said he wants to discuss with Chinese officials using military power responsibly, noting that rising tensions can lead to military conflict if there is a misunderstanding or miscalculation.
"I look forward to an honest dialogue," he said. "I look forward to listening carefully to the Chinese, and only then do we help move forward, not just with opportunities but with possibilities and the processes to fulfill those prospects."