U.S. Beats Canada to Win Gold at World Juniors
January 5, 2010 11:58 pm Last Updated: October 1, 2015 9:01 pm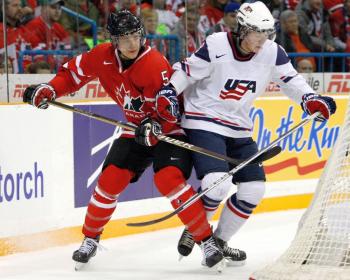 The U.S. finally beat Canada to win gold at the World Junior Hockey Championship in Saskatoon, Canada on Tuesday.
The Americans won 6–5 in overtime after once again giving up a two-goal third period lead to their neighbors from the north.
On New Year's Eve, Canada had dealt the Americans another heartbreaking loss, coming back from a two-goal third period deficit to win in a shootout 5–4.
But this time, defenseman John Carlson, snapped a low shot past Canadian goalie Martin Jones in OT for the win. The goal came after a sequence of end-to-end rushes in an extremely entertaining contest.
"I don't know what happened to be honest," said Carlson in an interview with Canadian network TSN. "It's the biggest goal I ever scored in my life."
The U.S. last won the gold medal in 2004 but since then Canada had beaten them six times in a row. Canada had won five straight gold medals since 2004 but there would be no sixth on Tuesday.
The World Junior Hockey Championship showcases the future stars of the NHL. Last year, John Tavares led Canada to gold and now he's leading the New York Islanders in scoring after having been chosen first overall in the NHL Entry Draft this past summer.
At the outset, U.S. head coach Dean Blais talked about facing Canada. "Just be disciplined in the way we approach the game, not run all over the ice," said Blais.
"We got to play our game and not get too emotional."
The U.S. team had the advantage in speed. They are a highly skillful and hungry group of future hockey stars.
End To End
A back and forth first period ended deadlocked 2–2. Canadian goalie Jake Allen was vulnerable to the high shot over the glove hand as both U.S. goals came from snap shots from the top of the face-off circle.
The U.S. took a 3–2 lead in the second period off a power play goal by Carlson. Carlson's slap shot from just inside the blue line flew by an unsighted Allen.
But sure enough, Canada tied it at 3–3 as the likely No. 1 pick in next year's entry draft Taylor Hall's centering pass bounced up in the air and fell into the U.S. net.
The U.S. once again took a two-goal lead in the third period. Back-up goalie Jack Campbell, who replaced starter Mike Lee, made save after save as Canadian pressure intensified.
Jerry D'Amigo and Derek Stepan did the damage to Canada as Allen looked very shaky. Canada decided to change goalies, just as their opponents had done earlier. In came Jones for Canada.
Canada's spark plug all along had been Jordan Eberle. The diminutive forward who was a hero last year, took matters into his own hands.
"We just always believe we can come back," said Eberle about Canada's never-say-die play.
Eberle scored two goals to tie the game 5–5 as Canada threw everything they had at the Americans. That pushed the game into overtime and the Americans took advantage with their speed in the four-on-four play.
"The camaraderie really helped pull us together," said Carlson about how the U.S. managed to bounce back from losing a two-goal lead.
This action packed game proved to be the highest scoring gold medal game in tournament history.
Next year, the World Junior Hockey Championship will be played in Buffalo.