After Visa and Mastercard paused work on a merchant payment code (MCC) to detect gun sales in the United States, a coalition of Democrat attorneys general condemned the move on Thursday.
Both Visa and Mastercard, the two largest credit card firms in the United States, confirmed to The Epoch Times last week they would halt work on the category code as a number of states have advanced legislation that would restrict its usage. Because of the legislation, it would cause confusion and inconsistency, the firms said.
The code, aimed at identifying firearms sellers, would identify the type of store where consumers shopped, though not the individual items they bought. Gun rights groups said that it would represent a serious breach of privacy and also potentially lead to infringements on Americans' Second Amendment rights.
However, a coalition of 14 attorneys general issued a letter to the two companies and accused them of bowing to political pressure. The letter was led by Democrat New Jersey Attorney General Matthew Platkin.
"We see no valid reason why these companies, who process millions of transactions in firearms, ammunitions, gun kits, and more, would renege on their pledge to take … steps to help flag potential gun traffickers and mass shooters," said Platkin in the letter.
Others who joined Platkin include attorneys general in Delaware, Massachusetts, California, Connecticut, Hawaii, Illinois, Maryland, Minnesota, New York, Nevada, Oregon, Rhode Island, and the District of Columbia, according to his office.
Platkin dismissed Republican claims that using an MCC would "hardly" be "an invitation to violate the Second Amendment, but failing to apply it is an invitation to criminals to purchase firearm products with impunity and commit violent acts in our communities."
"We implore Mastercard, Visa, Discover, and American Express to stand up and make good on their pledge to help protect against gun violence," he said. "Their actions can help prevent innocent school children and others from dying needlessly at the hands of a gunman."
Sens. Bob Menendez (D-N.J.) and Elizabeth Warren (D-Mass.) have also called on federal regulators to help speed up the adoption of the code by payment networks. Meanwhile, gun control activists said the payment card companies were caving in to political pressure, and that critics have misrepresented the surveillance risks of the new code, which cannot track individual items purchased.
Reasons Why
In explaining why the code wouldn't be used, a spokesperson for Mastercard said it would cause "inconsistency" regarding how it could be used. "It's for that reason that we have decided to pause work on the implementation of the firearms-specific MCC," a spokesperson said.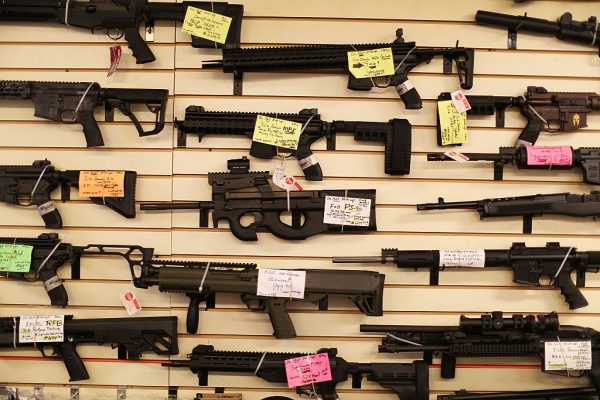 "There is now significant confusion and legal uncertainty in the payments ecosystem, and the state actions disrupt the intent of global standards. Accordingly, Visa is pausing implementation of the MCC," a Visa spokesperson told The Epoch Times last week.
An American Express spokesperson told Reuters that cited state bills were driving the company's decisions. Discover Financial Services said it was removing the new code from its next network update planned for April "to continue alignment and interoperability with the industry."
The Epoch Times has contacted Visa and Mastercard for comment following Thursday's letter.
Last week, when the firms announced the change, Republicans celebrated the move.
Sen. Kevin Cramer (R-N.D.) wrote: "I've led efforts pushing back on attempts to block legal transactions and tracking gun purchases. Law-abiding gun owners should not be discriminated against." The companies "shouldn't just 'pause' their implementation of this plan … they should end it definitively," Montana Attorney General Austin Knudsen, a Republican, said in a statement.
The Geneva-based International Organization for Standardization approved the new MCC in September to help detect suspicious firearms and ammunition sales.
Reuters contributed to this report.