Attorney General William Barr has appointed a U.S. attorney from Texas to review the litany of unmasking requests made by officials in the late stages of the Obama administration and the early days of the Trump administration.
U.S. Attorney John Bash was directed to review certain aspects of unmasking in a spinoff from the probe that U.S. Attorney John Durham is conducting into the origins of the investigation into Donald Trump's campaign.
"Unmasking inherently isn't wrong, but certainly the frequency, the motivation, and the reasoning behind unmasking can be problematic," Department of Justice (DOJ) spokeswoman Kerri Kupec said May 27 during an appearance on Fox News' "Hannity." "When you're looking at unmasking as part of a broader investigation—like John Durham's investigation—looking specifically at who was unmasking whom, can add a lot to our understanding about motivation and big picture events."
Unmasking, or revealing the identity of a U.S. citizen in intelligence reports, was used frequently against retired Army Lt. Gen. Michael Flynn, Trump's former national security adviser, in the months leading up to Trump taking office.
Durham was nominated by Trump to review the origins of the Russia investigation.
Then-Vice President Joe Biden and a slew of other officials made unmasking requests about Flynn, according to recently declassified information. Then-U.N. Ambassador Samantha Power made seven requests involving Flynn.
Then-U.S. Ambassador to Russia John Tefft, then-U.S. Ambassador to Italy John R. Phillips, then-Treasury Secretary Jacob Lew, and President Barack Obama's chief of staff at the time, Denis McDonough, were among other officials who made unmasking requests. Former Director of National Intelligence James Clapper, former CIA Director John Brennan, and former FBI Director James Comey also made requests.
Clapper, a CNN contributor, argued during a recent appearance on the network that unmasking "is a routine thing," describing it as "appropriate and legitimate." He said he requested to unmask Americans once or twice a week during his six years as the top U.S. intelligence official.
Bash is looking specifically at episodes both before and after the 2016 presidential election, according to the DOJ. The probe will "shed light and give us a better understanding of what happened with respect to President Trump, his campaign, and, of course, what happened after he was elected as well," Kupec said.
Bash, nominated by Trump in 2017, is the third U.S. attorney utilized to review aspects of what happened in that period of time.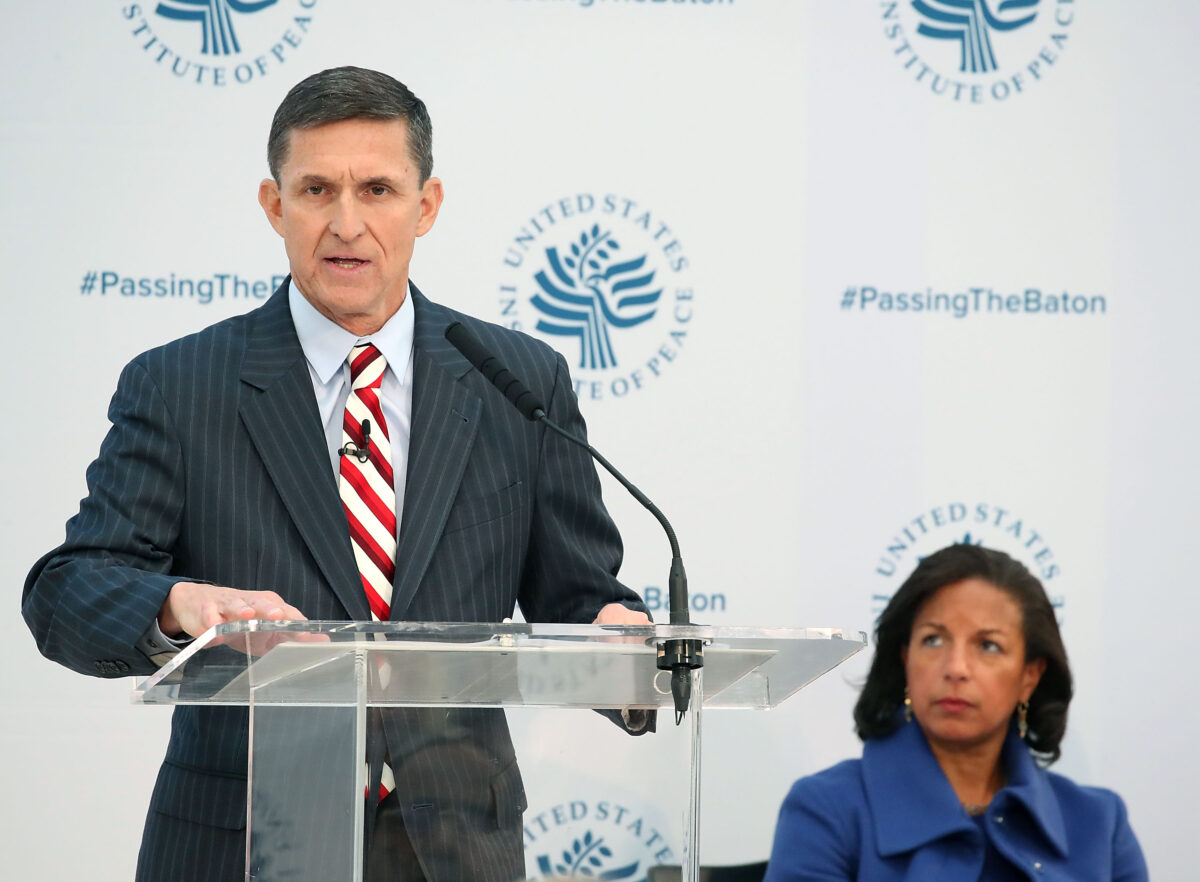 U.S. Attorney Jeff Jensen, also nominated by Trump, reviewed the case against Flynn and found evidence the FBI interview of the retired military officer wasn't justified by the agency's investigation into Flynn.
The DOJ then moved to dismiss the case against Flynn, although that effort has faced resistance from a judge who is engaging in a number of unusual actions.
"The government has concluded that the interview of Mr. Flynn was untethered to, and unjustified by, the FBI's counterintelligence investigation into Mr. Flynn—a no longer justifiably predicated investigation that the FBI had, in the Bureau's own words, prepared to close because it had yielded an 'absence of any derogatory information,'" Timothy Shea, interim U.S. attorney for the District of Columbia, wrote in his motion to dismiss the case.
Barr, meanwhile, said earlier in May that Durham's work likely won't include a criminal investigation of either Biden or Obama.
"Our concern over potential criminality is focused on others," he said.
Petr Svab and Janita Kan contributed to this report.