The United States said on Dec. 6 it won't send an official delegation to Beijing for the 2022 Winter Olympics in protest against the Chinese regime's ongoing human rights crisis in Xinjiang.
The move won't affect American athletes, who will still be allowed to compete.
White House press secretary Jen Psaki said the regime's "ongoing genocide and crimes against humanity" means Washington "cannot proceed with business as usual."
"U.S. diplomatic or official representation would treat these games as business as usual in the face of the PRC's [People's Republic of China] egregious human rights abuses and atrocities in Xinjiang, and we simply can't do that," Psaki told a daily press briefing on Dec. 6, weeks after President Joe Biden said the administration was considering such a move.
"As the president has told President Xi, standing up for human rights is in the DNA of Americans, we have a fundamental commitment to promote human rights," she added, referring to Chinese leader Xi Jinping. The two leaders had met for the first time virtually on Nov. 15.
The Chinese regime's expansive campaign of repression against Uyghurs and other Muslim minorities in the far west Xinjiang region, which has been designated by the United States and others as a genocide, has drawn rising international condemnation. Activists and lawmakers around the world have called for varying levels of boycotts of the Beijing Games in response.
The last time the United States staged an Olympic boycott was in 1980. Then-President Jimmy Carter led more than 60 nations to protest the Soviet Union's invasion of Afghanistan and refused to send athletes to compete in the Summer Olympic Games in Moscow, forming the largest boycott in Olympic history.
The boycott, Psaki stressed, doesn't signify "the end of the concerns we will raise about human rights abuses in Xinjiang."
Unlike the 1980 diplomatic protest, the boycott next February won't affect the athletes in attendance.
"We don't think it's the right step to penalize athletes who have been training, preparing for this moment, we felt we could send a clear message by not sending an official delegation," Psaki said when asked why the White House hadn't taken a step further by pulling out the athletes.
"The athletes on Team USA have our full support. We will be behind them 100 percent as we cheer them on from home," Psaki said.
The boycott is likely to provoke Beijing. Zhao Lijian, a foreign ministry spokesperson, at a press conference on Dec. 6 accused Washington of "grandstanding" and hinted at "resolute countermeasures" if the diplomatic boycott were to take place, without being more specific.
Psaki, though, appeared unfazed by such a warning.
"Our view's that is not the correct way to view or frame our relationship," she told reporters. "Our view is that cooperation on transnational issues is not a favor to us, it is not a transaction, the PRC should be taking actions on issues to meet the needs of the global community," she said, using the shorthand for the People's Republic of China.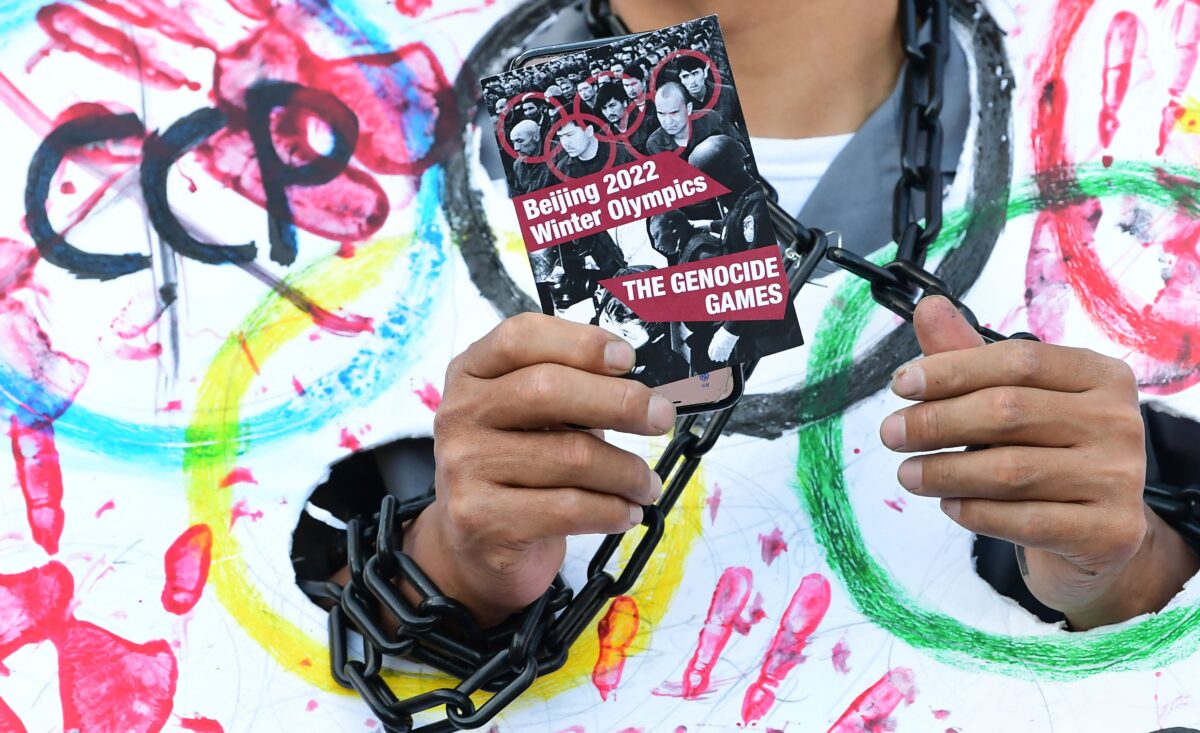 State Department spokesman Ned Price clarified at a later press briefing that U.S. consular staff in Beijing would be available during the Games to assist American athletes and the team.
A boycott has been encouraged by a number of U.S. lawmakers for months. After the White House's announcement, Rep. Gregory Meeks (D-N.Y.), who also chairs the House Foreign Affairs Committee, commended the administration for making "absolutely the right decision."
"The international community should not be helping the PRC whitewash its atrocities against Uyghurs and other minorities," Meeks said in a statement. "With the United States now leading by taking a clear stand," he said, other countries should also join in to do the same.
"We need to speak with one voice and make clear that silence is not an option when any country, no matter how powerful, grossly undermines universal human rights," he said.
Psaki, at the briefing, said the administration has informed allies of its decision, and will leave it up to those nations to determine how they want to proceed.
But some say the U.S. action doesn't go far enough, including Sen. Rick Scott (R-Fla.) who believes a diplomatic boycott isn't an effective way to hold the Chinese regime accountable.
"Time and time again, Biden does the bare minimum when it comes to dealing with China and it's absolutely unacceptable," Scott said in a Dec. 6 statement, adding that the administration has ignored repeated calls from him and human rights groups to have the Olympics moved to another country.
"Biden's weak choice for a diplomatic boycott also does NOTHING to ensure the safety of American athletes who will undoubtedly be targets for Communist China to surveil and steal data and personal information."