U.S. and European officials have expressed alarm upon learning of the arrests of several Hong Kong pro-democracy activists, lawmakers, and a local official on Aug. 30 in the lead-up to an anticipated mass protest this weekend.
On Aug. 30, at least eight were arrested on charges related to recent protests against an extradition bill that would allow the Chinese regime to transfer individuals to be trialed in mainland China.
Many feared that the proposal would erode Hong Kong's autonomy, which was guaranteed when the territory reverted from British to Chinese rule in 1997.
Members of the local political party Demosisto Agnes Chow and Joshua Wong were accused of inciting and participating in unauthorized assembly, related to their presence at a June 21 demonstration when thousands surrounded the police headquarters to demand the release of arrested protesters. Ivan Lam, the chairman of Demosisto who is currently outside Hong Kong, was also charged with inciting an unauthorized assembly, according to local media.
Meanwhile, former president of the University of Hong Kong's student union Althea Suen was arrested on suspicion of conspiracy to destroy or damage legislative building, related to the July 1 storming of the city's legislature building when protesters broke through reinforced glass doors and vandalized the interiors in apparent frustration at the government's lack of response to their demands.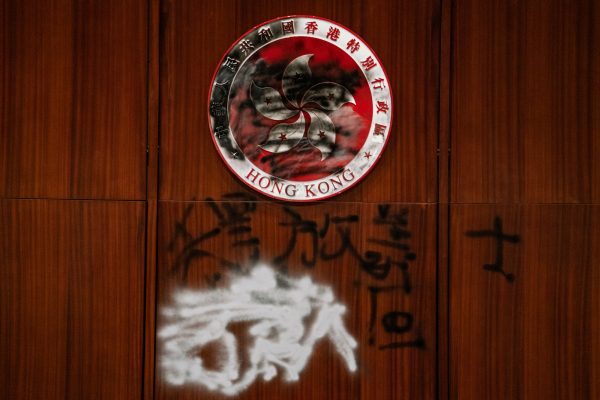 Legislators Au Nok-hin, Jeremy Tam, Cheng Chung-tai were also arrested. Au and Tam's political parties released statements saying that they were charged with obstructing police officers at the scene of recent protests.
District councilor Rick Hui and Andy Chan, founder of a political party that advocated for Hong Kong's formal independence called the Hong Kong National Party, were also arrested. The party has been banned by the government. Police have not disclosed their charges.
The unexpected arrests were a shock to Hongkongers. Many condemned the police action, which came just a day before a planned mass protest, as an attempt to stifle free speech and the city's ongoing protests, now headed toward their 13th week.
Civil Human Rights Front planned for an Aug. 31 march to call for free elections, five years after Beijing formally made an announcement denying universal suffrage in Hong Kong elections. Currently, candidates for the city's top official position are hand-picked by Beijing, and voted in by an electoral committee comprising of mostly pro-Beijing elites.
After police denied its application on safety reasons, the rights group said it had no choice but to cancel the event.
However, protesters have organized online, calling for people to attend "prayer meetings" or "take a stroll" that day—actions that do not require police approval.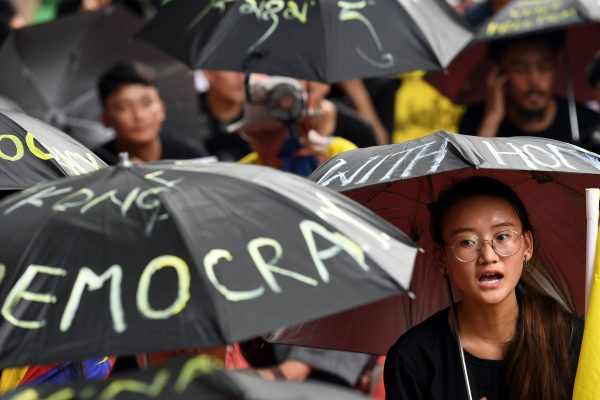 US Officials
U.S. lawmakers soon sent messages of concern. "Arresting dissenters is not a sign of strength—only weakness [and] fear. The Chinese Communist Party has broken its promise to the people of Hong Kong [and] has shown it does not respect fundamental human rights," Senator Chuck Schumer (D-N.Y.) said on Twitter on Friday. He warned that the world is watching what's happening in Hong Kong and will hold the Chinese authorities accountable.
"For months now, the people of Hong Kong have taken to the streets to stand up for their democratic rights. The American people must continue to stand with them," he added.
Senate Majority Leader Mitch McConnell also called for world leaders to pay attention. "It should not be business as usual until Beijing respects Hong Kong's autonomy and political freedoms," he said.
Rep. Jim McGovern (D-Mass.) called the arrests "outrageous": "The charges must be dropped immediately if the world is to believe that the rule of law is respected in Hong Kong."
"Carrie Lam [and] HK police should not be puppets for Beijing," he added.
Senator Cory Gardner (R-Colo.) said that the "silencing of pro-democratic voices" would not be tolerated.
"I urge HK authorities to guarantee the basic freedoms of all Hong Kongers, cease violence against protestors [and] engage in earnest dialogue about the path forward," he said in a tweet. In recent weeks, police have deployed tear gas, rubber bullets, sponge grenades, and other crowd dispersal equipment at protesters.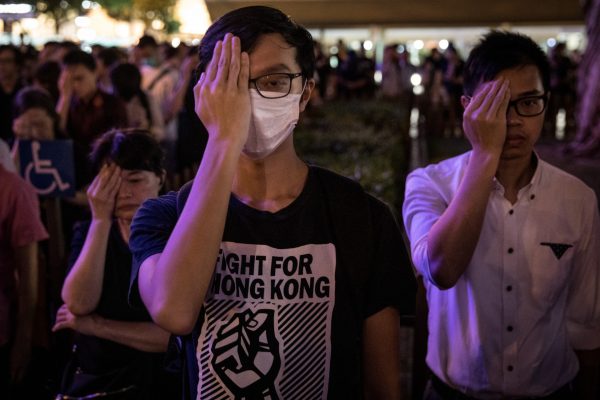 Europe
Several European officials also condemned the arrests.
Tom Tugendhat, a member of U.K. Parliament and chair of its Foreign Affairs Committee, said the arrests challenge "the right of free assembly and protest which are fundamental to a free society."
Federica Mogherini, High Representative of the European Union for Foreign Affairs and Security Policy, said that the recent developments in Hong Kong have been "extremely worrying."
"We expect the authorities in Hong Kong to respect the freedom of assembly, expression and association, as well as obviously the right of people to demonstrate peacefully," she said, noting that the European Union and its member states will closely follow the situation in the region.
While expressing dismay at the arrests, European Parliament official Guy Verhofstadt also conveyed his support for the protesters.
"From Russia to China, repressive regimes are trying to suppress political opposition. But they will not manage to silent people's aspiration for freedom!"
"Those who stand for democracy do not belong in cells," he said.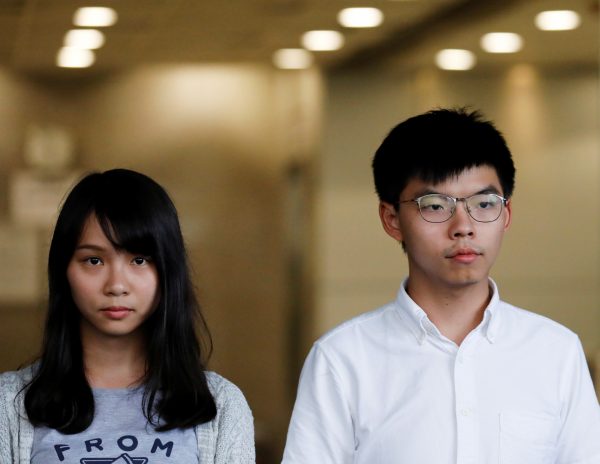 Activists' Voices
Both Chow and Wong were released on bail in the afternoon of Aug. 30. Standing in front of the Easterm Law Courts building, they told reporters that they would continue fighting for the protesters' demands.
"All we ask for is just to urge the Beijing and Hong Kong government to withdraw the bill, stop police brutality, and respond to our calls on free election," Wong said. "Hong Kong should not be ruled by tear gas. Hong Kong should be ruled by law and regulation."
Wong's next court appearance is scheduled for Nov. 8.
"It is [a] difficult time for us but HKers never walk alone," Wong wrote in a tweet after regaining freedom to express his appreciation for U.S. lawmakers' public support.
Wong had been released from prison in June, on charges related to his involvement in the 2014 Umbrella Movement that called for universal suffrage. He said he had anticipated that he would be arrested again after joining the extradition bill protests upon his release.
Thanks for standing with #HongKong, standing with #HongKongProtestors. On the road to democracy, the world is connected. @joshuawongcf @chowtingagnes @demosisto https://t.co/YBGAc5M6Ds

— Demosistō 香港眾志 (@demosisto) August 30, 2019
"Compared with the hardships of our companions, some of them may got beaten up by the police, may got sexually assaulted [by police], may got shot in [the] eye [by police equipment], everything I'm facing is really insignificant," he wrote.
The activist said that the arrests were an attempt to intimidate protesters by rounding up prominent activists.
"It is completely ridiculous that the police target specific prominent figures of social movement in the past and framing them as the leaders of the anti-extradition bill protests," he said, noting that the ongoing protests have in fact been spontaneous and without lead figures.
"White terror is a lame and old-fashioned tactic deployed by the police to please BJ [Beijing]," he said.
Jeremy Sandberg contributed to this report.