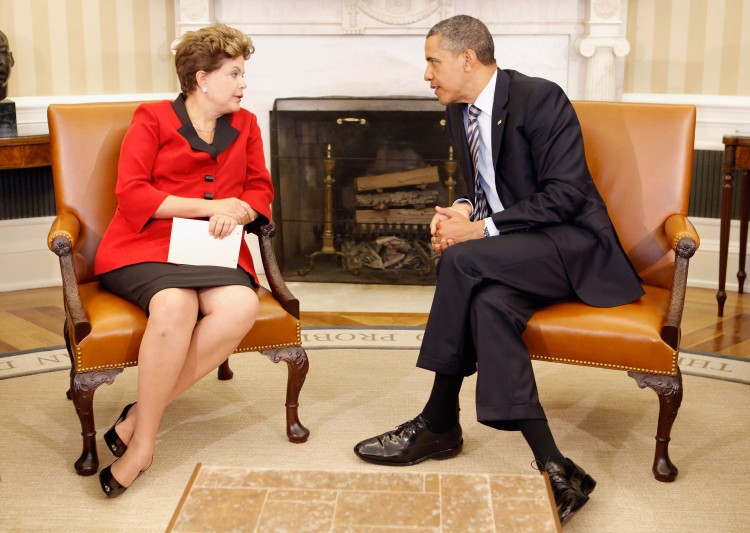 The United States and Brazil announced on Monday a series of measures to strengthened ties between the nations as South America's economic dynamo continues to establish its global presence.
President Barack Obama and Brazilian counterpart Dilma Rousseff met Monday at the White House. They released a statement outlining initiatives that include increased trade, greater defense cooperation, and stronger exchanges in education, travel, and technology.
Brazil, the world's sixth largest economy, accounts for more than 60 percent of South America's total GDP. It is one component of BRIC, the acronym for the group of countries—Brazil, Russia, India, and China—deemed to be at a similar stage of economic development. Brazil will also be hosting the Soccer World Cup in 2014 and the Olympics in 2016.
Welcoming Rousseff on her first presidential visit to the United States, President Obama said the two countries had made "enormous progress" in their relationship. He noted record trade levels, an expansion of people-to-people contacts, and Brazil's elevation to a world player in oil and gas.
"The good news is that the relationship between Brazil and the United States has never been stronger, but we always have even greater improvements that can be made. And I feel very fortunate to have such a capable and farsighted partner as President Rousseff," he said.
Brazil is the U.S.'s eighth largest goods trading partner, with U.S. goods and services exports to Brazil totaling $63 billion, according to U.S. government data.
In a brief response, Rousseff, affirmed the president's comments saying the bilateral relationship was important to Brazil, particularly with the uncertainty of the global financial crisis.
She noted that given the inherent flexibility in the U.S. economy, U.S. leadership in innovation, and the democratic foundation of the country, the "United States is indeed a key and [has] very important role in containing the effects of the crisis, but also ensuring proper resumption of prosperity," she said.
Rouseff noted the high level of trade between the two countries including strategic interests of oil and gas, and partnership on biofuels. 
However, she also raised concerns with her counterpart over America's monetary expansion policy.
"Such expansionist monetary policies … lead to a depreciation in the value of the currency of developed countries, thus impairing growth outlooks in emerging countries," she said.
Without addressing that issue, the president announced in a statement improved visa-processing times for Brazilians. Face-to-face interviews are to be waved for children under 16 and seniors over 66, and for anyone renewing a visa within four years of the last one expiring.
U.S. Secretary of State Hillary Clinton earlier announced plans to open two new consulates, in Belo Horizonte and Porto Alegre. The State Department will also increase investment in its diplomatic corps in Brazil by $40 million.
Brazil now ranks as the fourth largest source of overseas visitors, with 1.5 million visits to the United States in 2011, a 26 percent increase from 2010. In the first two months of 2012, visa processing was up 57 percent compared to the same time last year.
The increased visa provisions will likely particularly please Rouseff. Her Science Without Borders initiative encourages young Brazilians to study sciences, technology, engineering, and math at American graduate schools.
Some 5,000 students have already arrived, according Johanna Mendelson Forman and Stephen Johnson from of the Americas Program at the Center for Strategic and International Studies in Washington, D.C.