US and Allies Launch Airstrikes at Islamic State Targets in Syria
September 22, 2014 10:07 pm Last Updated: September 22, 2014 10:50 pm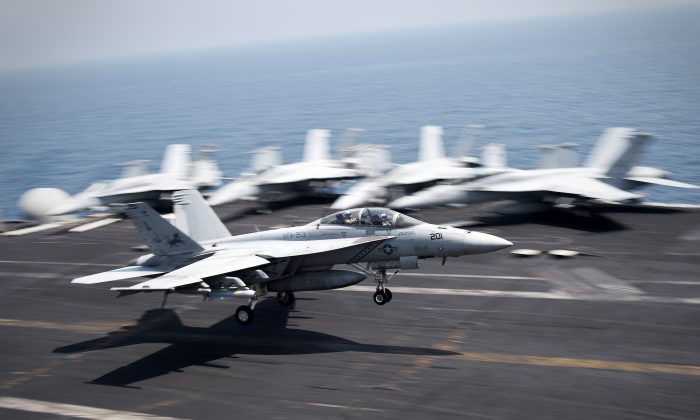 WASHINGTON— The Pentagon says the U.S. and partner nations have begun airstrikes in Syria against Islamic State militants, using a mix of fighter jets, bombers and Tomahawk missiles fired from ships in the region.
Pentagon Press Secretary Rear Adm. John Kirby says that because the military operation is ongoing, no details can be provided yet. He says the decision to strike was made early Monday by the military.
The first attacks started at 8:30 p.m. Eastern Time.
The strikes are focused on Islamic State command and control headquarters, fuel and munitions depots, and training bases in the area of Raqqa, Syria. The first waves of manned aircraft included F-15s, F-16s, FA-18s, and B1 bombers, some launched from the aircraft carrier USS George H.W. Bush, with Tomahawk cruise missiles and other unmanned weapons in a second wave, some from the guided-missile destroyer USS Arleigh Burke.
Arabian forces, possibly from Saudi Arabia or the United Arab Emirates, will reportedly be taking part in the attacks, but it is not clear if they will act in attack or support roles. Bahrain and Jordan, and possibly Qatar, are reported to have played some role as well.
Syria had said that it would see any foreign airstrikes as acts of aggression and would reply with force. Allied forcers are not worried about Syrian air force or anti-aircraft retaliation because the targets are well outside of any concentration of Syrian forces.
The strikes are part of the expanded military campaign that President Barack Obama's authorized nearly two weeks ago in order to disrupt and destroy the Islamic State militants, who have slaughtered thousands of people, beheaded Westerners, including two American journalists, and captured a large swath of territory stretching from within Syria to land across northern and Western Iraq.