The world's largest active volcano, Hawaii's Mauna Loa, erupted for the first time since 1984, which prompted a warning from the U.S. Geological Survey.
Mauna Loa, located on the island of Hawaii, erupted at around 4:30 a.m. U.S. Eastern Time on Nov. 28, according to U.S. Geological Survey (USGS) in a recent alert.
The USGS, which also tracks earthquakes, said that it boosted the volcano alert level from "advisory" to "warning." Currently, the USGS lists the eruption as "Warning, Color Code: Red."
"At this time, lava flows are contained within the summit area and are not threatening downslope communities," the USGS said in a statement. "Winds may carry volcanic gas and possibly fine ash and Pele's hair downwind," referring to a type of lava.
Residents in the vicinity of the volcano were advised to "review preparedness and refer to Hawai'i County Civil Defense information for further guidance," according to the USGS.
"Based on past events, the early stages of a Mauna Loa eruption can be very dynamic and the location and advance of lava flows can change rapidly," the agency warned, adding that if the eruption stays in the Moku'āweoweo summit caldera of Mauna Loa, it likely will be contained.
"However, if the eruptive vents migrate outside its walls, lava flows may move rapidly downslope," which would pose more danger to people in the area, according to the alert.
The National Weather Service in Honolulu also sent out an ashfall advisory for the island on Nov. 28. About a quarter-inch of ash could be expected in the vicinity of the volcano, it warned, adding that individuals with breathing problems should stay inside.
More than a dozen earthquakes of more than 2.5 magnitude struck the region, according to the USGS, with one measuring 4.2 in magnitude.
Mauna Loa, which takes up more than half of the Big Island in Hawaii and rises 13,679 feet above the Pacific Ocean, last erupted in March and April of 1984, sending a flow of lava within five miles of the city of Hilo.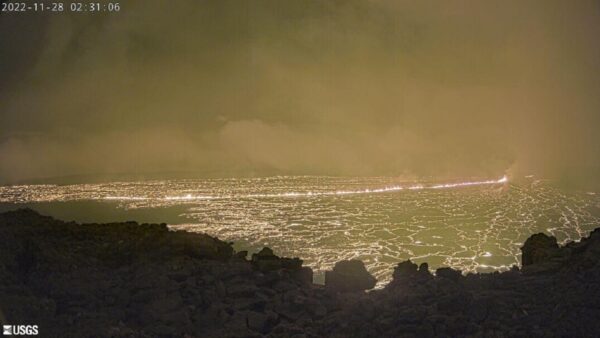 "Hawaiian lava flows have rarely caused human fatalities, but they can cause extensive damage by covering, burning, and crushing anything in their paths, or starting secondary fires," according to the USGS in a 2022 report. It added that water and lava can be "explosive" in some "coastal environments."
A notification added that the Hawaiian Volcano Observatory would conduct aerial reconnaissance as soon as possible to assess hazards and better describe the eruption.
'Very Concerned'
Hawaii's civil defense agency recently held meetings to help residents prepare for a possible emergency, The Associated Press reported.
Some residents said they're concerned about the eruption, according to local media reports.
"Very concerned, yes, very concerned," Jandale Waltjen-Kuilipule told Hawaii News Now. "Because we didn't have one for a very long time with Mauna Loa."
Waiohinu resident Lynne Adams noted that there is "just one main road" on the island.
"What is their plan for another mass exodus?" she asked. "Because that is what will happen."
"Do I turn to the right when I hit the highway? Do I turn left when I hit the highway? That's what you really want to know. But we can't do that until we react to what the volcano is doing," added Ken Hon, a scientist in charge at the Hawaiian Volcano Observatory.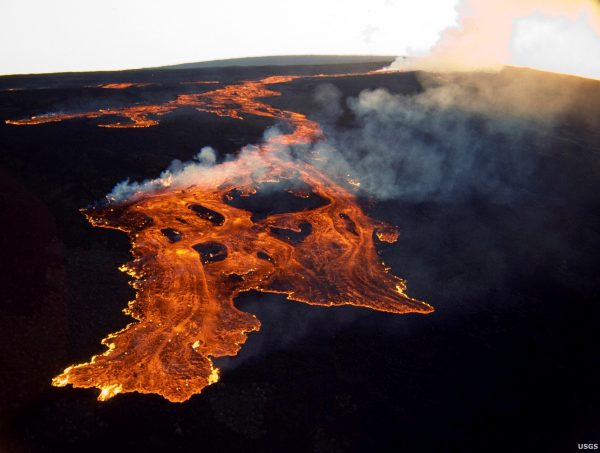 Dr. Andria Ellis, a geophysicist with USGS at the Hawaiian Volcano Observatory, said that the structure of Mauna Loa could leave residents with less time than the 2018 Kilauea eruption.
"One of the challenges with Mauna Loa that makes that's different than Kilauea is the way that it's structured. It has flanks or sides that are really steep, and that depending on where lava emerges at the surface, it could travel very quickly into places of residence and we might not have that day or more."
Reuters contributed to this report.