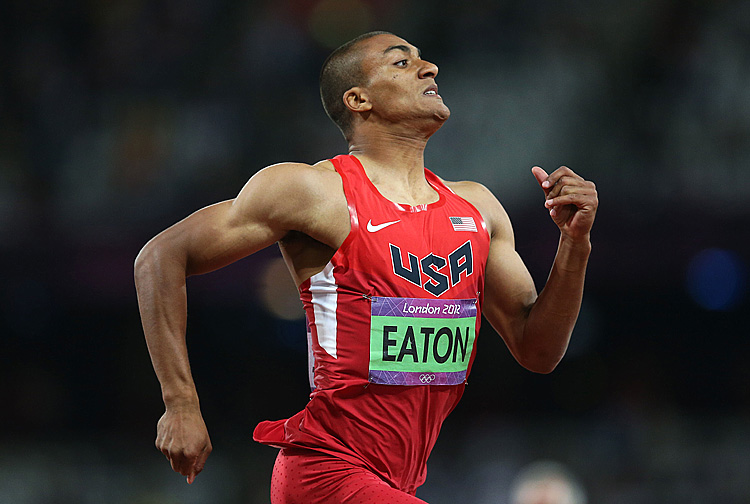 Two U.S. athletes, Ashton Eaton and Trey Hardee, are leading in Men's Decathlon after five events. The Decathlon is a two-day, ten-event track and field competition including the 100 –meter dash, long jump, shot put, high jump, 400-meter dash, 110-meter hurdles, discus, pole vault, javelin and 1500-meter run.
Eaton and Hardee finished 1–2 in the 100-meter dash. Hardee scored fifth in the shot put, while Easton finished tenth. Eaton took the points lead after the third event, the long jump, with a winning jump of 8.03 meters earning 1068 points. Hardee finished fifth for 942.
Eaton and Hardee were 1–2 after the long jump, with 2848 and 2743 points respectively, ahead of Ukraine's Olweskiy Kasyanov with 2664.
Eaton jumped 2.05 meters in the high jump, Hardee 1.99—good enough for second in each of their groups and good enough to keep them 1–2 overall.
Both U.S. athletes won their heats in the 400, Trey Hardee with a 48.11 and Ashton Eaton with a meet-best 46.90. This Gave Eaton a solid lead in the overall with 4661 points, 220 ahead of Hardee with 4441, with Canada's Damian Warner third with 4386.
Of the five events remaining, two—discus and javelin—favor upper-body strength, and two are running events. Easton, 6'1″ at 181 lbs, might give some away to Hardee, 6'5″ at 212 lbs, in the two throws, but Eaton has already shown he is far faster than the rest of the field, at least at short distances.
It comes down to endurance: can the athletes maintain form over two days of exertion? All the events except the mile run demand technique for power to be effective. If Eaton has anything left for the final run, the medal should be his.  
Eaton was pleased but not overjoyed to be leading the event. "So far I am somewhat satisfied," he told NBC Sports. "I am in a good position. It's been a long day but I am looking forward to tomorrow"  
Eaton has run some very fast times, and many expected him to go faster in the 400-meter dash. The athlete was not interested. "My goal is just to win," he explained. "I am not concerning myself with any world record or anything—just win."