Urban Meyer Accused of Abusing University of Florida Players in Project Veritas Videos
August 2, 2018 Last Updated: August 2, 2018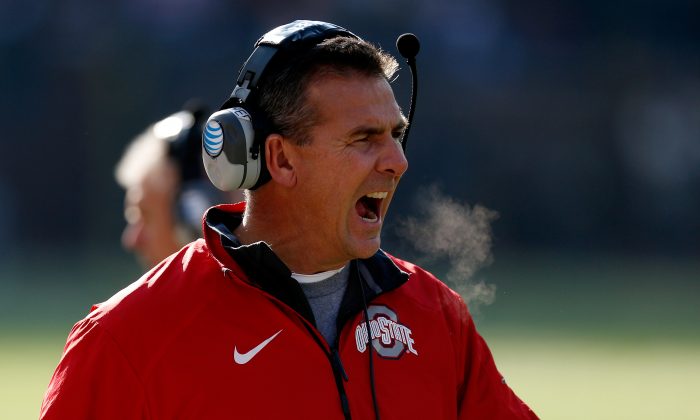 After Ohio State University placed football coach Urban Meyer on administrative leave over allegations that he was protecting a fired assistant coach who is accused of domestic violence, Project Veritas released a report stating that Meyer abused his players.
On Aug. 1, the Dayton Daily News reported that he was placed on paid administrative leave. He is accused of knowing about domestic violence allegations against assistant Zach Smith in 2015. Meyer denied the allegations: "I was never told about anything. Never anything came to light, never had a conversation about it. So I know nothing about it."
In an unrelated incident, in undercover videos released by Veritas on Aug. 2, several former players at the University of Florida Gators team, which Meyer coached, claimed that there was a history of physical and mental abuse at the alleged direction of Meyer. The videos were filmed in 2017 and 2018 at various locations across the country.
Xavier Nixon, who played at the University of Florida for coach Meyer, said that another player, Omarius Hines, was injured during a weight training session that Meyer oversaw dubbed, "The Valentine's Day Massacre."
"They had a guy's quads explode in the weight room on the leg press during what we call the Valentine's Day Massacre. You basically do everything until failure and the lactic acid had built up in his legs so much that his quads literally exploded, they ruptured, and he had to be taken out in an ambulance." "Quads" refers to the quadriceps femoris muscle group in the legs.
Josh Evans, who played safety for the University of Florida from 2009 to 2012, said he saw the "Valentine's Day Massacre."
"We had a guy on a leg press machine… Guy had probably about six plates on each side of the leg press… So [the coach] blew the whistle as he goin', and the whole team kinda came over there like go, pushing, pushing, pushing. He got to about 38 [reps,] blew, the sides of his quads just erupted, boom. Legs, screaming, had to take him to the hospital," he told Veritas.
William Green, another former Florida Gator, said he thought the workout regimen was excessive.

"The Valentine's Day Massacre was a tough-[expletive] workout… so it's basically like, we used to have these types of workouts for us, and they had them labeled by certain things. We had like Failure Fridays or the Massacre where we would [do] a workout that's ridiculous. Like you'll do a full body workout, but it'd be everything to failure. Benching until you can't bench no more, pull down until you can't pull down no more… pretty much, you're feeling like you gotta throw up because they just running you down the field, up and down the field," he said.
Players Literally 'Choked Out'
What's more, Green said there were drill where players "would literally get like choked out… the whole idea behind it… you'd have to wrestle, and it wasn't like normal wrestling," according to Veritas.
"It was like you both stand up… and there was and there was this one mat… and you gotta crawl across the mat. These guys on top of you. It's his job to not let you get across the mat, and they literally get up on there and choke you. And you might go to sleep… It's extremely unnecessary. We don't talk about the stuff we used to do is not normal, at all. It just wasn't," Green said.
Nixon also stated that Meyer would, before games, "grab a Gatorade bottle… and throw it at you."
"I'm sure he thought he was joking, but it's a [expletive] full bottle of Gatorade, and he's chucking it at people," Nixon added.

Gideon Ajagbe, a freshman for Meyer's 2010 Florida Gator team, said he contracted a shoulder infection requiring hospitalization, but before the hospital stint, he was forced to practice and was allegedly subjected to ridicule from the team.
Nixon told Veritas that Ajagbe "was literally dying" despite there being "bacteria eating the muscle in his shoulders." He was forced to carry "a 45-pound plate over his head… he was crying."
Ajagbe also told Veritas: "It was bad. A lot of what played into my depression was they humiliated me. They thought I was trying to skip out on practice… the word they used, imma be frank, they said I was a [expletive]. They're like man, you're a [expletive], you're soft, you're this, you're that… There was one day, my arm was literally dangling, like I couldn't lift my shoulder… And they were like everybody run like Gideon… The whole team, like everyone was laughing at me."