The second World War captivated a generation and left a lasting impression on their lives. Young men all around the world were forced into action, leaving their families and loved ones behind. There were perhaps more love letters written by separated young lovers during this time period than ever before.
The Christoffersons were no exception. The young married couple was looking forward to spending their lives together when the war broke out. Rolf Christofferson, now 96 years old, was a member of the Norwegian Navy at the time. While he went off to war, his young wife Virginia remained in their New Jersey home.
Rolf and Virginia Christofferson exchanged a number of letters while he was off fighting in WWII. But there was one that was never delivered.

Rolf eventually returned home from the war safely. He and Virginia lived in marital bliss together for the rest of their life, and no thought was ever given to the lost letter again. That is, until Melissa Fahy bought the home in New Jersey and started to renovate it.
While working on the attic stairs, they noticed a letter sized envelope laying flat against the inner part of the inside of the staircase. Melissa Fahy's father, Al, reached up grabbed it.
"You could see it was old," Al told NBC New York. "It fell down and laid down flat underneath there," he says while pointing to a crack in the staircase.
Melissa Fahy and her father Al found the letter over 70 years later while renovating the home. After reading it, they wanted to return it to the rightful owner.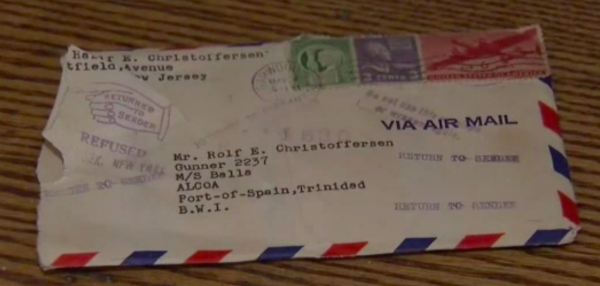 "When I read it, I just couldn't believe the love and admiration she had for her husband," Fahy said. "It was really sweet to see that long-distance love. You didn't have texting, you didn't have email."
She was so moved by the love expressed in the letter that she wanted to track the couple down and give it to them. After putting up a post on the Westfield Moms Facebook page, she had an answer within two hours.
Christofferson told Melissa that he couldn't believe she found him and delivered the letter.

Rolf Christofferson, now 96-years old and living in California, was still alive. But his wife Virginia had passed away six years prior.
"In a way, I guess it's his wife coming back and making her memory alive again," Melissa Fahy said.
His son read him the letter aloud while he listened in admiration and love for his departed wife. Incredibly, Virginia wrote the letter when she was pregnant with the son now reading it to her husband for the first time.