The idea of a Secret Santa program around the office can be a fun idea. Coming up with gifts and then seeing the recipient actually open them is something many look forward to. Others even go as far as seeing it as a staple of the holiday season.
For some people, however—specifically police officers in Shawnee, Kansas—they are taking the Secret Santa idea to a whole new level.
Last Christmas, when Erin Williams heard a knock at her door, she was nervous at first when she realized it was a police officer. He identified himself as Officer Stevens from the local police department.
"I'm going to be honest," Williams told the Shawnee Dispatch. "[Officer Stevens] scared me a little when I saw him at the door because my heart was pounding."
When the officer knocked on Williams' door, "All I could think was, 'Oh no, what happened now?'"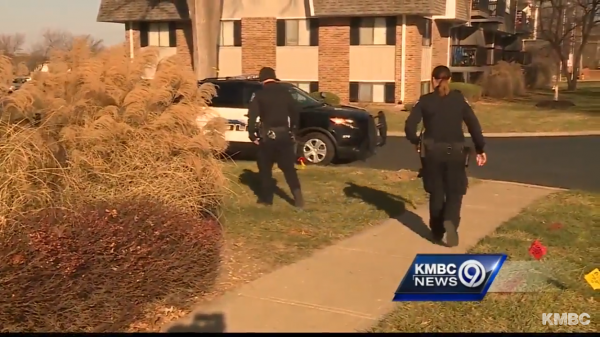 But instead of informing her that she or a family member was in trouble, Officer Stevens surprised her by saying he had something special for her.
Williams was the recipient of a Secret Santa gift.
Confused at first, Williams listened intently to what the officer had to say. Stevens' department had anonymously received a donation of $10,000, which was given with the instruction that it be handed out in increments to those individuals in need.
Stevens had deemed her worthy of the gift.
Still a little shell-shocked but happy at the turn of events, Williams happily accepted a one hundred dollar bill. The gift came at just the right time, as Williams had lost her job earlier that year and had had her van stolen too.  
This year, the anonymous donor again gifted the police department with $10,000 to distribute. In fact, it's the third year in a row.
The Shawnee police department had been working hard to hand out the money. In addition to going door-to-door to give it away, they've even been pulling people over to surprise them with the gift.
One man pulled over by Officer Taulbert for a broken brake light was stunned to receive the gift, and immediately knew what he was going to do with the money.
"I was explaining to her that I feed the homeless on the weekends," Richard Alonzo told 41 Action News. "This money is going to go directly to them."
For Police Major Dan Tennis, the program is rewarding for the officers as well as the people getting the gifts.
"To be able to help during that time is powerful," Officer Tennis told the Shawnee Dispatch last year.
"We've had long-term [police] veterans getting teary-eyed telling us about the people they've met."

Officer Tennis said that the purpose of the program is to make people around the community feel closer together and promote a pay-it-forward attitude.
That was certainly the case for John Kreutzer, who was pulled over for failing to signal, but got $100 instead of a ticket.
"Just this morning, my wife told me that we know somebody who's got a need for a bed and that she feels God is telling us to take care of it," Kreutzer told Fox 4 News. "We were like, 'We're not sure we have the money, but we'll just do it,' and now here's the money to take care of the need."
Reception to the program has been overwhelmingly positive, with the recipients especially happy about it! At the end of the season, the officers write down their stories of sharing the money in a book, which is passed on to the anonymous donor to thank him and show him just how much his donation has helped those in his community.
With the spreading of good cheer, it's been a welcome addition to Shawnee. Long may it continue.
Meet some more of the recipients and officers below.
In 1892, he helped a struggling college student. 27 years later—what goes around comes around.