… And send.
Oh no, you sent the message to the wrong person! Chances are we've all been there, but depending of the contents, such a blunder can have some pretty catastrophic results.
In a stunning reversal, one woman's blunder might have saved a man's life.
On Black Friday Weekend, Crystal Lively mistakenly added someone to her corporate email chain.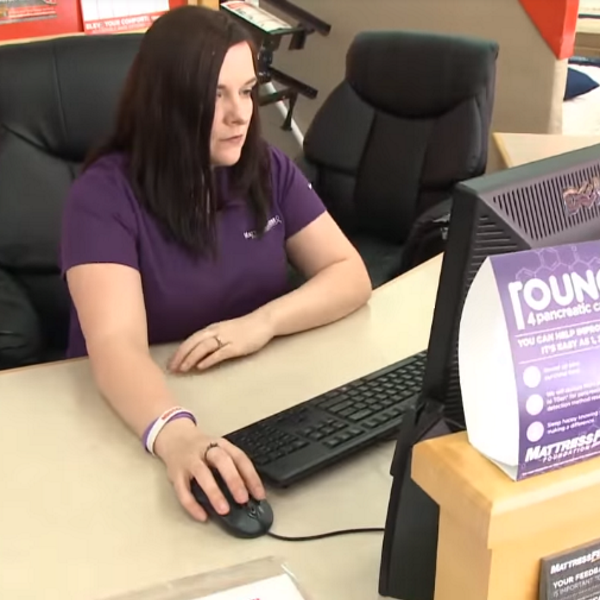 Three years ago, Crystal Lively, an area manager with Mattress Firm in Georgia, was sending email updates to her fellow managers in the company. One such email was regarding the company's pet project: Purple Perspectives, a pancreatic cancer research foundation that Mattress Firm donated heavily to.
There was one issue, however. As Lively was sending out the email, she mistakenly added someone else: newly engaged Donna Frederick.
"It was completely coincidence," Mark Gelinas, Frederick's then-fiance, told USA Today.
Not only a coincidence, but a small miracle. You see, Gelinas had been diagnosed with pancreatic cancer shortly before the wayward email arrived in his fiancee's inbox.
Gelinas and Frederick were left without options until they received their special message.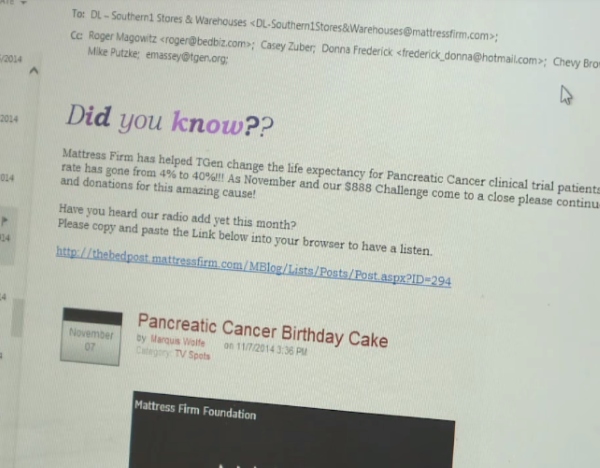 Gelinas and Frederick spent their engagement celebrations in fear; shortly after the two decided to get married, Gelinas was given the diagnosis.
Because of the timing of the diagnosis, the couple was left unsure as to what to do, or who to turn to.
"He was given this diagnosis at the end of the day on Wednesday, the next day is Thanksgiving, there's not a doctor in the office," Frederick told USA Today.
Thankfully, the misplaced email gave the couple some much needed hope and direction.

Frederick worked for a venue that hosted one of Mattress Firm's holiday parties. For this reason, Lively had her contact information—however, it was sheer blind luck that she added Frederick, in her most dire need, to the email chain specifically about pancreatic cancer research.
Naturally, the couple was excited about the news, and so, Frederick sent Lively an email immediately.
But when Lively received their reply, she was shocked.
"I'm going to be in trouble because I sent the email to the wrong person," Lively told USA Today. "But then I was like, 'no, this is okay, we can help them!' So, it just worked out to be a really good, small miracle."
It did not take Lively much time to get help for the frightened couple.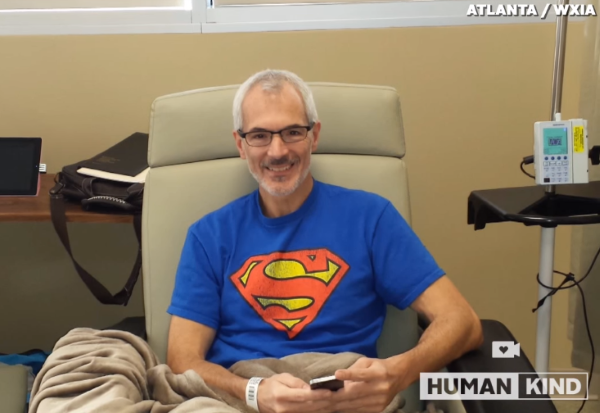 She contacted her superiors and, together, the helped put Frederick and Gelinas in touch with experts and doctors across the country.
"They were so scared," Lively told USA Today. "They were left with basically no information other than the diagnosis."
Thanks to the help of Lively and Mattress Firm, Gelinas and Frederick finally settled on Emory Hospital in Atlanta. That was when their fight began.
"I remember telling my mom, 'I've waited 38 years for this man, I'm not going out like this,'" Frederick told USA Today.
But it did not take long. After several chemotherapy treatments and minor surgery, Gelinas's tumor was completely removed.
The couple married a few months later in August 2015.
The speed with which they received the information contributed heavily to the good result. And thanks to a misplaced message, one man is alive today.
Watch the full story below: