Imgur user Hoptail is a true foodie. A native of Australia, whenever she travels she loves to dine on the cuisine of the various places she visits.
Not one to keep the delicious foods she enjoys to herself, she started sharing pictures on social media. The first album of assorted pictures she shared is from a particular meal that is already catching people's attention and turning heads.
What's so special about it is that it cost $600.
"So I got sent to San Francisco for work and I always make a habit of visiting the best restaurants when I travel," Hoptail wrote on Imgur. "I'm not well-off by any means—I'm a college student. But I love good food."
While in San Francisco, Hoptail visited Saison, which is one of the most expensive restaurants in the United States.

Paying the required price, Hoptail was able to dine on the most exquisite of meals, one which was very memorable and left her needing to talk about it.
The food took her on a journey unlike anything she'd been on before. Though she tried to share that journey and experience through the pictures and descriptons, they only convey a fraction of actually tasting the meal for one's self.
One of the most memorable parts of the meal was the tea.

"This was, no joke, the most heavenly tea I've ever had in my life and could quite cheerfully drink this every day until I died," Hoptail explained in her post.
"It was only supposed to accompany one course but I requested that it be replenished throughout the evening. All 4 hours of it."
After that was a baby spinach and kelp dish.

"Can't tell you how buttery and melty this all was," Hoptail explained. "Even though all the textures were super different, they came together so smoothly."
Then came the sashimi.

"I don't want to sound like an idiot using stupid gastronomic buzzwords, but the 'mouthfeel' was like the most tender, buttery squid you've ever had in your life," Hoptail shared. "I shed tears knowing that I'd peaked and would never experience better raw fish after this moment."
Another memorable part of the meal was the sea urchin.

"I've never had sea urchin before, it was SUPER creamy," Hoptail said. Like the butter of the sea. So amazingly fresh and the sauce in the bread was incredible. Definitely my favorite."
She wasn't so impressed with the geoduck though.

"This is actually 3 separate parts of the clam," Hoptail wrote. "[It was] just kind of chewy and the marinade was super overwhelming I couldn't actually taste the meat."
Then came a radish dish, pumpkin dishes, and antelope dishes—though she said her sentimentality for Bambi stopped her enjoyed that so much.
Towards the end of the meal, Hoptail was in a euphoric state from having eaten so many good things.
But the best course of the meal was still to come: dessert.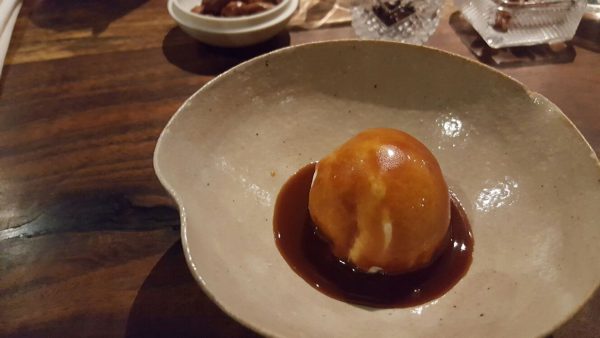 "The best part," Hoptail explained. "This is smoked ice cream.  Don't ask me the science behind how one smokes ice cream—but it's got something to do incorporating exotic wood embers into the cream. So incredible though, and came with life-changing salted caramel."
And that wasn't the only dessert—she was also served an orange buttermilk creamsicle and a blueberry sorbet topped with brandy.
Spoiled from the divineness of the meal, Hoptail left the restaurant stuffed but so satisfied by the experience. For those capable and willing to go on a splurge, she highly recommends Saison.
She even managed to charm the waiter into giving her an extra dessert—the Saison "Snickers" bar, topped with 24k gold!