When one family decided to put down their 6-week-old puppy because they thought she was 'paralyzed,' the decision was nothing short of heartbreaking. Worse, though, they refused any treatment besides euthanasia; they had given up on her.  
But not everyone was willing to throw in the towel.
And despite this adorable puppy's callous owners and supposed 'paralysis,' the kindness and diligence of veterinarians and aid workers helped this dog make a miraculous transformation—both inside and out.
Bella's former owners brought in their six-week-old puppy to be euthanized.

On May 10, 2017, several people entered a veterinary office in Altadena, CA, carrying a bundle in their arms. It was a 6-week-old puppy, Bella (formerly called Bo), and they wanted her euthanized.  
"They said she was paralyzed," Hand in Paw wrote in a Facebook post. "They stated that they didn't want her, immediately signed her over, refusing any treatment (except euthanasia) and just left!"
But the vet, Dr. Z, was not so heartless. Before they would commit to putting down this adorable little dog, they were going to run some tests to see what was wrong.
Within ten minutes, Bella was moving again.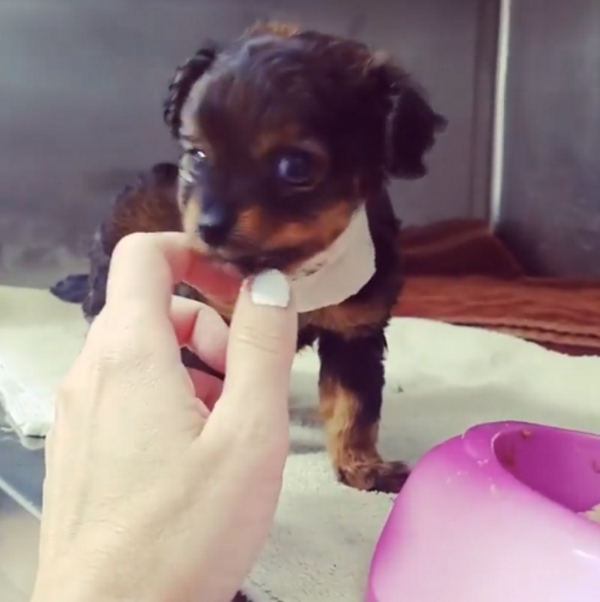 After a few basic tests, it turned out that little Bella was not paralyzed, at all.
In fact, the solution was so simple that Bella was moving around after about ten minutes of being in the vet's care.
You see the reason behind Bella's paralysis turned out to be hypoglycemia.
"Maybe they weren't feeding her enough, and her blood sugar was too low," Piper Wood, founder of Hand in Paw, told The Dodo.
In fact, her recovery was so quick that, by the end of the day, Bella was eating and standing all on her own.
But Bella was still shaken from her ordeal.
Bella had been removed from her mother too early, which might have contributed to her hypoglycemia. However, under the vet's care, she quickly bounced back.
"It was a pretty simple fix," Wood said. "A couple IVs, some fluids and she was fine. It probably cost less than euthanasia."
Once Dr. Z was certain she was on the road to a full recovery, Bella was transferred to Wood's personal care at Hand in Paw.
But when she arrived, Wood discovered another problem; Bella, the sweet, adorable little puppy, was scared and shy, no doubt a side-effect from her horrible ordeal.  
Wood heaped love and affection on little Bella—her mental transformation was matched by her physical one.
I know I haven't posted an update on little baby Bo in a while! She is the puppy that was left at the vet by her…

Posted by Hand in Paw on Tuesday, June 6, 2017
"She was very sweet, but you could tell that she was very scared," Wood told the Dodo.
With enough love and attention, though, Bella began to transform mentally, too. From the scared little dog that arrived at Wood's facility, to a normal, happy, playful little puppy. 
Given such a dramatic change, it did not take long before the plucky little dog was ready to be put up for adoption; and unsurprisingly, within a few weeks, this puppy found a new, loving home, too.
"When I took her to her new home, I saw her play for the first time," Wood told the Western Journal. "She was playing with like 10 different toys at once and running around, and she was so happy."
Pets are not just decorative pieces to display in our houses, or things to amuse ourselves with; they're members of our family. And like any other member of our family, we don't give up on them when the going gets a little tough.
Watch the video below for Bella's recovery:
Look at our new baby, Bo! Her former owners brought her in to our vet yesterday. They said she was paralyzed. They stated that they didn't want her, immediately signed her over, refusing any treatment (except euthanasia), and just left! Dr. Z immediately began treatment, and within 10 minutes, this girl was moving around. Today, she is standing and eating on her own! She is only 6 weeks old, but will certainly have a full, wonderful life ahead! ♡

Posted by Hand in Paw on Wednesday, May 10, 2017
Top Image Credit: (Photo By Hamza Butt/CC By 2.0 — Hand in Paw/Screenshot)