Where: B&B Winepub, 25 W. Houston St., SoHo.
The Dish: Among the dishes that chef Josh Capon has dreamed up for this white truffle season, we've got our eyes on the White Truffle Burger, with robiola cheese, white truffle aioli, and a side of tater tots ($68).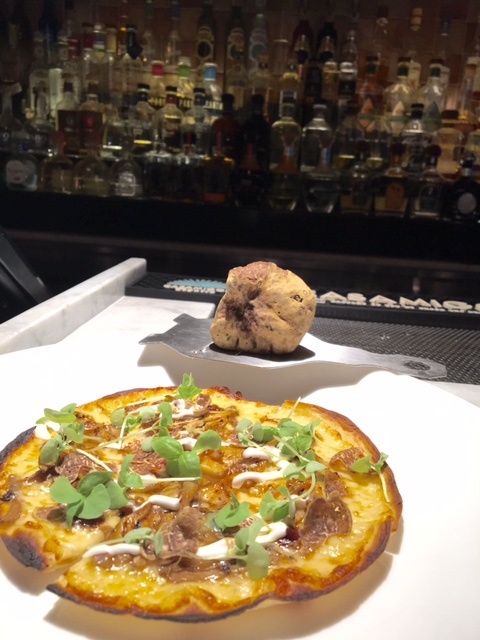 Where: Toloache's three locations: 251 W. 50th St. (Hell's Kitchen), 166 E. 82nd St. (Upper East Side), and 205 Thompson St. (Greenwich Village)
The Dish: Go beyond the usual Italian entrees with chef Julian Medina's truffle quesadilla, with Mexican cheeses and chipotle salsa ($20). You might not have expected it, but Medina said truffles pair well with spicy food.
Where: Rossopomodoro, 118 Greenwich Ave., West Village
The Dish: Owner and executive chef Simone Falco said, "We want New Yorkers to enjoy the truffles in an approachable and flexible way." The restaurant offers a variety of truffle dishes, from sunny side up eggs with asparagus ($47), gluten-free gnocchi with fontina cheese ($58), Spaghetto alla Chitarra (spaghetti cut like guitar strings, $57), New York strip with fingerling potatoes and mushrooms ($65), and zabaione (whipped egg yolk custard, $40).

Where: Sant Ambroeus, 1000 Madison Avenue, Upper East Side
The Dish: A white truffle menu is offered for lunch, brunch, and dinner, with dishes like burrata and asparagus ($90), beef carpaccio ($115), tagliatelle ($80 for half portion, $124 for full portion), seared Dover sole ($169), and even gelato ($68), if you like—all getting the white truffle treatment.
Where: The Little Owl, 90 Bedford St., West Village
The Dish: Chef Joey Campanaro keeps it at its simplest with a dish of Risotto Bianco ($18, plus $50 for truffle supplement). All that this risotto gets on top is a raw egg and between 15 to 20 shavings of white truffle. Note: The truffle supplement can be added to any dish on the menu.