Far more exciting than the typical dinner and a movie date, may we suggest for Valentine's Day pairing a fun experience with some great dining? You may have to put on some skates and fall a few times, or perhaps get your hair tousled by the wind while sailing, but that's all part of the fun. Here are our recommendations:
Your Own 'Lady and the Tramp' Moment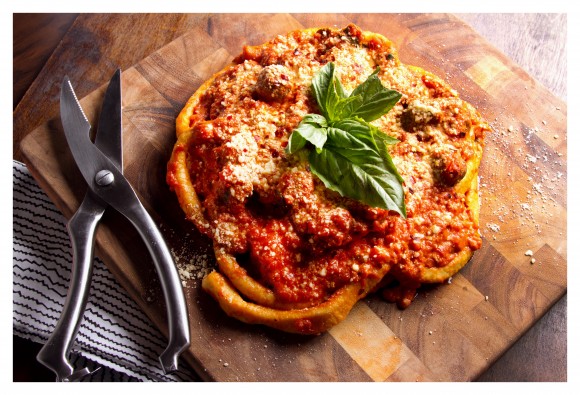 Maybe in your subconscious, the memory of those two adorable dogs from the Disney classic lives on. You can recreate your own "Lady and the Tramp" moment at Allora Ristorante, an Italian-American restaurant located at The Bernic Hotel in Turtle Bay. That's because one of the holiday specials is the Maccheroni alla Mugnaia, a dish composed of a single, over 30-foot-long strand of thick spaghetto, topped with a red meat sauce made of lamb, beef, pork, and meatballs (we're not sure whether we'd advise nudging a meatball toward your sweetheart with your nose, though). The dish is also served with a pair of scissors, should you prefer to be more civilized about the whole business.
The dish serves two to four and is priced at $45. Make sure to reserve ahead for the dish. AlloraNYC.com
For the Food Connoisseur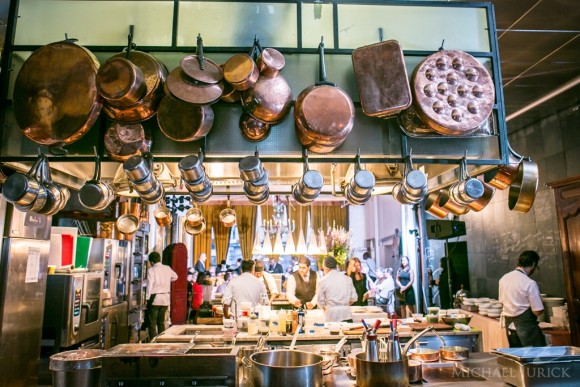 At Bouley Test Kitchen, you can watch as staff prepare a stunning six-course meal right in front of your eyes—as if you've entered chef David Bouley's private kitchen. That's just one act of a carefully curated evening.
This ultimate food connoisseur's experience kicks off with a cocktail reception, where a mixologist will demonstrate making Bouley's signature elderflower Champagne aperitif, while canapés are passed around.
Chocolatier Sarah Bouley will teach each couple how to make chocolate truffles out of Valrhona artisanal chocolate. Then, after a sit-down dinner expertly paired with wines—courtesy of wine director Adrien Falcon—each guest will take home a black truffle gift from La Rustichella Truffles USA, along with several Test Kitchen recipes for each couple to try making at home.
$1,133.78 per couple (including tax and service fees). DavidBouley.com
Anchors Aweigh
If you're looking to escape from the hustle of New York while still technically being in the city, one of the calmest places to do that may be on the water. Have dinner over at Fish Bar at North River Landing, a restaurant housed within a 10,000-square-foot yacht docked at Pier 81. Then, take a complimentary sail down the Hudson River, with views of the city skyline and the Statue of Liberty.
The four-course prix fixe dinner, which includes rosé and a Champagne toast, is priced at $135 per person, plus tax. Entrees include a choice of skirt steak (with roasted vegetables, ​f​ingerling potatoes, ​and s​alsa ​v​erde), chicken breast (with faro, ​b​roccoli ​r​abe, ​and h​erbed ​d​emi glaze), ​salmon ​(with fregula sarda, snow peas, and tomatoes), and wild mushroom fettuccine. For dessert, choose between chocolate mousse and raspberry cheesecake.
This package is available Friday, Feb. 10, Saturday, Feb. 11, and Tuesday, Feb. 14. Boarding starts at 6 p.m., with complimentary sailing from 7 p.m. to 10 p.m. NorthRiverFishBar.com
Lace Up Those Skates
Trust us, take advantage of the season by going on an ice skating and dinner date. It's way better than dinner and a movie, and it's far easier for breaking the ice (sorry), for those at the early stages of a relationship. You're there to interact, not to stare at a screen, right?
Our recommendation would be to head over to the ice rink at Bryant Park. Then for dinner, here are two recommendations, depending on whether you're looking for a more upscale or casual option.
The Lambs Club
If you're looking for a more upscale dinner, Geoffrey Zakarian's The Lambs Club, with its beautiful fireplace and plush red banquettes, offers a four-course menu. Highlights include Hudson Valley Foie Gras, pastas like agnolotti (with Parmigiano-Reggiano, chanterelle mushrooms) and ravioli (artichoke, Maine lobster), and a Baked Alaska for two ($135 per person).
Plus, you'll be in good hands with wine expert and sommelier A.J. Ojeda-Pons, who has this advice on picking wines confidently: "My best advice is 'Trust your sommelier.' They put together the wine list. I bet they are very excited about it, and they will be thrilled that you want to talk to them. Forget that obsolete concept that they are trying to sell you the most expensive wine," he said. "Just don't pull out one of those phone apps and start choosing by ratings; it is a dining etiquette faux pas."
Ojeda-Pons, whose motto is "Drink Champagne every day," loves the bubbly for its versatility. "I always start a meal with Champagne," he said. "It's the most civilized thing to do—no need to wait for a celebration or special occasion. I like many styles and to explore a lot; lately I have been serving a lot of the ​André Clouet "Cuvée 1911″ from the Montagne de Reims, a ​supremely elegant ​and delicious wine with delicate notes of fresh brioche, a perfect amount of acid backbone, and great minerality. I also always keep stock of the Champagnes from Dhondt-Grellet and Billecart-Salmon—some of my many favorites."
He's also currently partial to northern Rhone wines, as well as those from Spain's Priorat region, "where you can find beautiful Grenaches produced by Terroir al Limit and powerful yet seductive red blends from Vall Llach and Bodegas Mas Alta." We'll drink to that.
The Shakespeare
For a more casual setting with great food, we love Jason Hicks's pub The Shakespeare—it's informal but oh so cozy.
Head chef Simon Townsend is preparing a three-course prix fixe menu for $85 per person, which includes a glass of "British Fizz," a term Hicks coined for British sparklers.
According to Hicks, British Fizz can rival the best Champagnes. "They inspire dreams rather than interrupt them," he said.
The dishes on the menu have a British touch. Think Gin & Tonic Cured Salmon, with dill mayo; English Pea Ravioli with braised morels and pea shoots; Duck Breast with charred chicory and potato dauphinoise; Lamb Rump with fingerling potatoes, asparagus, and mint sauce; or Sea Trout with clams, samphire, and artichoke. And for dessert, there's a chocolate plate.
A Romantic Stroll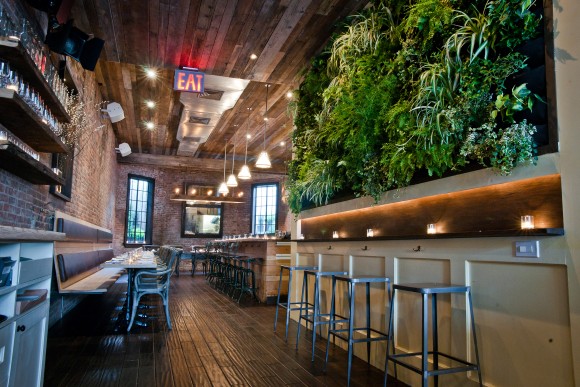 The allure of the Manhattan skyline is irresistible: bright lights beaming, New York's intricate cityscape laid out before you. The Brooklyn Heights Promenade offers excellent views, and its boardwalk is perfect for a leisurely stroll. After a romantic walk, head to nearby Colonie, a new American restaurant with cozy vibes: exposed brick walls, wooden panels on the floor and ceiling, and tall windows that let in light from the outside.
The four-course Valentine's Day menu includes small bites to share, like seaweed beignets and artichoke hearts with mint salmoriglio sauce and crispy garlic. Your choice of appetizers and entrees include winter squash bisque with lobster, pumpkin seeds, and amaranth; pappardelle with egg yolk, black truffle, and nasturtium; and lamb breast with labneh, carrots, quinoa, and sprouts. Dessert options include a passion fruit tart with toasted meringue and sesame, or chocolate doughnuts with pistachio and lemon cream.
$85 per person. ColonieNYC.com
Dine Surrounded by Flowers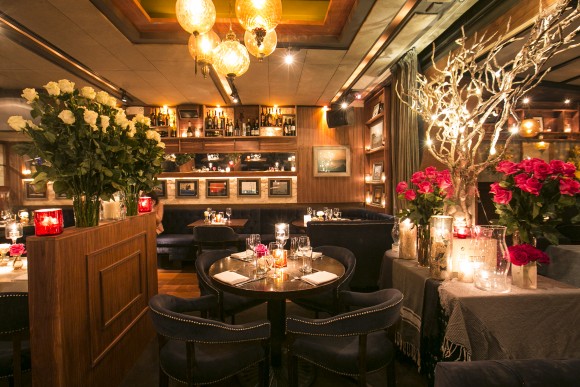 The bad news is, Salinas, one of the most romantic restaurants we know, is already booked up for Valentine's Day. The good news is, the intimate Spanish restaurant in Chelsea is bedecked in floral beauty year-round. Salinas is just a short walk away from the High Line (a lovely pre- or post-dinner activity, might we suggest). And it is 100 percent romance without any kitsch, which is rare. Flower arrangements are carefully orchestrated all throughout the dining room, making for a fragrant and visually striking backdrop.
Executive chef Luis Bollo serves contemporary Spanish fare. He has prepared special menus starting on Friday, Feb. 10 (some prix fixe, some à la carte, or both, depending on the evening; check with the restaurant for details). SalinasNYC.com
Rendez-Vous With Decadence
Last summer, Manhattan's The Pierre, A Taj Hotel, opened up its iconic Rotunda as a dining space. Since the hotel opened in 1930, the Rotunda room has successively embraced different styles, from art deco during the Great Depression to patriotic touches during World War II.
For Valentine's Day, the theme of the menu is "The Essence of Love," which has also been embraced throughout the hotel to celebrate a partnership with French perfume house, Sous le Manteau (slm).
Expect decadence: for example, Eggs on Eggs (caviar, truffle egg custard, shaved black truffle), Butter Poached Lobster, Sauternes Sorbet and Rose Petal Jelly, and Angus Beef Tournedos.
$230 per couple. We suggest a pre-dinner visit to The Metropolitan Museum of Art and a stroll through Central Park on your way to dinner. ThePierreNY.com