Maria, a young woman from Poland, was a student at Harvard University about 18 years ago when she discovered a Chinese meditation and exercise practice that would take her on an extraordinary journey.
"One day, I came across a poster with a picture of people meditating. They looked so serene," Maria told Minghui.org. "I appreciated that it was free."
The practice was called Falun Dafa, or Falun Gong. As well as doing the gentle exercises, practitioners work to improve their moral character through following the three principles of truthfulness, compassion, and tolerance.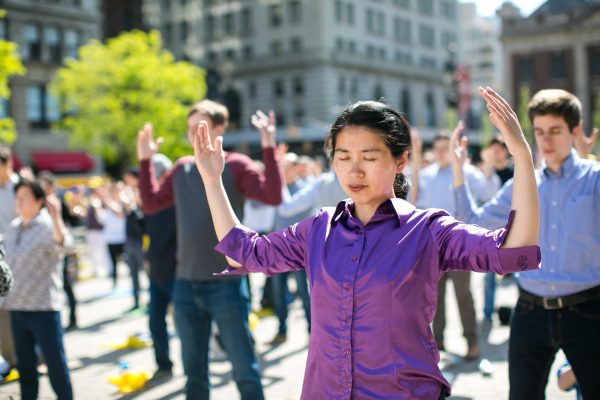 "The first time I did the exercises, I felt such a powerful energy," she said.
Maria felt a deep connection to the practice and soon found a sense of peace and joy through practicing Falun Gong.
But what moved her the most was when she discovered that Falun Gong was persecuted in China.
"I heard this story that Jiang Zemin said that truth, compassion, and tolerance are not in accordance with the Chinese Communist Party (CCP), therefore they're illegal. I figured, 'How is that possible?' My parents and grandparents have taught me those moral values," she said.
The persecution began in July 1999 after the CCP deemed the practice to be too popular and at odds with communism. Practitioners were targeted for arrest, torture, forced labor, and brainwashing in an attempt to stop them practicing. At least hundreds of people were losing their lives every year as a result of torture and mistreatment.
But the millions of Falun Dafa practitioners in China responded peacefully. They countered the negative propaganda put out by the CCP by simply telling others that Falun Dafa was good.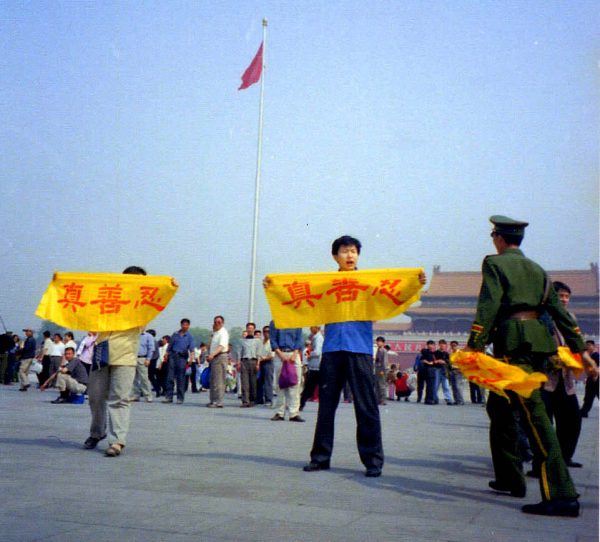 "I started finding out more about [the persecution], and I heard this story of a man—an old Chinese man—who traveled thousands of miles … he traveled to Beijing to tell the world that Falun Dafa is good. He had a bag of worn out shoes. That's what inspired me to travel the world and tell people that Falun Dafa is good," Maria said.
In 2001, she joined an "SOS Walk" across Europe to raise awareness about the persecution.
In 11 days she walked 200 miles, and even got the chance to meet with the Polish president Aleksander Kwaśniewski to inform him about what was happening in China. He promised to support Falun Gong practitioners and urge the CCP to stop the persecution, according to Minghui.org.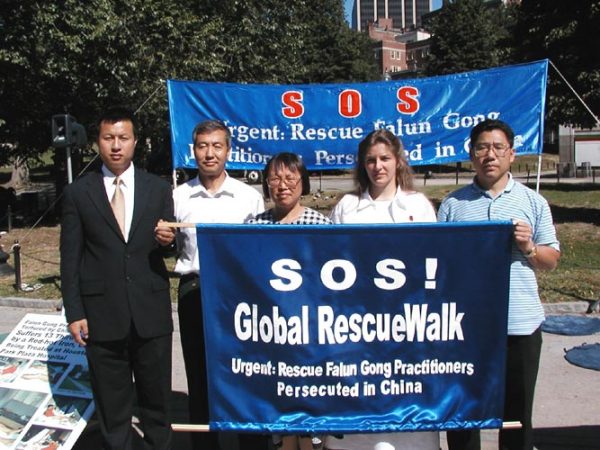 In February 2002, Maria bravely traveled to China to try to spread the message to the Chinese people. She visited Shanghai, Hangzhou, Suzhou, Nanjing, and finally arrived in Beijing. Everywhere she went, she distributed Falun Gong pamphlets and tried to tell the Chinese people what Falun Gong was really about.
"I remember I was in Nanjing for [the Chinese] New Year's Day in a park. The park was evergreen, but everything was so gray because of the pollution. There was what was supposed to be a river, but it was really flowing trash. There was a concrete lotus flower by the river, in the park. I sat there in full lotus [meditating].
"Chinese people were so moved by it, I actually became a tourist attraction. People would put children on my legs, and we would all do [meditation] and take pictures.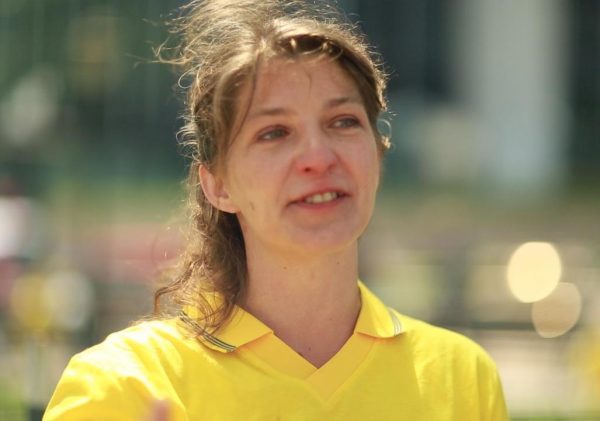 "People would tell me stories of how they practiced Falun Gong. I would tell them that all over the world, Falun Dafa is honored and cherished, and it's only in China that is it persecuted; [I told them] it's actually not true that the rest of the world has eradicated Falun Dafa. It gave them so much courage.
"A man came up to me, and said, 'My wife is a Communist Party member, so she cannot listen.' She put earphones in her ears and listened to music while he talked to me. He said, 'I practice Falun Gong, but because of the pressure [from the CCP], I stopped. But I really am grateful that you came.' He invited me to a picnic, and it was a really beautiful experience."
Maria was arrested on February 14, 2002, on the way to Tiananmen Square.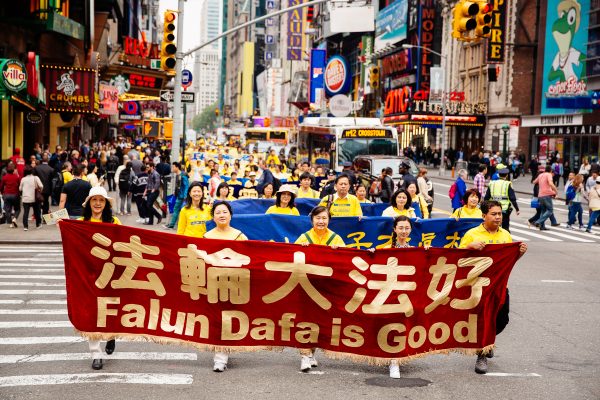 "I knew that there was a very small chance that something really bad would happen to me," she said about her trip to Beijing to join other Western practitioners in a peaceful protest. "I knew that the people in China are suffering so much more."
She wanted to show Falun Gong practitioners in China that they weren't alone.
"If, through my experience and my person, I could give them hope that what they do is actually heard and seen outside of China and give them courage, that would be the greatest thing I could do," she said.
After being detained by the police, Maria was deported from China.
Once back home, Maria didn't give up on her mission to spread awareness about the persecution. She arranged to fly to Rome in May 2002, and was granted a private audience with Pope John Paul II. During the brief meeting she was able to share what Falun Gong is with the Pope and told him about the persecution. He offered a blessing for Falun Dafa.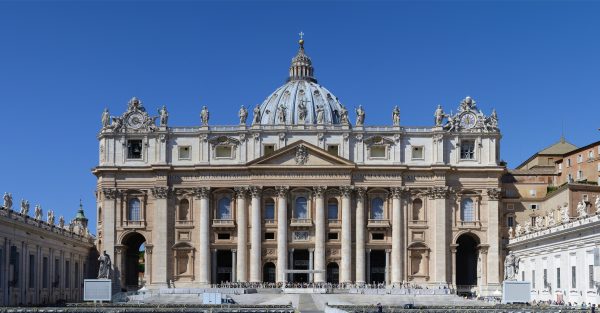 Pope John Paul II was Polish, and it was his words that inspired her to try to meet with him.
"I am from Poland. Poland was the first country in the world that abolished communism. We have a Pope who said, 30 years ago, 'Have faith. Have courage and have faith,'" she said.
That's a message she also wanted to share with the Chinese people, and she's hopeful that one day the persecution—and communism—will end in China.
"I wanted to thank all the Chinese people for courage [for those who have quit the Chinese Communist Party]. And I want to thank all the Chinese people for having such a great culture and bringing it to the world," she said.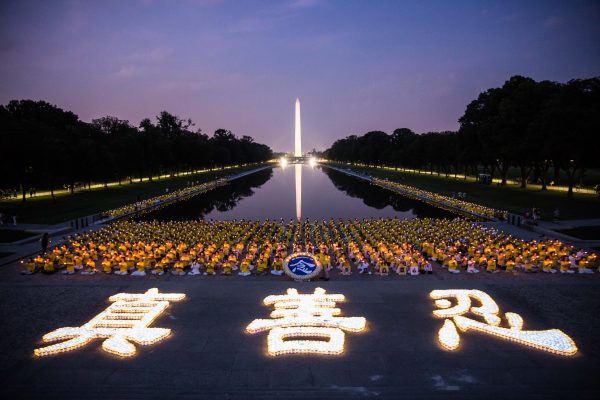 Top image credit: (Minghui.org (left) / Flickr/LuxTonnerre/CC BY 2.0 (right))