When you drive for Uber, you never know where the night will take you—or who will end up in your car.
That's what a woman named Brandi learned when an unusual encounter with a passenger unexpectedly led to a lasting friendship.
Brandi, from Gilbert, Arizona, was working as a full-time Uber driver. She took her car over to Phoenix, hoping to get some extra customers in town for the Phoenix Open.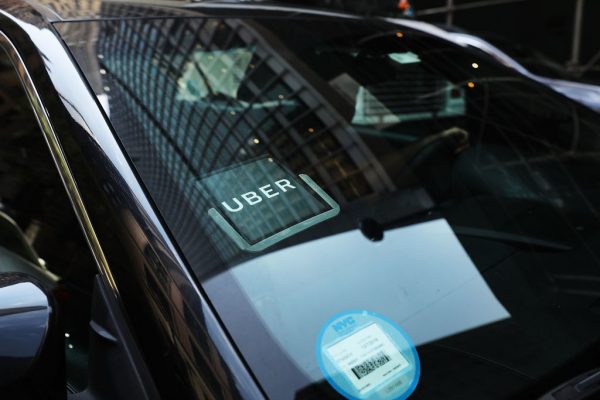 But one customer who ordered Brandi's car really stood out: a man who had a dog with him. It was an 8-month-old pit bull named Honey.
It wasn't an issue—having a pet in an Uber car isn't that unusual. But Brandi noticed how many questions the man seemed to be asking her about her feelings towards pit bulls.
"'Does it bother you that she's a pit bull?'" Brandi recalled the passenger asking to ABC15. "I said 'Oh no, I love pit bulls—they're beautiful, gorgeous, good dogs.'"
It struck Brandi as strange, but it could've just been small talk. But then, as the ride came to an end and arrived at the man's apartment building, he abruptly left the vehicle.
Brandi looked behind her, and saw the pit bull was still sitting there in the back seat.

She assumed the passenger had simply forgotten the dog. So she took Honey up to the apartment to return her to the owner—but couldn't find him anywhere.
She called the number he had on file. It was out of service.
Brandi wasn't sure what was going on—but she thought about the man's behavior, and concluded that it wasn't an accident after all.
He had abandoned the dog in her Uber on purpose.
Brandi assumed that the man had been trying to get rid of Honey, and took an unusual strategy for finding her a new owner. After asking Brandi about her feelings towards pit bulls, he must've assumed the dog would be in good hands if he left her in the car.
"Maybe rather than advertising on Craigslist, he was trying to find if she found a connection with somebody," Brandi told ABC15.
"I guess with me, he thought she found it."

Brandi did happen to like pit bulls, but it was still presumptuous to pawn the dog off on her on such short notice. She wasn't exactly sure what to do with Honey.
She called up Uber, explaining the situation and asking what the proper procedure was. Her company told her to take Honey to the local animal shelter.
Brandi knew that wasn't a good idea. Animal shelters are commonly filled with pit bulls, and the breed has a very low adoption rate. If Honey was left at the shelter, there was a good chance she would end up euthanized.

So instead, Brandi adopted the dog herself.
Brandi took the dog home, and after a few days officially became her legal guardian. Despite the strange circumstances that brought them together, Brandi wanted to make sure Honey was well cared for.
"She's got a good home now," Brandi told ABC15. "She's not going anywhere."

And maybe it's a perfect match, after all. Brandi says she had just been diagnosed with diabetes shortly before that fateful Uber trip—and she plans to have her new pet trained to spot sugar lows.
"I figured if I was going to keep her, I'd give her a purpose," Brandi said.
She saved Honey's life, so maybe Honey can save hers.