Sarah Hoidahl was just barely making ends meet. She was a single mother of a 15-month-old boy, living with her mother, and working as a waitress at a Ruby Tuesday's restaurant in Concord, New Hampshire.
But that doesn't mean she didn't have compassion for others short on cash.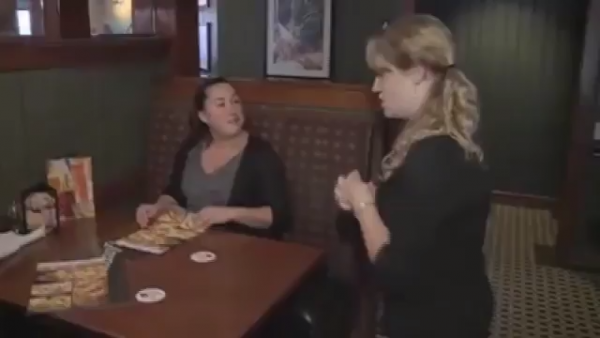 It was October 2013, and the US was in the midst of a government shut down, which halted federal spending. One of the unfortunate effects was it meant some members of the military were going unpaid.
Hoidahl was working the afternoon shift, when she was serving two women from the New Hampshire National Guard. They were discussing the shutdown, and the tough spot it put them in, and their waitress couldn't help but overhear.
"They were looking through the menu and she had mentioned something about the furlough and how we aren't getting paid and I was like, 'Oh, jeez,'" Hoidahl told WMUR.

Hoidahl knew what it was like to be tight on cash.
"I was just thinking to myself that must be really difficult," she told WMUR.
"Just because the income stops, doesn't mean the bills do."
She also especially had a heart for people in the service. She had many friends in the military, including her boyfriend, who was a Marine.
So Hoidahl decided to help the women out with a random act of kindness:
She paid their entire bill herself.
She even left a note with the check, explaining why she had done it and expressing gratitude to their service:

The bill was $27.75. Not a huge amount, but still nearly everything Hoidahl had made during that shift.
"I walked away with eight dollars," she joked to Ellen. "Which isn't even enough to cover my gas."
Still, it was worth it—once she saw the strangers' reaction.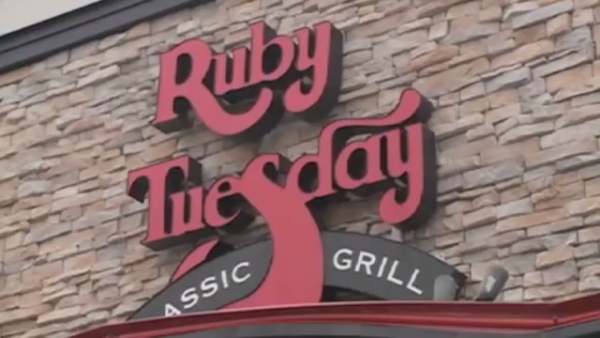 She found the two women waiting outside the restaurant to thank her.
"I came out front and they were out front waiting for me and they came up and hugged me and just their reaction was worth everything," she told WMUR.
"It was like I did this big huge thing, and I was like, 'I just bought you lunch, but thank you.'"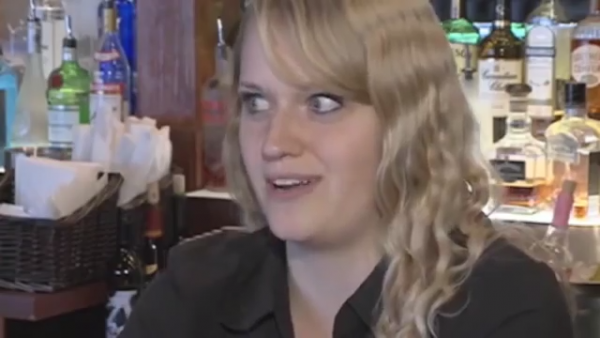 But that wasn't all. The story of Sarah's good deed went viral, when the New Hampshire National Guard's Facebook page shared a photo of her note. The same photo was also posted by the Ruby Tuesday's page, who thanked their employee for "going above and beyond to truly serve those who serve our country."
But for Hoidahl, it was the least she could do.
"I mean, they protect this country," she told WMUR. "They protect citizens like me and it was a nice thing to do."
"Good karma, do something nice for someone else."
But her karma was repaid later on—big time.
After her story went viral, Hoidahl was invited on The Ellen DeGeneres Show. Ellen interviewed her about her random act of kindness, and jokingly offered to repay her the full $27.75 she spent on the soldiers.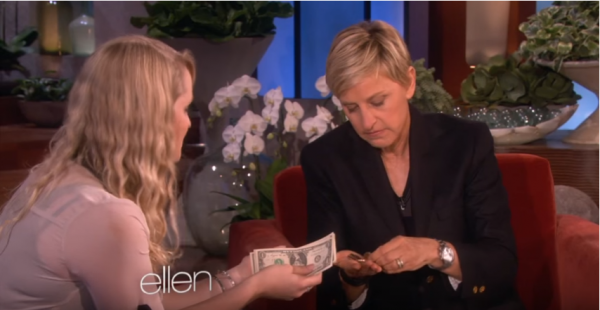 But of course, that wasn't the end. After giving her a brand new TV (which she needed), Ellen wrote her a check…
…for $10,000!
She may have given up a day's paycheck, but she walked away with enough money to cover more than a few shifts—and inspired plenty of people along the way!