A Nativity pageant is a classic Christmas tradition, a way to remind ourselves of the spiritual meaning behind the festivities. And having young kids perform the scene, dressed as Mary and Joseph and company, is a great way for them to learn and get excited about the story of Jesus' birth.
But one young actor got a little too excited about baby Jesus—and couldn't hold back her enthusiasm, even in the middle of the play.
The result is the most unforgettable Nativity scene anyone's ever witnessed—and now it's becoming a viral sensation.

When First Baptist Church in White Pine, Tennessee was getting ready to hold their annual Christmas pageant, they cast 2-year-old Teegan Benson as a sheep, one of the animals bearing witness to Jesus' birth in a manger.
It was a thankless supporting role to say the least, but that didn't stop Teegan from being psyched for the show. Her mom, Tana Benson, said it was on her daughter's mind for weeks, and she would always sing songs and talk about baby Jesus in the car.
"They were all itching to get up there so they could dance along with the music," she told Today.
Little did anyone realize, Teegan was one sheep who didn't follow the rules.

The children reenacted the Nativity scene, with a choir singing "Away in a Manager" in the background.
But Teegan suddenly decided to take some dramatic liberties with the story.
She went over to the manager and stole the baby Jesus.

"She just really wanted that baby Jesus," her mother recalled.
In her defense, this baby Jesus was actually an American Girl doll. While the children were specifically told not to touch this Christ stand-in, it's still hard for a 2-year-old girl to resist a cute doll.
"My daughter loves babies," Tana told Inside Edition. "She liked that American Girl doll."
But the sight of a sheep stealing Jesus had the church audience in hysterics—and hearing the laughter only made Teegan ham it up even more.
"She stood up there with the baby and the more people laughed, the more she thought she needed to strut her stuff."

But not everyone was laughing. The 3-year-old playing Mary saw this sheep trying to take her baby, and her motherly instincts told her to fight back.
"The little girl playing Mary is a middle child and a real stickler for the rules, and she knew that was not supposed to happen," Tana explained to Today.
Mary stepped up and took the baby back, placing it back in the manger.

But then Teegan took it again and continued her scene-stealing … and this time, Mary wasn't having it.
Then Mary put the sheep in a headlock, trying to get her baby back.

This kerfuffle finally led some parents to intervene. Tana gave her daughter the hook, knowing it was the only way to get her to stop stealing Jesus.
"I knew Teegan was going to go back for that doll," she told Inside Edition. "When she has her eyes on the prize, nothing gets in her way."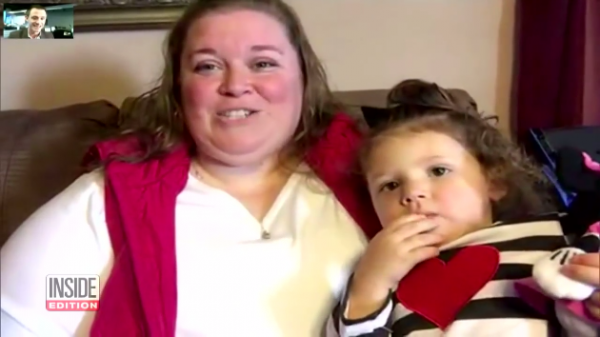 In the end, Tana says the parents had a good laugh about it at the reception after the show—and there's no hard feelings between Teegan and "Mary," who Tana says are actually good friends.
And, in a strange way, Tana even thinks that this on-stage fiasco shows us what Christmas is all about.
"These kids both love our church, love being here and both have a passion for Jesus," she told WBIR. "And so I think the message that we want to get across is He is the reason for Christmas."
Every church does their own version of the Nativity scene this time of year—but I think it's safe to say, none will be quite like this.
Watch the hilarious video below:
My little sheep took the baby Jesus, breaking all the rules leaving poor little Mary no choice but to take action! Momma to the rescue tried her best to protect her baby at all costs. Definitely a program I will remember. LOVE these kiddos and my church family! Laughed so hard I cried!

Posted by Tana Benson on Sunday, December 10, 2017