Who doesn't love a good surprise?
When 11-year-old Tannah Butterfield recently went to school she was a little nervous. Her foster parents had a court date and if everything went as planned, they would officially be allowed to adopt her and her two younger siblings. It was something everyone had dreamed about for a long time.
Security footage of the moment Tannah learned of the court's decision is now going viral.
Can you guess what the court said?
In the video, which was taken from a security camera inside American Heritage School in South Jordan, Utah, Jackie Alexander, the school's office manager, told Tannah the exciting news.
"I said, 'You get your forever family, honey,' and then you see her jump into my arms," Alexander told KSL.
According to KSL, there have been several setbacks due to a "parental rights case lasting more than two years." But finally the Butterfield siblings, ages 2, 6, and 11, will officially become a part of the Fisher family.
Jennifer Fisher, Tannah's adoptive mother, told Alexander to deliver the good news to Tannah.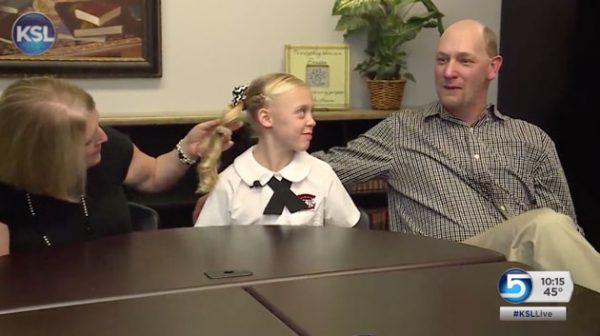 After Fisher found out that she and her husband were granted permission to formally adopt Tannah and her siblings, she called the school and alerted Alexander. She wanted her to break the news to her soon-to-be adopted child.
The two, who have become friends, embraced each other and couldn't let go. Both Alexander and Tannah were overjoyed.
"My heart felt like it was going to explode, literally going to explode," Tannah told Fox News.
Although it was a long and often difficult journey, the Fishers say it was absolutely worth it.
After learning of her happy ending, Tannah, who called foster care "horrible," shared some encouraging words for children in foster care.
"You will get adopted. You will find good people and that you will always have someone to love you."
Just like Tannah.