Most people are excited when the UPS delivery person pulls up in front of their house because it usually means they have a package. If the item was something they needed by a certain time and it arrived early, they might even be grateful.
One family in Haverhill, Massachusetts, was extremely thankful for their UPS driver when he stopped by their home in April 2017. But when he went there, he didn't have any packages to drop off.
"I just ran over, banged on the door, told the people in the house, 'Your house [is] on fire!'" Paul Pereira told WCVB.
Paul Pereira has been driving the same route for over a decade.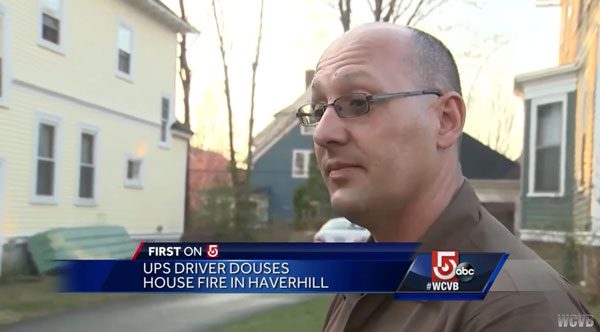 While out making his final deliveries for the day in Haverhill, Pereira spotted an orange glow coming from a home on a street he had just turned onto.
He parked his vehicle and told NECN that he immediately went to the front door to alert anyone who may have been inside.
One evening he saw a house on fire and rushed to warn the homeowner.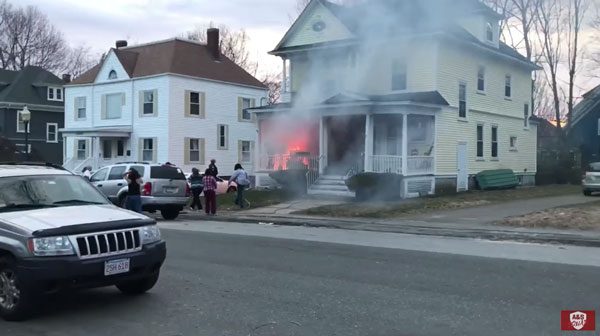 Brian Lavender, the homeowner, told WCVB that his wife and daughter were inside the home at the time and were unaware that something had caught fire on their front porch. They had thought the smell was from a neighbor's grill.
Luckily the two escaped after they heard Pereira banging on their door and yelling "Fire, fire, fire get out."
But he didn't stop at the front door.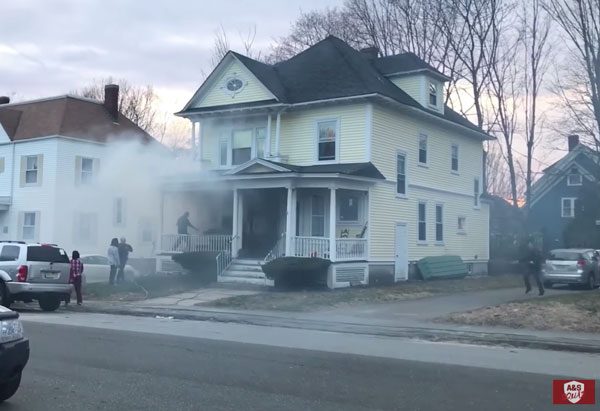 After the mother and daughter were safely outside, Pereira searched for a garden hose. The flames had intensified and began to creep up the side of the house.
A neighbor caught the tense moments on camera.
With a hose in hand, the UPS driver bravely faced and extinguished the flames before they completely swept over the front of the home.
Neighbors watched in awe. Authorities said the fire started after someone threw away a cigarette on the porch.
"By the time the fire department showed up, he knocked down the fire," Peter Brown, a neighbor, told WCVB. "Had he not been there, that entire porch would have been engulfed."
When firefighters arrived, they only had a small flareup to deal with.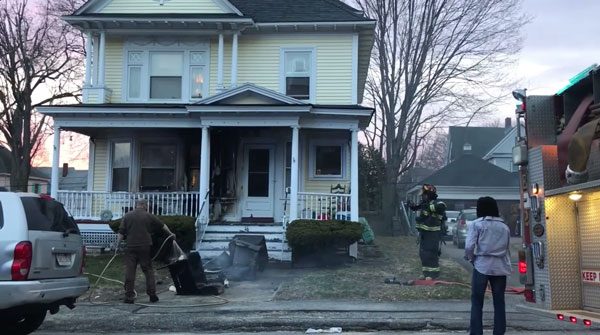 Selena Sanchez, who filmed Pereira's heroic actions, praised the UPS driver.
"He literally is a hero, he saved them from dying," she told NECN. "He legit didn't have to do that, but he did. He saved that house."
Pereira didn't consider himself a hero.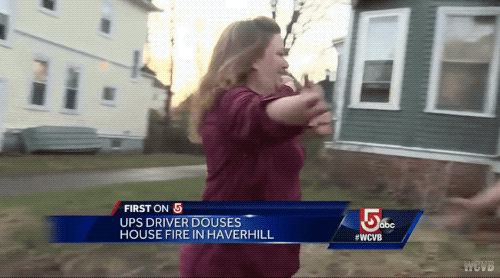 Although Pereira wouldn't have classified his actions as heroic, UPS did honor him for "going above and beyond and being concerned with the well-being of our customers and community."
Even the fire department commended him.
"I want to thank him for his efforts because the video truly shows that he did probably save the house from getting further damage," Haverhill Fire Chief William F. Laliberty told WHAV News.
However, the fire chief made it clear that while Pereira did save the family and their home, attempting to fight a fire without the proper protection is not a job for the public.
The Lavender family was extremely thankful their UPS driver stopped at their house.