Living on an island may seem like a dream to some, but when disaster strikes, like a flood, island living may not be so ideal.
Recently communities in southern New Brunswick, Canada have seen record floods that have caused people to flee their homes and forced drivers to find other routes around town.
When the water rose to a height not seen in the past several decades, residents of Darlings Island found themselves at a loss of how they'd get back to the mainland. Enter Uber Rob.
Communities in southern New Brunswick have dealt with heavy rain and the resulting floodwaters for several days.
Aerial drone footage shows the extent of flooding in the Grand Bay-Westfield area of New Brunswick.

More information on highway and road closures: https://t.co/UlAp9X5fti pic.twitter.com/DttjCrBQzB

— CBC News (@CBCNews) May 4, 2018
In the middle of April, officials warned New Brunswick residents that they should prepare for rain and possible flooding. At the time they didn't anticipate major flooding, but Mother Nature is not always predictable.
A few weeks later, residents, specifically along the Saint John River, experienced floodwaters that hadn't been seen since 1973.
The floodwaters have made some roads impassable and cut off access to entire towns.
Residents living in and around Westfield Road are being asked to evacuate voluntarily by @NBEMO_OMUNB @Global_NB pic.twitter.com/UUFaE2ZLMG

— Morganne Campbell (@Morganne_C) May 3, 2018
"The problem is we're venturing into uncharted territory," Geoffrey Downey of the Emergency Measures Organization said. "Who knows how far it's going to go up, so how many homes is it now going to reach?"
On May 3 the St. John River hit roughly 18 feet above sea level and was expected to rise another foot within a few days.
In a matter of days, Darlings Island was completely inaccessible unless you used a boat.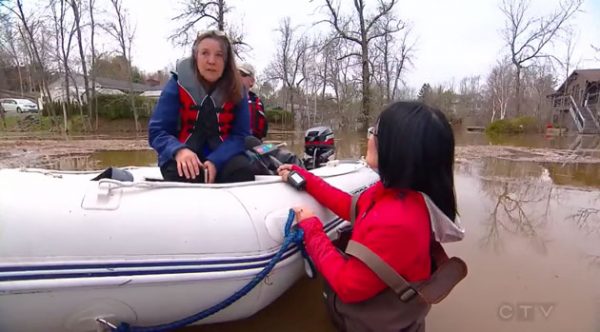 While many who lived near the St. John River decided whether they would stay or go, residents of New Brunswick's Darlings Island quickly learned that their decision to stay might not been wise.
Darlings Island, an island that sits along the Kennebecasis River, had been completely cutoff from the mainland after the only road onto the island became submerged.
Residents who didn't have access to a boat were left stranded.
Immediately after the only road onto the island had been deemed impassable, residents were able to wade through the water to the mainland, but a few days later they were unable to cross unless they had a boat, which meant many were left stranded.
When Rob Dekany heard about the residents' struggles he decided to lend a hand.
"He's our savior," Patty Johnston, a resident, said.
Dekany quickly earned the nickname, Uber Rob.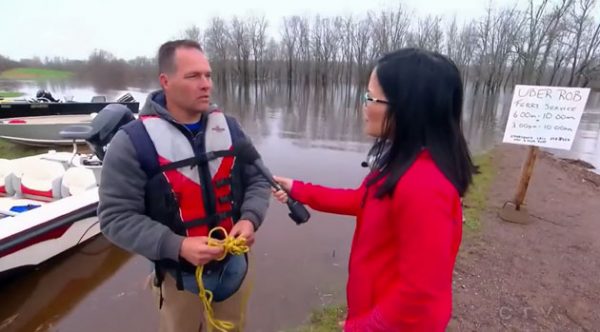 "As you can see I've got a bunch of good people here and thought I'd give a hand in good faith and as a Good Samaritan," Dekany said. "Everybody seems pretty happy. It makes me pretty happy."
Every day since April 30, Dekany or Uber Rob as he's become known, ferries Darlings Island residents to the mainland.
He estimated that each day he brings between 100 and 200 people back and forth between the island and the mainland.
Uber Rob offers the ferry service for free.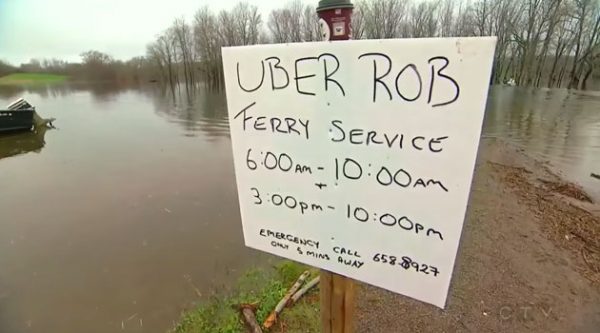 What makes Uber Rob's ferry service even more special? Dekany reportedly took time off work in order to provide the free service to the island's residents.
"Everybody on the island is so appreciative of him," Chris Calder said. "Otherwise we really wouldn't be able to get back and forth."
He said he'll continue the service as long as people need it.
Although Dekany refuses to accept any money for his ferry, residents have created a Facebook group with the goal of collecting money to pay Dekany for gas and his time.