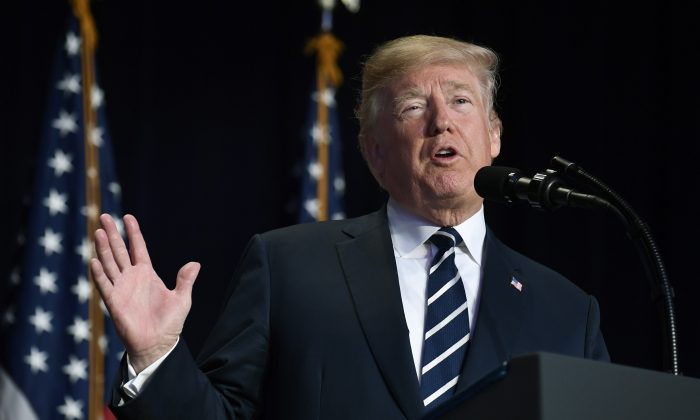 Trump Speaks of Hope at National Prayer Breakfast
Updated: February 21, 2018
News Analysis
President Donald Trump's politics have always testified to the transformative power of hope. He based his unlikely campaign for the presidency on the hopeful promise to "make America great again." In a moment during his State of the Union Address that reminded one of the optimism of Ronald Reagan, Trump declared, "This is our new American moment."
At the National Prayer Breakfast on Feb. 8, in the latter part of his remarks, Trump held up two powerful examples of hope borne of the power of prayer, as he made the case that American liberty and the goodness of American life come from God.
The first example was the North Korean defector, Mr. Ji Seong-ho, whose story of escape to liberty Trump had told at the State of the Union, to loud applause.
On this morning, Trump recounted how during his torture by North Korean officials, Ji prayed for peace and freedom.
"And now, as you know, Seong-ho is free and a symbol of hope to millions of people all around the world," Trump said.
Trump's second example was of the nine-year-old girl Sophia Marie Campa Peters, who attended the breakfast with her parents. Suffering from a rare disease, Peters has had "many strokes."
Trump recounted how, after doctors told her she might not be able to walk, the child pitted her optimism against the doctors' authority, saying, "If you're only going to talk about what I can't do, then I don't want to hear it — [laughter from the audience] — just let me try to walk."
Facing the need for high-risk surgery, Peters asked for prayer, with a goal of having 10,000 people pray for her. When she went into surgery on Jan. 24, millions prayed for her, Trump said.
"Today, we thank God that Sophia is with us, and she's recovering, and she's walking very well," Trump said.
Trump then drew a lesson from his two examples.
"Heroes like Sophia come from all across our country and from every different background," Trump said. "But they all share one thing in common: Through their love, their courage, their sacrifice, we glimpse the grace of almighty God."
In showing God's providence at work in the world, these examples support the case Trump made earlier in his remarks that America's liberty and goodness come from God.
"Our rights are not given to us by man," Trump said, "our rights come from our Creator."
In the American land, one sees "the splendor of God's creation," and in "a million acts of kindness, courage and generosity" we see "the Lord's grace."
Understanding the role of God in American life, leads to this conclusion: "When Americans are able to live by their convictions, to speak openly of their faith, and to teach their children what is right, our families thrive, our communities flourish, and our nation can achieve anything at all."
Trump's optimism for our nation is here seen as an expression of his belief in God's providence.
Of course, Trump has to know that his views are going against powerful cultural tides. The role of God in our public life has been under attack for decades. Prayer has been disallowed in our public schools. The motto "in God we trust" on our currency is contested, as is the line in the Pledge of Allegiance that speaks of "one nation under God."
So, in speaking of hope at the National Prayer Breakfast, Trump was working to arm America's citizens with the knowledge they need to defend their liberty and the nation's goodness against those who want to remove discussion of God from the public square.