Fritters and a Colorful Salad
Introduction
These small fritters, patties, or whatever you like to call them, are true party stoppers. Every time I serve them people say, "Oh… please can I have the recipe?" I love it that something so simple and low cost can be so delicious.
This salad is made with some of my favorite winter vegetables. I never get tired of cabbage, and could eat it every day. These kinds of hardy vegetables are a really good match for heavy winter food that is high in fat.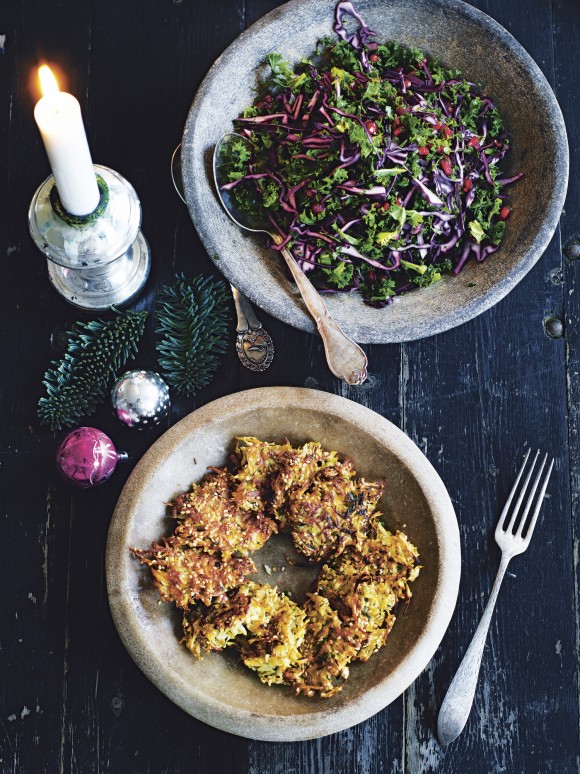 Celeriac Fritters
Number Serves
8
Ingredients
250g/9 ounces celeriac
250g/9 ounces parsley root
2 eggs, lightly beaten
50g/1 3/4 ounces sesame seeds
1 green chili, finely chopped
1 small onion, finely grated
Olive oil, for frying
Sea salt and freshly ground black pepper
Directions
Peel the celeriac and parsley root, then grate them both. Mix with all the remaining ingredients in a bowl, seasoning with salt and pepper.
Heat a little oil in a frying pan and, when hot, place spoonfuls of the mixture in the pan and cook for 4–5 minutes on each side, until golden and crisp.
TIP
If you can't get hold of parsley root, these fritters can be made with celeriac alone.
Red Cabbage, Kale, and Pomegranate Salad
Number Serves
8
Ingredients
1 pomegranate
200g/7 ounces red cabbage
100g/3 1/2 ounces kale
Sea salt and freshly ground black pepper
For the Dressing:
2 tablespoons lime juice
3 tablespoons grapeseed oil
1 teaspoon honey
Directions
Cut the pomegranate in half over a bowl lined with a sieve to catch the juices. Take out the seeds and reserve 2 tablespoons of the juices collected for the dressing; set aside.
Thinly slice the cabbage and roughly chop the kale. Mix the cabbage, kale and pomegranate seeds together in a bowl.
For the dressing, mix the 2 tablespoons pomegranate juice with the lime juice, grapeseed oil and honey, with salt and pepper to taste. Just before serving, toss the salad in the dressing, seasoning with salt and pepper.
Reprinted from "Scandinavian Comfort Food: Embracing the Art of Hygge" by Trine Hahnemann. Published by Quadrille Publishing.