On December 1, 2016, a 2-year-old boy named Alex Stephenson and his family's lives changed forever. The boy was in the family's garage just as it caught fire and was severely burned as a result. Although doctors questioned whether he would survive, the little boy showed his strength and survived.
Now, a year after the devastating fire, those who helped rescue Alex and his mother, Amanda, had a chance to reunite with the Stephensons.
After he was pulled from the fire Alex was flown to a burn hospital where he was treated for burns on 80 percent of his body.
As the flames and smoke began to envelope the home, a neighbor rushed inside and grabbed Alex. Firefighters, who arrived at the scene moments later saved Amanda.
The 2-year-old was immediately taken from his home in Tulsa, Oklahoma, and flown to a burns hospital in Galveston, Texas, where he received treatment for second- and third-degree burns on 80 percent of his body.
"They said if there is anything you want to say you might want to start thinking about it because this might be it, there is a good chance he's not going to make it out of this hospital and that scared the hell out of me," Jacob Stephenson, Alex's father told KTUL.
The family never gave up on Alex and stayed by his side during all of his surgeries.
Emergency service members fighting the fire also found themselves affected by the thought of a little boy fighting for his life.
Jon Steiner, District Chief of the Tulsa Fire Department, told KJRH that having to put the thought of Alex out of his head so he could focus on fighting the fire was difficult.
"To see that image of a little boy, he's only this big, and he was severely burned," he said.
Despite all the odds stacked against him, Alex survived.
Less than six months after the accident Alex was able to leave the hospital where he had received countless surgeries and go home.
The family said that within a week of being home, Alex's attitude changed for the better.
"About a week after we got home, he didn't need help walking anymore," Jacob told KJRH. "He was climbing everything he could climb. He was getting into anything he could get into."
A year after the accident Alex got to reunite with some of those who helped save his and his mother's lives.
Roughly a year after Alex was pulled from his burning garage, the firefighters who responded to the call had arranged a reunion with Alex and his family.
The firefighters were excited to meet the now 3-year-old boy. They were anxious to replace the terrible memory they had of Alex with a happy memory.
"[To] finally meet him will be pretty awesome," Greg McCourt, one of the Tulsa firefighters who responded to the call said to KJRH.
"It's probably going to be a little bit emotional," Steiner said. "Probably hit your heart pretty hard."
Alex was excited to see the firetrucks and meet his rescuers.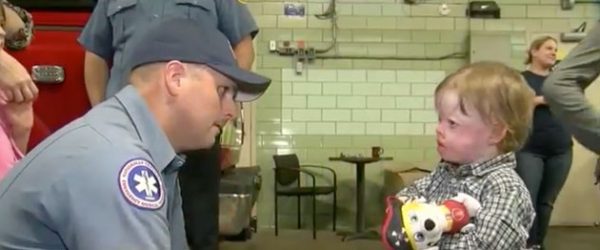 While Alex may not have been as profoundly affected by the reunion as the firefighters, it was an extremely special day for all involved.
The Stephensons are proud of all of Alex's accomplishments so far and are optimistic about his future, but know that he still has a long road ahead of him.
"We want to let him know that he is very much loved and he can do anything he puts his mind to," Amanda said.