Three brave little girls who survived cancer pose for new photos three years after previously becoming viral stars with another photo.
The three girls, Rheann Franklin, Ainsley Peters, and Rylie Hughey, initially stood by each other in a photo that quickly became popular online in 2014.
Since then, the three reunited for another photo in order to celebrate being cancer-free every year.
According to Inside Edition, "With everything in the world that's so cruddy, it's really inspiring to see something like this," photographer Lora Scantling said in a statement.
According to Scantling, she was inspired to take the photo after having been affected personally by cancer when a family member was diagnosed in 2014.
"My stepdad was battling lung cancer at the time and I wanted to do something that would touch people," she explained, "I knew that taking a photo of children—that would be one of those pictures that would draw emotion."
She then looked for girls willing to model for a photo on social media.
The three girls did not know each other at the time of the original photo shoot, but they soon became best friends.
"These three showed up," Scantling explained, "It took 10 seconds and they were the best of friends. They walked in and saw the bald heads and they were like, 'She's just like me.' They all just knew."
At the time, Rylie had already been become cancer-free, but the other two girls were still in remission.
"Rheann still had cancer all through her body—in her spine, in her brain," said Scantling. "We weren't sure she was going to make it through. A year before, they were planning her services."
Today, all three girls are survivors.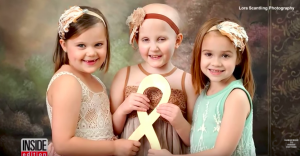 Scantling was surprised that the photo became so popular, but also understood just why it hit a chord with so many people: a shared empathy for children and what these girls went through.
"A child shouldn't feel pain. A kid should be a kid," she said, "When you see a kid hurting that hard… but to see all three together… I think people hadn't seen things like that before."
Reportedly, the photo shoots became an annual tradition after the girls appeared on the Today show, and they wanted to do a follow-up.
"People still ask how they are doing. So many people around the world follow them," Scantling said, "People are already sharing this photo, saying, 'Look they are doing good, look how big they've grown.'" According to Scantling, more photos of the girls are already in the works for upcoming years.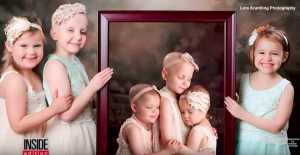 Of the three girls, Rylie and Ainsley do not appear to have any lasting effects from their cancer, but Rheann's hair loss is permanent due to a tumor on her brain stem, which will additionally cause her eyes to always droop.
"The girls consider themselves best friends," said Scantling, "They know they've done something the world has seen. Rheann says, 'I know I'm famous.'"