On February 2014, 14-year-old James told his mother he was going to the river to fish, and that he would be back shortly. But as night fell and James did not return his mother, Nyayam Koang, and she knew that something was terribly wrong.
Concerned, but unable to search for him, she had no choice but to wait. Little did she know that James was abducted by government soldiers and fighting for his life in South Sudan's brutal civil war—a civil war which pitted government forces against his own tribe.
James was abducted one day as he was fishing.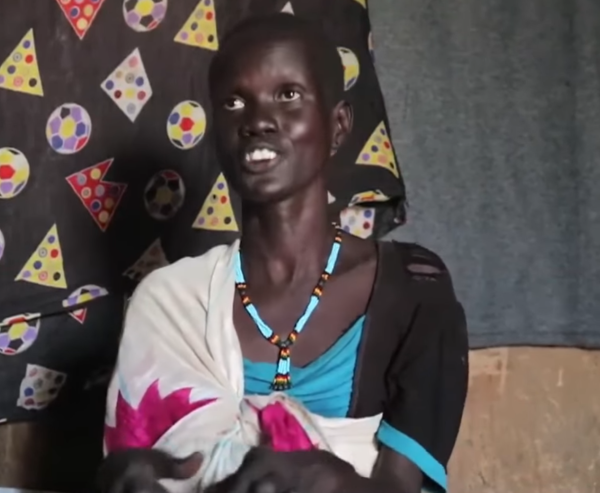 While South Sudan has put laws in place making the use of child soldiers illegal since 2008, forcing children to serve in the army is still a big problem for the struggling nation. With the country in a constant state of warfare since its independence in 2011, local warlords and even government forces found it difficult to resist using children as new recruits.
So, in spite of legislation preventing the use of child soldiers, government recruiters often scoured James's village in search of young "volunteers." To make matters worse, James and his family were part of the Nuer tribe, which had been one of the first groups to take up arms against the government.
Still, James was able to dodge the recruiters for months; every time they came to the village, he would hide in the bushes. However, one day in  February 2014, his luck ran out. James was kidnapped while he was out by the river looking for food for his disabled mother and young sister.
James's abduction was particularly dreadful. After he was captured, his hands were bound behind his back, and the soldiers who took him shouted "we'll finish the opposition!" From the beginning James was confronted with the terrifying possibility that he would be pitted against his own neighbors and forced to kill them.
But there was no time to think about that. Almost immediately, he was thrown in a flatbed truck where he was taken to a military base. After he was stripped down to his underwear, where an officer beat them with a rubber wire before he gave them a choice: Join the army, or die.
With screams all around him, he made his choice to join the army.
He was forced to serve the army at the age of 14.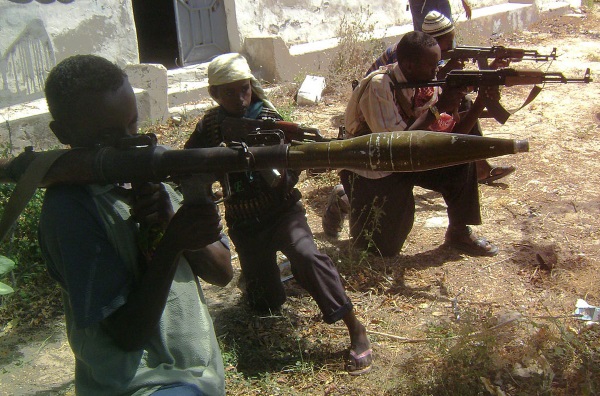 Still, even though he was part of the army, his "comrades" never trusted him; every night they locked him up with the prisoners. As time passed, however, he was forced into a front-line combat unit.
His unit was made up of fellow children, some of whom were younger than himself, and for eight months, James, who had never before held a gun fought with them. Many of whom he would watch die to gunfire.
Compounding this trauma was the ever-present fear that James's "enemy" were really his old friends from the village. He was scared, alone, and missed his mother and home—he did not want to kill, much less kill his people he knew since he was a child.
It all became too much for James. During one battle, he planned his escape. His place was to move silently to the edge of his side's battle line, and then to make break for the forest. Though bravely executed the attempt failed, though, and he was caught. And James, sure they would kill him if he attempted another escape, never tried again.
But James still held out hope of returning home and one day he got his chance.
During a particularly intense firefight, James took a gunshot wound to the leg.
Crawling under the gunfire, he made his way to a dying man and hid beside his body.
"[The dying man] calls to me," James said according to ABC News. "He reaches out his arm and says, 'Come here.'"
It was almost like a scene from an action movie, though for James, the experience was horrific and one that still haunts him to this day.
He was later discovered by soldiers who took him to a refugee camp.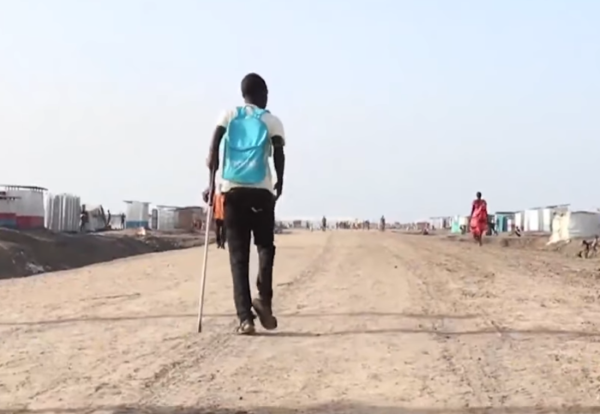 His wound bled profusely, and James could not stem the bleeding. Still, determined to survive, he spent the next several days subsisting on okra leaves.
Until he was found by soldiers. Though, they were not from his old unit, or the enemy. Instead, they wore the insignia of the UN. Rescued at last, they treated his wounds and transported him to a camp in South Sudan's capital, Juba, for further treatment.
Though medical staff saved his leg, he was unable to walk without the assistance of a cane.
Still, lucky to be alive, he tried to be productive at the camp and focused his attention to his studies. He even participated in the local debate team. Yet, he still felt a deep calling to return to his family.
As the weeks rolled by, though, James started to lose hope that he would ever return to his family. That was until he was approached by a stranger who had recognized him. The stranger claimed he could connect James with his mother, who believed James to be dead.  In fact, she moved with her young daughter to a refugee camp in another part of the country.
With the help of UNICEF, James was then put on a plane and transported to his mother's camp in December of 2015.
James was reunited with his mother and sister a year after he was taken—they had both thought he had died of his wounds.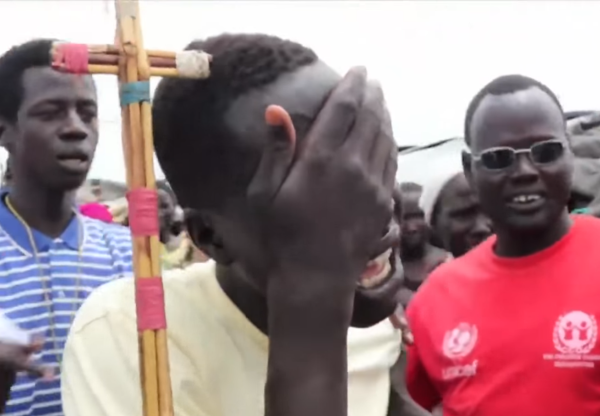 At their first meeting, the two were overcome with emotion, and did not say a word.
"I wanted to cry," Koang told CGTN Africa. "As an adult, if I were to cry then the kids would cry, so I had to control myself."
But James did not have the self-control of his mother, and he broke down.
"I never thought I'd be here," James said according to ABC News. "I thought I'd die. Now I'm just grateful to be with my family and to be alive."
Watch the heartwarming story below: