The Tara Calico case has baffled investigators since the late 1980s.
A Polaroid photo showing two tied-up people apparently shows two hostages in a bed after someone discovered it in a Florida parking lot in 1989. The young woman and boy appear to be tied up in the back of a vehicle, possibly a van.
Police only had a windlowless white van that had been seen at the scene of where the picture was found. A witness told police that the driver was a mustached man in his 30s. Police then set up roadblocks to catch the driver of the van, but they never found it, according to local reports at the time.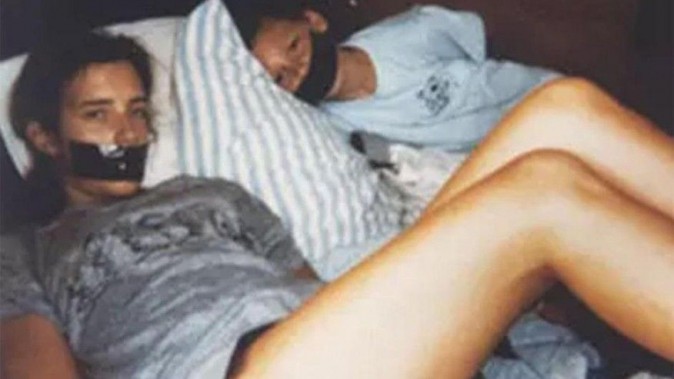 After the picture was circulated in newspapers and on TV, families came forward, saying they recognized the two. Tara Calico's mother said the woman in the photo resembled the girl—her daughter went missing the year before. Tara went missing after she rode her bike through a route in New Mexico in September 1988. She apparently told her mother, Patty Doel, before leaving that fateful day: "If you don't hear from me by noon, come look for me." But after Doel went searching for the girl, she was never located.
Police then attempted to search for the girl, a student at University of New Mexico at Valencia, in a statewide hunt. They only found her cassette player and a cassette tape of the band Boston.
Police revealed that the film used to take the Polaroid was purchased about a year after she went missing—but it was found 1,600 miles away in Port St. Joe, Florida.
Her case was featured heavily throughout the late 1980s and 1990s on shows like "America's Most Wanted," "48 Hours," "Unsolved Mysteries," and "A Current Affair."
According to Joel Nugent, the Gulf County sheriff who was involved in the case, the Polaroid photo shows two terrified kids, saying he believes the picture is real—not a fake. "It obviously is two kids with terror written all over them. It's kind of a bad time when you have to look at something like that…. No one knows for sure if it [the picture] was a set up. Some people think it was a staged photograph, but it was a real look of fear to me," said Nugent, per Crimefeed.com.

Valencia County, New Mexico, Sheriff Renee Rivera said 20 years later, in 2008, that he knew exactly what happened. "The individuals who did the harm to Tara, knew who she was. They knew who she was, and they're all local individuals. And I believe that the parents [of the attackers] were some of the people that helped the individuals with hiding the truth or hiding the body or trying to escape prosecution," said Rivera.
He said that two local men were involved in her disappearance, but several friends and family members covered up the crime. "You know it's very frustrating, being that there's a lot of people that know what happened," he said. "They know the whereabouts of the body or the remains… I believe the body is nearby." He claimed that the teens drove up in a truck behind Calico while she was riding her bike and an accident unfolded, but rather than contact police, they got rid of the body.
The young boy in the Polaroid appears to be about 9 to 11 years old. Investigators at the time believed that it might be Michael Henley, who went missing in April 1988 after wandering off the family's campground in Zunis Mountain, New Mexico. His remains were found in 1990 several miles from the campground, and officials think he died of prolonged exposure and no foul play was likely involved.
In 2009, Port St. Joe police got a letter containing a photo of a boy with markings drawn over his mouth to make it look like it is taped—similar to the photo. The child appears to resemble the boy in the 1989 picture, but detectives were unable to identify him.
The cases of both Tara and the boy are still open.
In October 2013, a six-person task force was established to further investigate Calico's disappearance.
"We felt that we should take a good close look at all of the evidence that's been gathered over the years, and hopefully we'll come up with something that will assist us," Valencia County Sheriff Louis Burkhard told the ABQ Journal. "I don't think there's anything that's come about just recently in regards to this case, but we're going to take a look at everything that is there. We don't know if she's alive, but that's certainly a possibility."
Tips can be reported at (855) 542-0952 as well as coldcasetaskforce.com.