A double amputee teenager who is battling osteosarcoma, a form of bone cancer, was able to inspire one of the strongest and most famous celebrities in the world.
16-year-old Fernando Guzman had one of his final wishes come true: meeting his greatest hero, Dwayne "The Rock" Johnson, in March 2016.
Fernando from Rome, GA attends high school at Coosa High, according a Go Fund Me page.
"He was diagnosed with cancer in the 6th grade. His left leg had to be amputated during that year," states the website.
"His left arm was amputated in October of 2015. On Wednesday, February 24th, 2016, Fernando got the news that his cancer had spread to his left lung."
Fernando decided that he would cease cancer treatment and live the rest of his life to the fullest. He was given about 3-6 months to live.
A teacher started the Go Fund Me page to help support Fernando fulfill in his final wishes. One of those wishes was to meet "The Rock."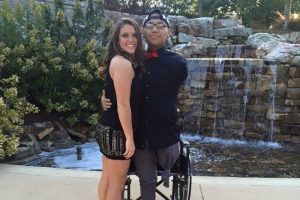 Fortunately, Dwayne Johnson had a soft heart, and he met the teenager on the set of "Baywatch" in Atlanta, GA.
"This kid's perspective on life knocked me off my feet," said Dwayne.
"Smile on his face, funny as hell, sincere and calm. Easily one of the coolest kids I've ever met and a meeting I'll never forget."
Dwayne said the meeting was "a powerful reminder to be as grateful as we can be, love the heck outta our family and friends, and squeeze every bit out of life possible, 'cause we never know what's around the corner."
Fernando gave Dwayne a custom-made shirt that read "Fernando's Fight. Strength, Courage, Determination" on the front and "The People's Champ" on the back.
"That's exactly what you are buddy, a Champion of the people, by inspiring all those around you. Including me. Stay strong and thank you for blessing me with your time. Your bud, DJ."
Fernando has since defied all odds and nearly completed his senior year of high school.
"I was supposed to be dead six months ago," he said at an awards ceremony hosted by the Rome Exchange Club in February, according to the Rome News-Tribune.
Fernando received the top award, Accepting the Challenge of Excellence, plus $300 for facing his multiple struggles and still working hard to finish high school. He will next advance to the state-level competition.
Fernando said he hopes to someday become an oncologist.
Top image credit: Dwayne Johnson attends the world premiere of Paramount Pictures film 'Baywatch' at South Beach in Miami, Flor. on May 13, 2017. (Photo by Alexander Tamargo/Getty Images for Paramount Pictures)